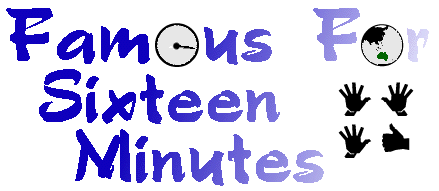 The Life and Times of Peter Green
Archive: 31 March - 13 April 2008
---
March 31st
It's always nice to be home, I sound like a barking owl but still ok. Of course Mark won't let me get any sick sympathy so he now has tonsillitis .... two old sick men- just what the world needs. Boring! The Doc is not quite sure what I have , and asks if I want antibiotics- which I am avoiding, it will take longer but going to let my body fight this one. I think Marks tonsillitis is acute (he is just cute..but his tonsillitis is acute)... so bacterial, & all that lymphatic tissue drowning in streptococcus....urgh!). So we'll both avoid the world till this is over....we could be spreading the plague for all we know.


---
April 1st
No real April Fools day gags today- a few around the band - but nothing extra fun.

Off to see Allison our travel agent, try not to cough or wheeze on her. I pass on my list of 'things to do' for overseas and she is right onto it. As long as our first class sleeper is booked for the midnight train from St Petersburg to Moscow - something extra romantic about departing St Petersburg at midnight and travelling off through the Russian night. Little beaded lamps by the bedside, and being body searched by men in furry caps during the week hours of the morning (NOT). Will be fun.

The good news comes through that Split Enz 'One Out Of The Bag' dvd is indeed #1 this week in NZ. OK David and myself worked it, I was happy with Top 3 but #1 is pretty good- how often are Split Enz #1 at this stage of their careers? I've noticed that a lot of the JB HI FI store sin Australia have now sold out but they haven't replaced stock- seems a bit slow. So maybe it's becoming extinct in Oz.

Spend the evening in a blurry haze....


---
April 2nd
Huge wind storms hit Victoria, I mean massive. I'm off the planet and in bed , a meteor could of smashed into our house and I wouldn't be any the wiser. Mark goes out to lock the girls in and reports back that a huge tree has crashed through the yard. It's one of the gentle giants and the winds were so brutal it snapped it off....what a total mess. The power goes out all over Melbourne, I think it's like 350,000 people with no power. Ours is restored 5 hours later but other parts of the state are out for 5 days...I am so far gone I didn't even hear the trees crashing down.

Mark is looking after me, I try to read the rest of the latest Anne Rice Book- 'Christ The Lord- The Road To Cana' and it is one of the most boring books I have ever read. I have all of Anne's books, most first editions so it's with sadness that I report on how utterly dull this book is. There is indeed a skill to pen a book where absolutely NOTHING happens. It can't simply be her switch from Vamps to Religion, this is Christ for Christ sake! Surely his life wasn't that boring. I know it must be Anne; the first book in the Christ trilogy was ok, nothing to write home about but still ok- this second one........ she really has lost the magic- how sad.


---
April 3rd
Go for a walk around the property and it's like the day after apocalypse .....massive trees down, leaves and broken limbs everywhere. The tree just missing the chicken house....I'm sure it scared the hell out of the chooks. I sit on one of the fallen trees and it all feels too much- I'm holding this stick and suddenly a family of baby birds appear out of nowhere. They are new borns and can only fly a small way. They show no fear of me and come and sit on my shoe and two land on the stick I'm holding. They just bring out this huge smile on my face and I feel very calm. I look about and it's all ok, just some trees and loads of work but we'll clear it up..... funny how it can all turn around so quickly .....

Our power flickers a few times but stays on, I'm told to have a week off away from computers and Emails ..... so I compromise and only spend a few hours in the office.


---
April 4th
The last few days I've been so out of it I didn't realize it was Friday, had to ask Mark in the car what day it was.....

Drive to Morrisson's and Sheridan fixes me one of her healthy sandwiches. It makes me feel better and tastes great- she has 5 kids so knows how to make us sick people feel good.

Mail Michael Barker a few photos of him with the band- he should be back from Japan about now. Nice souvenirs for him.

Mark orders in a HD copy of Into the Wild- what a truly excellent movie- best HD movie this year- loved it. Mark comments that Ed's music works so well with it, and it does. Thanks for getting this MG.


---
April 5th
We start chopping up tree limbs and I have the chainsaws out- at least we can use some of these trees for firewood inside. Build a small bonfire near the road. Our neighbour Jodie sees us and returns with a huge lemon merangue pie- just for us. That's what people have been like up here, we never want to live anywhere else (well maybe Cusco...always Cusco!...ok maybe the fairy Chimneys at Cappadocia- Urgup- Turkey).

I'm always amazed that so few people know about the Fairy Chimneys..... it's worth doing a web search- they are incredible and people live in these creations (Tufa and Volcanic Ash)..mind blowing.

Here is a link to the area: http://www.cappadociaonline.com/nature.html


---
April 6th
Breakfast at Churinga- we don't see Sonya today but the other 2 girls are on- we are the only 2 people in the whole place- which is ok. Enjoy it I tell Marky before we hit packed London and busy Moscow.

Start going through my files and collection for items for our Mental Notes Auction and to find some things for Frenz Com for their auction as well. I decided while back to try and get Mental Notes to achieve Gold status in Australia so it means I have to raise about $25,000 to but the final 2000 copies. So am hoping we can raise the money via the auction- it's a huge call but when we get our teeth into something we don't let go. Some fans will be stoked with some of these goodies.

Daylight savings ends today so remember to put our clocks back. The weather has been changing, and our trees are now covered in golden yellow and red leaves....


---
April 7th
Email a reminder to Neil, he's penning some words for the next mail out. Start work on that soon, and the Crowdies announce a few more shows- Glastonbury and Madrid. I'm fairly sure I won't be on the USA leg of the tour , such a tight budget- it's ok as we leave for Russia etc not so long after that, so happy not to do the long flight. Plenty of work here in the office.

Australia Post and Bill Pay are being their usual hopeless selves- paid all my $ on Amex and Bill Pay have lost it in the system. They have all my details but haven't called back ( it's a week later and still no call from them- they do suck). Australia Post seems to get worse as time goes on - the classic is an Australia Post employer calling and going off because one envelope was short by FIVE CENTS. Hell the stamp could of simply fallen off- when you think of the hundreds of thousands of dollars worth of postage we give them- and the fact that it cost them 20c to even make the call, you'd think a mere 5c would be ignored- talk about anal! Every company has 'one' I guess, sadly Australia Post has MANY!!!!! Get a life.


---
April 8th
Well NuEnergy were meant to turn all the power off today on the mountain, this is the third time they have sent out flyers to everyone and the third time it hasn't happened. It's like some bad chain letter with the same results-nothing. What a waste of time and paper. I guess after a week of fixing up power lines from the storms the last thing they want to do is spend a day taking down power lines and replacing them....

Off to Dr Chiro today- he tells me it's been 3 months- wow!!!!!! Well my back has been good, though the recent chain sawing and lifting hasn't improved it. I seem to fail when I get my 'corrections' today , nothing pops into place, so I'm in for a session again next week- good to get worked over.

I get a nice helpful email from Melissa on Russia, I make a note that the Izmailovsky Park markets are open for two days, I always assumed it was one.... love how someone tried to sell her a rocket propelled grenade launcher when she last visited it. Sounds like my kind of market. *GRIN*. Have a feeling the Crowdies are not in Moscow on the weekend so they'll miss some shopping.


---
April 9th
Oh so typical that Liberal sad arse Bernie Finn voted against the gay register bill, and he has the nerve to say he isn't a homophobe- Bernie you know- YOU ARE! I hope your girls turn out to be lesbians and you may approach life differently. I'm glad I work for a positive Finn instead of a negative like Bernie- no wonder the Liberal Party in Victoria is in tatters. Dinosaurs. The bill was passed anyway even without Bernie Homophobes support....one step forward.


---
April 10th
Email the boat guy for Ailsa Craig and get him to pencil in a day for us to head out to the rock while we are at Girvan. Really looking forward to heading out on the 'Glorious' and photographing Ailsa.

I catch up on hundreds of emails today- it feels like that's all I did, email, email and email. feel like shit but have them all done.


---
April 11th
Seems a few Crowdies fans are a bit flustered that the band are not playing Australia and NZ, people need to be patient, same reaction that always happens..... some fans have little faith these days, from what I gather it's all being investigated and I'm sure they will- like they always do......just a case of when.....

Mark decided to let Banshee sleep in his room last night and she drove him nuts- she's been great lately but I think the cat over slept during the day so she was active all night. Never again he says....

I'm about to start on 'The Mess They Made' by Gwynne Dyer...I remember Dyers 7 part tv doco called WAR from the mid Eighties, he knows his stuff. So if you want a book full of clarity and intelligent on the real situation around Iraq try and get a copy of this one. Special thanks to Wendy C for finding this for me. Excellent.


---
April 12th
I've searched high and low and can't find any more stock of our Split Enz Book 'Letters to my Frenz' so that's it five copies left. All store stock has been sold, and the little pile of 5 remaining copies are the last - so after they go it has officially Sold Out. If you have been slack and still need this email me (peter@frenz.com) otherwise the only chance you have is to buy a copy further down the track on Ebay for some insane price. It is a buzz when a book sells out - but sad in a way as you always get emails later on from people desperate for copies and you don't have any.

The rain comes down , I go and have a coffee at The Verandah , sit outside . Was it me?, ten minutes later the place is vacant - did I scare away the customers?

There is a break in the weather so I attack the big fallen tree, and hardly make a dent. Still I figure if I just chisel away I'll eventually get rid of most of it.

I speak to Mum and Sis and suggest the DVD box of UNDERBELLY (it's an Australian gang land tv series banned in Victoria because of a current legal case)...even the DVd cant be sold in Victoria. yeah crazy I know. Anyway I suggest to Sis it would make a fine birthday present for May 11th.


---
April 13th
Miss Banshee slept in my bed last night and was totally fine- I'm starting to think she just does it to drive Mark crazy.

Neil sends me a jpeg of a letter for the next mail out , so that is just perfect- work on the glossy this week. After all this time he still makes an effort, good to see.

Some fans will be excited, I manage to find a Black & White True Colours LP cover- these are so so so rare, one of the ultimate Enz collectables, it's been about 20 years since I last spotted a copy at a vinyl auction and that went for $400. In many ways Split Enz are far more a collectable band then the Crowdies, mostly due to the Enz having area of limited success .... if a 45 only sells 128 copies you know it will become collectable.

That's kind of it from the top of the mountain..... (cough, cough-yes still have the bug).

Stay happy
PG

---
If there are any problems with this site, please contact webmaster@aswas.com.