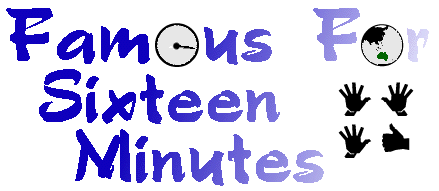 The Life and Times of Peter Green
Archive: 8 December - 31 December 2008
---
---
December 8th
I deice to get my sister Jennifer a aero-garden for christmas. Apart from one lone cactus , she somehow can't grow plants to save herself...so vegetables are out. The aero-garden takes all the hassle out of growing , it even takes the soil away...so just water and nutrients and heirloom seed stock. It's all controlled by computer chip....even tells you when to add water- I figure this is the only way they will have vegetables growing at their house. It fits on a kitchen bench, so that's her main gift. I order some extra seed stock too- they have a 100% growth on all seeds. Anyway we'll see- if nothing else it looks pretty funky! Now I'm hoping they get it to my Mum's place in time for christmas, that way I don't have to carry the thing on the plane. It turns itself on and turns itself off..a bit like me in bed ...readers *grin*.


---
December 9th
I keep hearing a rumour that Neil will be playing Womad-Adelaide, heard nothing from management in the UK, so it probably means he is *GRIN*. (He is-in March).

Buy the christmas tree and it's a big one, Mark does his "why do we always buy the biggest one' line... at least it's real in a pot so it can be replanted after Christmas. I just can't do the chopped down tree, seems like a negative thing to me. This one just keeps growing and churning out that air.

We drive home with tree 'arms' pushing into our ears! The car does smell nice though, as do my ear lobes! It just fits in the christmas stand and is short of the roof by 2 inches! Open the huge christmas decoration box and find heaps of cool bits and pieces for the tree. I think once I start on the tree I get that christmas vibe!

The numerous boxes arrive from our lovely new printers, all pretty much on time which is fantastic.... so I know what we will be doing till the wee hours of the morning. Mail out!!!!!!!!!!


---
December 10th
I go through and do a full stock count for Rocket Pocket Books- the first F/16 diary book HUSSY which covers us on the road on that first USA Finn Brothers tour, is now down to the final 19 copies. At this stage no re prints, maybe in a few years time but for the moment I am liking the idea that when Hussy runs out that's it. I wonder if copies will start appearing on Ebay?

Hear from Bic and she is stoked that Try To Remember Everything, the new cd debuted in the top 40 on the NZ charts (#31). Marbecks are very happy as they have received a lot of orders, their biggest seller this week. It's alreday clicked over Gold in NZ and I expect it to sell Platinum. We play it a lot in the office, a nice selection of songs. Seems all we are playing are Bic and Led Zep!!!


---
December 11th
More Christmas shopping this morning , will it ever end? Despite the state of the world economy it sure shows no signs of it today, the stores were full, still 14 days to go and the madness is well and truly underway. OXFAM has some very very cool items that will make great presents! The fans have been so generous and kind, makes me feel a bit special really, in some ways I get more spoilt then the bands!! I am hopeless at accepting stuff, makes me feel strange and almost guilty-what's that all about Mr Freud?


---
December 12th
Was going to do a Bic Runga Q&A but have decided to let it go to the new year when it all slows down a bit. Tomorrow I have about 20 people turning up, it's going to rain so the early christmas lunch will be in the kitchen, glad we have a big kitchen for several tables. I clean up outside a bit, just a few stray weeds and clean the fountains and pick fresh flowers. Miss July is in America and Fran at a wedding so it's two less but their spots are filled by others this year.

I do some final present wrapping using my PG arty homemade christmas paper. It came out well, I surprised myself, almost feels a shame to cut it!


---
December 13th
Christmas Lunch-Ailsa Craig

Banshee wakes me up nice and early, who needs an alarm clock, her body clock is perfect!

So I decide while I'm up to start work on the christmas pudding and other food stuffs for the christmas lunch today. The pudding takes forever to boil but I know it will be a good one this year. Mums secret 150 year old recipe. I'm not into puddings sitting in fridges for ages- no matter how traditional. I like making the pudding, and it always goes, we never have any left, let others make them for their families, christmas pudding at Ailsa Craig is mine.

Mark helps me carry in the art table from the garage, I worry a bit if we will have enough chairs- Tania solves that problem by giving us 6 new chairs for christmas, finally someone was listening when I dropped all those hints *grin*.

This years surprise guests are Jen and Merl who lived in flat one downstairs in the Woodface apartment, we love the girls. They are set #1 of our matching Jen & Merl Lesbians that we know. I know 3 sets of Jen and Merls in 3 different states and all 3 batches are gay! (and damn gorgeous) How freaky is that. Their son Matt is coming along, we haven't seen him for years, so he's now a teenager and so well behaved- very cool kid. I think I freaked him out when I said 'we could of been your dad'...there was an option to do that, sometimes timing isn't right- anyway he turned out so cool- they've done a great job.

Rosemaree brings along her killer pasta, and Bec her twisty creations... the table is packed full of food. Greg Skyhook is here with his new camera, nice solid one...wide angle lens so we can get a group shot.

Trudi is wearing the coolest outfit, she wins the 'best dressed' award, even with the whole tribe wearing Santa hats she looks very cool. Marco and Toija roll up with their young boy Oliver, and Toija now has blonde light brown hair...wow! Oliver follows me from room to room, thing he's looking for his girlfriend Georgia from last year...or maybe Cosmo who has gone to the big bunny heaven in the sky.

Greg gets everyone together for a group shot...all smiles. At the end he stops people walking away to make a presentation. This lovely speech and hands me the Age EG Award for Skyhooks ' Most Popular Australian Album'. Such a sweet gesture! Lost for words for once.

It's just a nice day, despite the fog covering the mountain. Sad moment when one of the gang gets a call that their Mum has passed away- which just threw us all. But the love from this group of people was pretty strong and if you had to be anywhere when such a horrible thing happens , at least it's with friends who are caring and sensitive. Asa I walk them to their car, one of the biggest trees in Kalorama , a few doors down comes crashing down. It sounded like a freight train, we both just stood there mouths agape. Some sort of sign, it just added another moment of craziness to it all.

The girls and Matt are staying the night, he watches Hellboy II on HD while we all sit in the kitchen and just catch up, nothing has changed, we just connect so quickly. No idea what time we all hit the sack but it was a nice day.


---
December 14th
I'm up early and watching the news on cable. I wake the household with my fits of laughter as Iraq journalist hurled his shoes at Bush and cries out 'It is the farewell kiss you dog'. Both shoes go close but no prize (bummer), later Bush makes a joke that he 'saw the mans soul'....(at least he has one , the only sould you have Bush is that you are an arse-soul!!!). I still think Time magazine should of put Muntazer-Al-Zaidi on the front for man of the year instead of Obama for this act alone. Truly wonderful... I had tears in my eyes. Just waiting for all the Internet games to appear where you throw a shoe at Bush! They'll be everywhere just watch.

We head off to The Verandah for breakfast, a lovely day outside. We wave goodbye to the girls and Matty and I work in the office all day.


---
December 15th
Get a really fun christmas photo from Tim and Marie- nice start to the day. Nice when they remember us.

I hear from my printers in Hong Kong, the 4th diary book TRIP is well underway and I am expecting my stock just after christmas, depending on couriers, boats and clearance at the docks...wow major operation. It is exciting though to have a new title coming up on Rocket Pocket Books. A quarter have gone already which is fantastic.

I get such a buzz when I mail them out to the four corners of the globe. By the time TRIP arrives I think the first diary book HUSSY will be sold out. The only place people can get a copy is via the Frenz.com merchandise page. TRIP will be on the merch area later on too.


---
December 16th
I was picking up a box of mail to take to the post office and something strange popped in my back- shit it hurt. I'm lucky as I'm getting my acupuncture in an hours time, but as I walked towards the car it started really hurting. What have a I done this time, it's not like the mail was heavy. Warrick connects me up and gives me some corrections..I leave and for the first time I'm still aching. I call them again the afternoon and book in for a 2nd lot of treatment tomorrow. Maybe I've been pushing myself too far lately- so need to surrender and allow for some 'me' time. A healer friends tells me my apathy picked up on some strong stuff recently....and she could be right.

Have calls and emails from Cathy and Leanne in Perth and a few other people so filling in spaces on our calendar. I just hope no one dicks us about, my new years resolution is going to be a lifestyle with less of 'peoples indecision'. I just want people to make up their minds with things, just don't have any time for 'all talk and no action' stuff and a bit over people being 'unsure' so in 2009 it's either 'yes or no' simple as that. How harsh am I *grin* Love it... everyone is talking about how they will change in 2009... being exact is a nice start I reckon.


---
December 17th
Send Phil some buck$ for his upcoming solo cd LOVE IS A MORON , nice that we can help support this. I'm hoping to get it to some fans by christmas (depending yet again on the usually hopeless Australia Post). It's a good album this one, nice to have some new music floating about.

I'm back at Dr Chiro's and all plugged up to the machine, one muscle area feels very sore... he assures me I'll be ok in a few days- and he was right, within 48 hours I was about 85% healthy. I think it was just my body and brain sending me a not so subtle message to slow down. Come December and it feels like I'm trying to get all those final 'must do's' off my list. Only 2 or 3 things left, not bad when you wipe out everything that you needed to do for the year.

Haven't heard from Neil or Sharon, they have probably escaped to the beach house, not sure what's up- guess he's focused on Seven Worlds II. I'm sitting this one out, which is fine, one less cost for the project and the money goes to Oxfam , and to be honest I really am happy to be at home. Would of been nice to see Bic and the Marrs but we'll catch up in 2009.


---
December 18th
So Keith Richards turns 65 today- hey he can get the pension, not that he needs it when he has $400 million bucks.

It snows in Las Vegas too, the first time since 1973, looks marvelous, all those palm trees on the strip cover in snow...

This incredible parcel arrives from Diane Waugh in the UK, one item is made from Ailsa Craig granite, from the real Ailsa Craig... how cool.

Continue some christmas shopping and find Benny a funny crew shirt for tours.... hope he enjoys it. Jen gets her elephant present again.... wish those guys were down here for christmas, seems ages since all four of us have caught up. It probably won't happen till Winter when we head North to Magnetic Island to the house. Ages away... we get a lovely present from them, they know us too well.


---
December 19th
Several boxes of other presents arrived, totally astounded that people even have time to think of me, let alone shop and mail all this amazing stuff.... you know who you are...thanks guys... wow! No wonder I love christmas!!! I am feeling the love... believe me.

Strange we didn't get a christmas card from Nigel Griggs this year, we nearly always do, maybe it's just lost in christmas post. Rosemaree's card arrived at her place early this year, only took 11 days not 14 like last year.... it should of taken 2 days! Such a great service Australia Post (NOT).

Marky gets a christmas bonus from Filthy Rich Promotions, it's not much but nice that he gets one, he works so hard in the office, despite lately wearing his Hugh Hefner spoking jacket (dressing gown)... I bought him a fake curved pipe as an accessory to pop in his mouth while he is sitting working away! Hey you've got to have the 'whole' image!!!!!! So sosphisticated! he won't let me photograph him with pipe and jacket- he is no fun.

Watch INTERVIEW- what a great movie. Steve Buscemi is in it, he also directed it. he plays a journalist interviewing mega celeb Katya played by the super sexy Sienna Miller (loved her in Factory Girl)...it's a case of two worlds collide and the result is brilliant... check this one out- my movie hot pick for the week! Why wasn't our Katja a mega celebrity sex kitten when she lived with us all those years ago *GRIN*.


---
December 20th
A sunny day at last, sit outside at the Verandah and do a bit of writing, no idea what for-just had the urge.

It was funny to note that the turkish shoe company making the footwear thrown at Bush has had a massive surge in demand. 300,000 shoes in a week. You'd better duck Bush, that's a lot of shoes coming at you. (Who said Lame Duck!).

Mark works on Merelyn's Vali dvd, it's a lot to do as it's from very crappy originals and transfers and fixing stuff up, takes a few days to do this, hopefully she'll enjoy it. I like gifts like this. he put so much time into it- I have a great boyfriend.

I put up the magnetic spice rack- I think Toija and Marco gave it to us? It's a great space saver as it can go on the cupboard wall. I also plant Trudi's Rosemary bush, will save me having to go next door and beg and steal Rosemary for our roasts.

Spend the afternoon talking to Mark about our next possible grand adventure to Monument Valley for some filming and maybe Bryce Canyon. A new adventure already in 2009-bring it on.


---
December 21st
Juddy calls by for some lunch, he's had quite a week. He has a present under the tree for himself and Pete, just small things but all visitors to Ailsa Craig score a chrissy present. he brings his Love Is A Moron stock, so I'll start mailing them this afternoon.

I finally start on my washing today, urgh hate washing , so boring. But it's a sunny day outside so most of the washing can dry naturally. I have way too many pairs of jocks and socks!


---
December 22nd
Still finding some last minute family gifts... when will christmas ever end? I think I've given stuff to every charity there is.

Retailers are doing well in Australia, despite the world wide depression it appears that stores will probably sell pretty close to the same amount of $$$$$ this year as last year and the after christmas sales are expected to be boomers. I know in America stores are in a desperate state. For Australia they expect February to be a bad month. I think Australia will get through this all ok. It still feels ok here. We've done our bit.


---
December 23rd
Our office closes today and Email too till Jan 11th. So some time off for us- looking forward to it. My tour cheque arrives so that is great timing, think most of it will go on the land rates for Ailsa Craig, a few grand a year but it's one of the few costs... so I tour for rate money *GRIN*-oh well could be worse.

I'm back at Dr Chiro for a final session and I feel good again, just a strange hiccup, I'm pacing myself.

We call in and see the neighbours and christmas is just so cool up here, everyone is happy kids running about- just as christmas should be. All smiles.


---
December 24th
Up early as I can't sleep, we are heading home to the 'Gong today to see the folks and rels. We arrive at the airport early, drop the car into the Valet parking and they are going to give me a special christmas present and wash it and clean it inside and out- excellent. They'll spend forever removing the pine needles from the christmas tree when it was being transported.

We arrive to a very overcast Sydney, it's nice and cool for once- I dread hot Christmas days. We reach the pass overlooking Wollongong and it is totally fog bound, takes us an extra hour to arrive home, the traffic is a crawl with hazard lights flashing. We make it home and Mums house is amazing, 2 trees and all decked out- I hang the icicle lights from the curtains and make some food...down to the mall to buy Mum a load of flowers. No sign of my sisters christmas gift, I just have a feeling the company will blow it and it wont arrive. When I get home, an hour before the relatives arrive Mum tells me that a courier turned up with Sis's present- so I'm stoked- I wont feel like the worst brother in the world.

All the relatives arrive, I have Paul Kellys Gossip cd playing...that song 'Adelaide' always reminds me of Wollongong.

"The wisteria on the back verandah is still blooming and all the great aunts are either insane or dead"

Those lines always make me smile...the great auntys all rock up, despite age and illness they still linger on, semi deaf, but good solid hairstyles.... love it, christmas won't be the same when they go.

Everyone is in the big back room at Mums, sitting chatting drinking.... it's nice. Mum is terrible she wont sit down just keeps piling on the food and drinks.... she no longer knows how to sit. I try to make her have a dance with me but she says she has food to prepare- how much can old people eat? I catch up with the cousins and family and it's a really great night- mostly due to Mums fine efforts. I pour a few reds for some, beers for others... and just enjoy this moment as I keep thinking a few will not be here next year.

Auld Lang Syne is sung with such gusto at the end, like many years before..this one they all let loose like it was the last chance to howl at the moon... we all laughed, it was very loud- they rock!

By 11.00 they are all gone and I'm sitting with Mum having a chat, she's tired but stays awake to talk to her only son. A nice christmas eve, it's all her kids ever want.


---
December 25th
I'm woken up by Mum banging in the kitchen around 6.00, she's making deserts and god knows what else for christmas dinner. I decided to sleep on the couch as it was cooler but as soon as the kitchen noises started I stumbled back into my room. I am awake by 7.30 waiting on Sis to turn up to open our presents..I'm such a child- 'where is she, can we open our presents NOW"..... It seems forever but eventually she turns up and the unwrapping starts. It's fun, cool stuff, way too much, but loads of Oxfam presents from all of us which is nice.

We head off to Pops for a small gathering for christmas lunch... way too much food and Mum fills the pudding with lucky sixpences. Mums beastly children consume the pudding before all the other joyous food. I say grace this year, and make a silent wish that those without food end up with something this year. We should all have some small guilt over eating so much when so many are starving- that part makes christmas lunch shit. I can't bvelieve so many of us let people starve, it's shitty really.

We all nap afterwards, I continue to read my Led Zep book. We put flowers on the headstones at the crematorium , which is tradition, so many cars, so many people and flowers everywhere, all the roses are in bloom, if it wasn't a resting place for the dead it would be beautiful- I guess it still is. Give Mum a squeeze she misses dad , pop and my uncle so much.

In the afternoon I head with Sis to visit great aunt Lucy at the nursing home. It's so incredibly sad, she is still very sharp of mind, my cousin Lea is amazing and the sadness lingers on. I vow never to let Mum go to such a place, I'll find some way to make sure she doesn't. I lie to Mum just how bad it was- still glad we made the effort. I gave her a framed photo of happier days down at Moruya on the south coast, a time when all the relative spent weeks camping with giant tents, fishing boats and the tribe of us kids. Even typing this fills my head with smells and visions of days at South Head camping ground.


---
December 26th
Up at 6.00, and Mum (god bless her )cooking bacon and toast- gives me a smile. I pick Mark up at his Mums, she loves the Shane Gehlert original we gave her- Shane was so generous and so quick getting this to us. She has it on the wall already.

Make our flight with time to spare for a coffee at freaky flyer.

Arrive Melbourne and find my car sparkling clean, the tyres freshly painted in tyre black. Car even smells new.

Arrive Kalorama and Banshee jumps into my arms- we all sing happy birthday to the cat as she turns four today! She missed us so much and spends the day following us around, and talking to us in cat talk. Miss K in America sends her 3 shiny satin mice filled with cat nip- she bolts around the house with them, juggles them, throws them, triple flip somersalts with them...

I email the contest winner- Carolyn Roberts from Bathurst, and get her phone number and give her a call- talk about stoked- I love it when I get to tell people really good news. Made me feel like Santa!


---
December 27th
I'm now looking after our neighbours dog (Meg) and cat (Stan)..we do question who would call their cat Stan! *GRIN*.

I call the delivery centre as two giant hand-carved statues from the Philippines are to be delivered to Ailsa Craig in a week and I need to make sure we are here. These statues are so solid, it takes 4 strong people to move them so they will never be stolen and once I put them somewhere they will probably never be moved. They are both going along the walk tracks, in different areas, they should look quite striking amongst the tree ferns and vines and wild orchards. Gives the walk tracks a kind of 'Lost' feeling to them.


---
December 28th
I had a feeling Crowded House would re enter the Australia charts this christmas, they nearly always do with something. This year it was 'Farewell to the World' dvd, at #39 on the ARIA DVD Top 50. I'm guessing Recuring Dream also ticked over a few units. The DVD must be very close to platinum x 4 (if not already).

I head to the office to start addressing the padded envelopes for TRIP, so I'm ready to go when the stock arrives in a week+. It means going through every order making sure the address is correct. Phil Judd doesn't know it yet but I have a contest on between him and myself as to what will sell out first my book or his CD. I so know I'm ahead Juddy *GRIN*. See I've thrown down the gauntlet !!!


---
December 29th
So Paris and Nicky Hilton out shopping on Chapel Street at Prahran, I thought it was funny that someone with a surname and associated with the Hilton family is staying at Hotel Como and not the Hilton hotel? Have they disowned her? The media make such a fuss, the Herald Sun such hypocrites slag her off but spend the next few days plastering her all over the cover.

Thankfully people have headed my email that we are closed till the 11th, only about 50 Emails today compared to the usual insane 1000. I love this time off idea.


---
December 30th
Decide that we will get a bit messy on new years eve, our own private party. We are both so well behaved these days we should join the sisterhood... so time to be a bit bad (though sensible) tomorrow on new years eve.

I spend a part of today gardening, half heartedly I have to admit, as the weather isn't all that great.

Get spoilt by Miss K and Miss J god bless them, truly didn't expect anything, had some silly smile on my face when I cleared the mail box.


---
December 31st
Happy New Year!

Drive to the city, run in and pay Rosemaree and see her slinky kitty cat- wonder if she is partying tonight? She never said- many of the girls are staying in tonight. I'm home again after a quick collection of silly stuff for the evening, and determined to have fun. We watch "Horton Hears a Who", perfect blu ray to watch...endless giggles and all those colours (opps). I'm still unsure why Horton wasn't blue like the Horton I bought my Sis when she was 3 years old.

Maybe Horton becomes blue in the next movie? Or if someone takes something while watching he will eventually turn blue?????

We miss all calls tonight (sorry), tv and music a bit too loud.

I give a friend the smallest contain of pot (found some and no idea how old it was) he was stoked but it probably had the same effect as smoking the hair on his legs (urgh). A few JDs and the night just rolled along... some fireworks went off at 9.00 and almost nothing at midnight , Kalorama was as quiet as a flea on Hortons back! We were probably the loudest people up and about.

So another year gone, another page turned over to 2009. So many good things coming up, I'm going to keep the faith that this year will be good, despite the doom and gloom predictions. You've got to be happy in life, misery just is way too easy, staying happy is the true effort ..... so all the best. Expect your copies of the 4th diary book TRIP to be mailed off in about a weeks time and a big thank you to all the diary readers who seem to enjoy these perverse ramblings!

Party on!

PG

If there are any problems with this site, please contact webmaster@aswas.com.