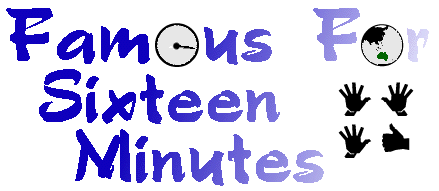 The Life and Times of Peter Green
Archive: 8 July - 20 July 2008
---
July 8th
As I sit here typing this my head is in the clouds- no it's not that dreaded Kalorama fog again, I'm just thinking that in 2 days we are off to China, Scotland and Russia....suddenly it's upon us- in 2 days I will have a month off- no phones, emails or media , just Mark and myself.... amazing. A holiday, I'm wondering if I know how to relax...I'm sure I'll work it out!!!

We call into Crombie's place today, film his 'bit' for RATED PG dvd that will come with some copies of TRIP. The highlight is Noel's *new* band..... Dog Man Star we call it- Noel Crombie and his amazing hound Buster. The footage has to be included on Rated PG- it's brilliant- Noel playing harmonica and Buster singing and dancing..... it's rare that anyone can over shadow Mr C but this time Buster the dog has done it.... just made our day- still smiling.

It snowed at Blackwood today- stay warm Hessie, it made me think of you- which is ok, sad but my thoughts were happy so that's the main thing.

Having a chuckle- minutes after the doors at Madame Tussauds Berlin museum opened, someone ripped the head off the Adolf Hitler wax figure. It's stupid, people shouldn't deny their history- Hitler should be on display, if nothing else just to say- hey look we are better people these days!!!


---
July 9th
Mark did his re-filming today and we added the Enz GLAM cozzies to the archive area..... they are the ones from the encores at the Millennium show in Auckland....just amazing, always thought they were under- used - such fine fabrics!

Meet Thomas the chicken boy who will be looking after the girls while we are away..he is so cool, just 12 but you can tell he's going to have a brilliant life ahead of him, if I'm adopting this is the sort of kid we want. Besides belinda the chook seems to like him, and she doesn't like anyone.


---
July 10th
Work on some Skyhooks stuff today...just a bit, and it's one of those things that i can tick off my 'to do' list. Funny that the Hooks are still in our lives.

It was close to snowing today, I could see it in the sky but by the time it reached us earthbound folk it has gone...I so wanted it to snow.... it was cold enough.


---
July 11th
The Shane art arrives, he truly blows our minds.... Gehlert is one of Australias coolest painters..... hope one day the rest of the country catches up.

Do the drive and collect the Skyhooks AMPS from Kensington..the new Navman works well - the guy selling them is a musician and gives us some cds. The band are called The Radio Lights... really like their song Nevermore...sound good. I get to use the new Eastlink on the way home, for a highway it's endless art...such a smooth ride.....and saves me 30 minutes.


---
July 12th
The weekend, I intend to work it hard, so we go for it, we seem to be living in the office....catching up on the work, we leave in 12 days so time is running out. We keep putting off making the new chicken pen door...we are both such DIY guys but we seem to try and ignore this task..no idea why. My mum calls and tells me all about her new dog scruffy. She sounds good, think she is just happy having a new animal to distract her.


---
July 13th
Crowdies are in Belgium, I love Belgium we always have such a great time, the people are amazingly friendly.

Dinner tonight is home made Lasagne... and it's one of those brilliant batches, must be all the wine I added (hic).

The Pope lands in Sydney, this Pope seems a bit nicer...still using fear to keep your flock in line has never made me love the Catholic church.


---
July 14th
Great news for Australia, the horrid Big Brother finally has the axe, what a total shit show..... we call it Big Bogan. Reading all the letters in the papers there are many people just glad this piece of crap has died. Just made our week.


---
July 15th
Good to see Polk speakers get the highest rating in the speaker Top 10...we have some, we've had them for ages, like 23 years and they are excellent.

Off to Dr Chiro today, one of the last times.... I fall asleep on the chiro table...it's so snug.


---
July 16th
Looks like we will have some of the Tim Finn rarities cds, only 100 so they will go fast.... the fans will love them, I think the collectable cds are the coolest. Nice when bands open their archives.

Dark Knight officially starts tomorrow, this Batman movie will be massive you can just tell, the media want to make it huge as well..... I hope it outsells Spiderman.


---
July 17th
Oh what a day, feeling a bit average and tired... trying to do too much and keep too many people happy. Tell a friend to get fucked..... you'd think when people would get older they'd become smarter not stupider and ruder.


---
July 18th
Go visit our way too cool tax lady...she works magic (in a good legal way) and just a fun lady..... we pay all our tax fee's on time and it's all done.... happy to pay my tax fast now that john hoWARd has gone. he's really vanished, maybe he died?

Run into some overseas fans at Olinda today, always girls, the guys never stalk...ok that's not true..... but at least they were nice. So many overseas people exploring Australia.


---
July 19th
Roast for us..oh and a good one. Rosemaree and Bec call up to see us which is nice.... Bec takes the charity stamps home for her mums church. Another huge bag full. I start packing my bag, I'm actually re arranging it! Have to remind everyone that as of today our office is closed- so no emails till August 20th. Thanks.


---
July 20th
Only 4 days till we leave, it feels like it is going to be a grand adventure....and I'm really excited. I did hear some disturbing news around Chernobyll...so not sure what that means for our possible filming in the dead zone..we'll know when we get to Russia I guess.

Hear from our mate Benny- hey congratulations guys!!!

Anyway better go pack those bags..take care and we should have some fun adventures on the diary when I return... and yeah this was a short diary (sorry)

Love life

PG

---
If there are any problems with this site, please contact webmaster@aswas.com.