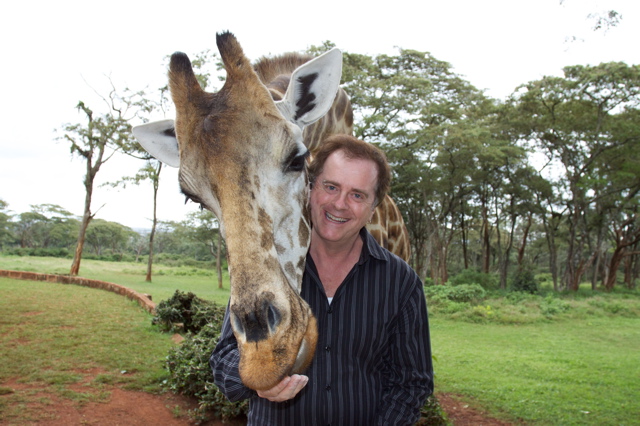 June 14th
We start on our malaria tablets today, always side affects , I wonder what body surprises we will get from these, plus you take them for several weeks. The joys of travel!

I have a chat to Greg Skyhook, he sounds rather ill, could just be the flu but he has recently been in India so really it could be anything.

The winners of the Crowdies contest are drawn by our very sexy barrel boy! I email the lucky winners, all are names I recognize- so nice to see them score the prizes.

Charts are in and Crowdies 'Recurring Dream' is a bullet performer today, jumps 30 spots into the national top 50 here, you almost want the best Of to go away, it's success is embarrassing! *GRIN*.

All I am thinking about is Africa- I can't wait-time to recharge, my escape for this year.


---
June 15th
We leave tonight so the day is full of last minute 'stuff to do', mail boxes of stuff at the Kalorama post office, we fill every mail bag they have and post bags We also drive 150 kms (return) and drop Banshee off at the Pet Motel. She makes me feel so guilty that damn cat, try not to think about it. As each month goes by we get closer and closer to that crazy ball of fur and her strange ways. We do love her. She has a really nice 'room' and the owners promise they will play with her every day...she'll probably maul them!!!

As the song goes, my bags are packed and I'm ready to go.... now we just have to stay awake. The Emirates people are sending their limo driver for pickup very late tonight, I wonder if he will find the house. It is cold tonight and feels rather strange leaving at such a late hour- but hey we arrive in Kenya in the evening so we can all go to bed at some 'normal' time.

I walk the bags to the secondary address for our property. The driver turns up exactly on time-his GPS is working. Mark carries his gear to the gate..and I wait for him to tell me to turn the lights off. Of course there isn't a moon tonight so yours truly has to walk down the windy tracks in complete darkness. I spot Mark with some micro torch at the other end... even my night eyes are crap tonight... thankfully our walkways have stone edges so I do my best Stevie Wonder and use my feet to feel my way along. I am singing 'superstition' at the top of my lungs.

The driver has some soccer show on the radio and he talks all the way, it's ok..he is a nice bloke- we are both rather quiet or simply tired. We arrive Melbourne airport at some oddball hour, and the huge lines are (thankfully) for Emirates economy. We only have 4 people in the Business Class line- so a fast check in-all the way to Nairobi. Fill in the immigration cards grab some U.S. cash from Travellex and walk through the point of no return-immigration.


---
June 16th
Call Sis and Trudi and they are at the departure gate so all of us are ready to go. Mark wants to go up the stairs to Emirates frequent flyer so we head on up for some food. I chat to the reception lady and she allows me to bring Trudi and Sis in-they are stoked... Emirates has some really good food.... champayne is opened- HIC- a fine way to start the trip.

Our flight EK409 departs at 2.40 in the morning. Our seats (10 J-K) are comfortable and fold down to beds, I'm happy. Up up and away, another adventure. How many flights now- ten million or something. Still about 1/ 20th compared to Neil- how does he deal flying so much-ok first class probably. We can only afford business (:

Despite having 300 channels I don't watch any movies, I do play a lengthy game of Asteroids! We do have a fuel stop on this flight, takes an hour and bit. Pretty much in and out. Sis and Trudi are good, despite having their carry on with them around their seat. We are soon back in the air and heading towards Dubai.

Dubai -what an insane airport it's MASSIVE and a new secondary hub is being built-the same size- I think it will eclipse Beijing as the biggest. I have a shower at Emirates frequent flyer lounge. Surrounded by 5 arab men I am not remotely intimidated .... yieks. I smell good again and even have a shave. Mark eats the FF food, I substain, too early for food poisoning.

At 15.05 we depart again on EK721, our seats are 2J-K. It's a lovely older style plane, with chunky business seats and wood panelling-love it-more floor room and business only 1/2 full. Food is great and like our previous flight this one leaves on time. Emirates are impressing us. The last hour of the flight drags on, 24 hours is way too long for a Gryphon- my wings are tired, the stillnox has worn off, I want out. Mark is worse he is in the 'no talk' zone. I'd say Trudi would be at that stage too-we have travelled with her previously.

We arrive Nairobi, Kenya at dusk. The immigration zone looked very 1950's I kind of loved it. A large very dark Kenya official , who never smiled, decided to escort us to the Kenyan citizen line... gee we really so do not look Kenyan, but it was 40 people less so we are happy. All 4 of us just want a hotel room. One at a time, photographed and finger printed, a very patient Kenyan immigration guy waves us through. You can tell that the football is on at South Africa, the fans are heading off, excitement is in the air. It will bring in big bucks for Africa. I look down from the 2nd level immigration area and spot my well toured suitcase on the conveyer -yes it made it. All our luggage did- more points to Emirates. We walk out and are still 5 minutes early. Trudi spots a Mr Green card holding gent-what no 'Mr Creep', no 'Mr Glean', no 'Mr Preen'.... hate it when they get it right- no photo op. in that. The Nairobi car park is a sea of insanity, somehow the drivers manage not to ram each other, people everywhere, these 4 tired whities stumble through what is now a Nairobi night- and climb into our van. It feels more like heading on tour then a trip to the Holiday Inn.

The driver gives us his 'city tour', nice guy and we only close our eyes a dozen times when the driving gets hairy. For those who have been to Nairobi or Italy or Cairo you will know the sort of driving I mean, horns alert people, animals carts etc ... somehow not a single collision, Matatu's are everywhere. These sardine packed Nissan vans cruise by, people jump in while they are still moving, hang to the sides the roof each other... strangely enough they obviously work because they are always full. As we crawl along in the traffic faces are squashed against the Matatu windows-some look uncomfortable-you almost hope for a crash to put them out of their misery *GRIN*. You feel like you are being watched and you are- it's a bit daunting at first.

We arrive at Parklands Road, a rather cool looking Holiday Inn- in fact the most Un-Holiday Inn I have ever seen (yey). However Priority Club have somehow messed up our booking, it's a stress none of us need, but we deal and it is fixed up, kind of. A shaky start to the holiday. We just need sleep. Our room sucks it's next to the pool and NOISE, we move- much better. My 2nd key doesn't work-much worse. Please tell me our time in Kenya will not be like this every day. Lack of sleep makes one crappy. Some load drunk English woman is outside with the worlds most annoying laugh, till 3.30. I pray a sniper will take her out. If not I will I swear.....


---
June 17th
Nairobi

I've changed from my regular 'real' diary book to the lovely travel journal that our friend Wenz gave us..it's the perfect size for my scrawling. I'm up at 8.00 and look out the window to see my sister in the distance by the pool having breakfast-actually she is scraping something into a bush!!!! I later find out it was a bright green grasshopper that had landed on her toast! The rains just finished recently so grasshoppers are a chewing and a hopping. The breakfast was good, I feel more calm today and ready to take on the nuttiness of Nairobi.

The 4 of us decide to walk to the museum. It's only a mile or so. We head down dirt streets, crumbling eroded footpaths, holes and boulders and a bit of rubbish. Matatu's cruise by, the odd taxi, we stand out- just a bit ok a LOT. My eyebrow ring once more attracts attention. With so many tribal designs etc you'd think it would be lame but no, people are starring at it. It's like having giant boobs...people talk to the eyebrow ring...like men talk to big boobs! The museum is full of young kids, tour groups. The kids are so clean in their uniforms-going to school here means so much more, a chance to escape poverty, they are proud and gobble up the knowledge. Some say Hi some young ones grab us, we are kind of 4 freaks, alongside the giant elephant bones and stuffed white tailed mongooses. My sister and Trudi fall in love with the kids, actually we all do- they have brilliant smiles. The museum is rather cool ,it covers all areas of Kenyan life past to present. I sit with Sis outside the 'bird room' and I hear Trudi and Mark laughing. Inside they have found a stuffed 'Peters Finn Foot'. Yes this is a bird...the information says the Peters Finn Foot-is 'a remarkable bird who's affinities are still a matter of some speculation'. Once more I am the butt of some perverse Kenyan joke. We decide I should check into all future hotels as Mr Peter Finn Foot.

On the way back we find some shops for Sis. She spots the Cultural Markets and begs to go for a look see. The market crowd go hysterical for the 4 tourists, ok our money. All the stores are empty, we are soon under siege, we bolt. We also get lost and walk a LOT, usually the wrong direction. There are 3 Parklands Roads, so asking directions is haphazard and the girls left my Lonely Planet book in their room. We finally find our way home, a man with his possessions in a yellow garbage bag, is heading that way. He is rewarded, my feet sigh.... I love walking around cities especially colourful places like Nairobi but even they give in from the mileage clocked up today. Mexican for dinner at SPUR located at the hotel. Some sleep, more exhaustion.


---
June 18th
Nairobi National Park

Apparently I snored a lot last night- I do have a blocked up nose I kept someone awake... I don't tell him at 4.00 he sounded like a buzzsaw-next time I will record it.

No rain yet, the advance weather pattern had it raining nearly every day- I hope it turns out wrong- I offer a sacrifice to the weather gods.

We meet Peter at reception, our new driver, he is on time- we like that, how do you arrive on time during Nairobi peak hour? Today we are off for a safari into Nairobi's National Park. It's so close to the city, you can be photographing a wild animal and in the background the Nairobi skyline is so close. We have our pop top van. Trudi organised this- so much cooler then buses or a 4wd. When popped there is a nice breeze and you can film from the top so no dirty glass between you and the wildlife or landscape. I spend the time standing on the backseat looking for animals_ I am good at this. I spot the most. Old Gryphon eyes me.

It's a great day, perfect weather and a buzz to see Impala, giraffes, waterbucks, ostriches and warthogs. The Ostrich is freaky- it decides to take a pee and really the flood gates are open. After that it does some strange dance- like it's finally released a years worth of urine. Freak!!!!A pack of Impala's are on the path, some nice photos. We turn and a mother masai giraffe and a baby are nearby, she grazes on treetops and keeps an eye on her baby. Wildlife everywhere, 2 warthogs are hanging out with more Ostriches. The park also is home for 50 rare black rhinos. The drivers tells us we wont see one... as we are heading back I start the famous chant "Rhino rhino rhino'. I know Trudi so wants to see one.... and around the corner there he is a black rhino. I've never seen Trudi move so fast on her feet and snapping away with her funky canon camera. A nice way to end such a cool day.


---
June 19th
Giraffe Manor

The wonderful George from the Manor arrives at 10.30 to pick us up.-lovely man, seems very warm and kind. he has 3 sons and obviously loves his job. We call into a Kenyan Mall so sis can buy a larger card for her camera-the one she wants is so cheap, 2/3 of what we'd pay in Oz.

30 minutes later we drive through the majestic gates of Giraffe Manor. They say first impressions matter and it doesn't disappoint -truly lovely a real manor covered in ivy and huge open patio. Jessica Pattison who is the general manager comes out to meet us, and shows us around this incredible place. We sign some waivers and are told 3 rules and that's it. Our suite with Karen Blixons furniture in it is so fucking cool!

In the distance we see some giraffes, kind of like Jurassic Park with the dinosaurs in the distance...they seem to approach at a very fast rate. They are coming to greet us. They are wild but obviously the odd bit of feed from the guests at the Manor keeps them happy and returning. Lyn is the first giraffe that I 'meet'..... Lyn and Patrick are my favourites, ok they are all incredible. Jess's husband Giles shows us how to feed them- the Giraffe have such LONG tongues and nice lube like spittle- oh joy! They are Rothschild Giraffes, which are the 2nd most endangered. The pelts are paler then the Masai giraffes more creamier and also no markings on the lower leg (I kept saying they have nice white socks on). Only a few hundred exist. The Manor has relocated some back into the wild & these few live on 140 acres of surrounding indigenous forest.

I also add a first to my list. A pash from a giraffe. I'm shown how, the brave first one to try (yieks). You put a small pellet between you lips and the giraffe kisses it out of your mouth (good grief that sounds freaky). I keep reminding myself they are wild, but I know they have done this a bit. The photo (and no it will NEVER be on the net *GRIN*..c'mon I'm not that crazy to let everyone see it) looks so crazy... it somehow looks like the Giraffe really IS having a french kiss of yours truly. With a tongue THAT big you'd know......and 'she' didn't (phew)... it's a case of try anything once, well maybe I did go back for giraffe seconds. My sister bravely tried it but Mark and Trudi chickened out.

Patrick wanders up next the smallest of the giraffes but not the youngest (his Mum is tiny too)... he's only recently been visiting the manor, a very shy young boy- he will be king though- he has such a character. Helen is the youngest and Laura is pregnant. So she is a bit moody and kind of dangerous. At one stage I was sitting reading and she walked up and watched me. I could see movement in her belly and it was her baby kicking, it will arrive over the next month or so. There is also JJ and Kelly (Patricks mother).

"Sausage' the warthog joins us, he keeps trying to sneak up on the patio. Sausage just adores Mark- we have no idea why. Our whole time at the manor he just followed Mark everywhere, very odd, Warthogs are funny!

Lunch is excellent served at 1.00 on the dot on the side patio. Lovely setting, water poured from silver giraffe shaped pitchers. Wine is opened and you feel like one of the infamous 'Happy Valley' set-those British ex-patriots of the 1940s, they all lived around here in enclaves and indulged in decadence. We all enjoy the wine on offer and Sis spots sausage the wart hog once more trying to join us. Suddenly everyone is up with cameras and video- all way too excited.

The staff at the manor are possibly the best in the world-major statement eh? Nothing is too much bother and they don't invade just offer-we feel right at home from the moment we drove through the gates. If you ever go to Kenya- try and stay, even for one night, it's one of those once in a life time experiences.

I'm sitting with Trudi & have a Gin and Tonic- and she mentions that a bit of 'White Mischief' was filmed here. So in the back of my head I wonder if Tim Finn stayed here with Greta-when the movie was being filmed and make a note to ask him when I get home.

Bluka the dog spends the afternoon chasing Sausage and several other wart hogs, he just plays with them. Bluka is still a pup and full of pup energy, just bounds everywhere. He also has a very cool beaded dog collar, that Sis and I admire-20 minutes later we are being driven to a small community market in search of one. We also explore their supermarket, general store- it's something I do with Sis. We figure the local culture can be explained by their supermarkets. Very neatly stacked this one *GRIN*.

The girls have a room each , upstairs tonight, so some private space-not that it's needed as Jen & Trudi are getting along famously. Afternoon more Giraffe action and the wart hog family arrive. 7 wart hogs and Bluka is off and running. The Giraffe Centre is an acre or so away, a place where one can learn more and the general public get to see Giraffes close up. We see the people at the centre staring enviously at the 6 giraffes that are hanging about with us. They must of read my mind as 2 depart and walk towards the noisy public hanging out at the centre.

We hear that a leopard killed a baby giraffe a few months back, despite it having a security person with it during the night. A sad reminder that it is indeed a jungle out there.

The sun is out so we have some drinks in one of the social rooms, the manor holds about 16 people and while you are staying it's like your house, you just wander about, like you own it (we wish). It's a house of warmth and charm, lovely windows and views and dark wood panels very much like our own Kalorama place. I find a framed photo of Jock Melville taken mid seventies and ask Giles if I can take a photo of the photo. I wanted to check because so many times photos I have taken have been used for things over the years and I've never been asked (or received a credit). I got thew OK and tried one of the my 'tricks' on the shot. Basically I put my hand around the flash and slightly open my fingers. The result (below) is pretty cool. It changes the B&W and looks like there is a sun set or the Manor is on fire.... I'm shooting 'raw' (not in the raw!!!) so if I really make it massive you can see it's actually a giant hand...like the hand of god. The red is really the flash exposure through the blood of my hand! Cool eh?

Dinner is on the patio or inside. We opt for outside seeing Mark is such a social animal (cough). It's at 7.45 and the Gin and Tonics are carried out (HIC). The set tables are surrounded by heat burners and tiki lights and the stars are shining down on Africa. No sign of the wart hogs yet!!!

Excellent dinner, amazing service, can we live like this forever? How decadent says one of the four. Bring it on says another. A camera is set with timer and a group shot taken. Pip pip old man says the third.

I can't eat or drink another thing and return to the Blixen suite for a deep and wonderful bath. A fire has been lit for us, the bed rolled down and circular mosquito net opened. Fresh roses on the mantlepiece and in the bathroom. Even hot water bottles in the bed. Have I died and gone to heaven. I'm not sure how much more of this excellence I can handle- is there a sign- no bad stuff can enter the gate? I'm taking all this as an omen for a #1 album in Australia tomorrow when the charts come in.

I hear Mark laughing in the toilet- should I ask why. He tells me he opened the lead light toilet window and looking up at him from the outside was sausage the wart hog..... I think a certain wart hog has fallen in love with Mark!!!!!!!!

I sleep really well.... and hell why wouldn't you.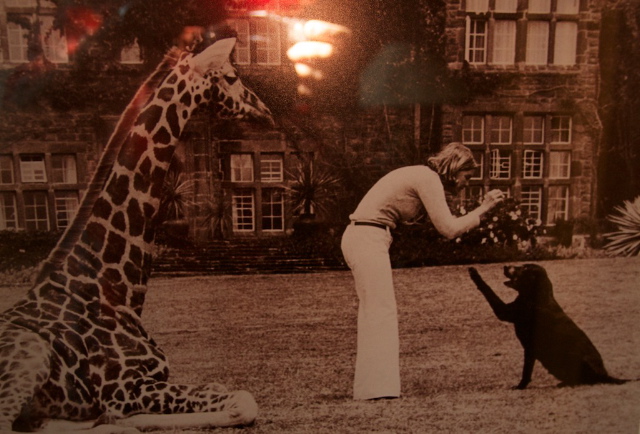 ---
June 20th
Giraffe Manor-Day Two

We are awake at 7.00, sunlight creeping through the sky light in our room, feel good and look outside and it's a pretty good day. It seems like the 2 weeks of predicted rain just wont happen. Jess and Giles see us at breakfast and tell me this is the best weather for many months. It just feels like every day is sunny at Giraffe Manor.

As I sit at breakfast I think of super jaded Sarah Miles from 'White Mischief' movie and her infamous lines on this area "Oh my god, not another fucking beautiful day"!!!

We eat breakfast in the room that was previously the plant room-glass house. Surrounded by masses of lead lighted windows. Breakfast is disturbed by some uninvited guests, 5 giraffes stick their heads in the windows to see what is going on. It's like they know we are here- of course everyone stops eating and photos are taken- huge disruption and you want breakfast to be like this every day. I'm thinking the giraffes love this as much as we do.

I go to wash my hands in one of the downstairs powder rooms. As I walk past, young Patrick the giraffe sees me and walks right up to the front door of the manor. By chance I have amy camera handy and take a few photos f him framed by the door-right place right time, not bad photos, in such darkened light of the entrance way.

We head to the Giraffe Centre this morning, it's admission is a bonus for staying at the Manor- and they have a gift shop so a chance to buy some cards and trinkets for the family. Bluka follows us and once again chases wart hogs. Trudi and Sis buy some artwork from local school kids, all monies go to the centre- and you can send the kids a card- imagine how they will feel knowing their paintings ended up on the other side of the world in Australia. The money helps bring the very poor for a visit a day away from sadness, it's a good idea.

It's Sunday here and Kenya drowns in religion. The gift shop has some radio show on with an American southern televangelist (in this case radio too) rambling. I see Mark cringe to the point of wanting to attack the radio and turn down this torrent of over top preaching.... it was so loud and just a head fuck. It reminded me of the Church of the Sun from True Blood. A part of me found it hysterical but for Mark like dragging fingernails across blackboards. I have to admit the babbling novelty wore off after 5 minutes and I was gasping for air. I'm not sure why people are so desperate for this stuff-just be good people that's all God would probably wants. I pray aloud- 'God I need a drink after that'.

He must of been listening, Giles walks out with some JD when we return. Hallelujah! Trudi points out it is only 10.30 in the morning (opps). Medicinal I reply.

It's time for a photo of the 4 of us. Sis pulls out her safari collection hats-those Pith Helmet safari hats-the type worn by British Royal Marines and the colonial period of the british empire. They feel a bit racist to me, probably because of the Anglo-Zulu war etc. But Sis was having fun so we just went for it and posed for a few snaps. Two of thew staff liked them and we just gave them away. We signed Trudi and Sis's as a souvenir of the trip.

Our afternoon hike is blown out as we decided on it too late, however we do head to the David Sheldrick Wildlife Trust with thoughts of adopting a baby elephant. It helps with their food money for the year and so many of these amazing babies die, mostly from trama and the shock of seeing their parents killed by poachers- even helping save one would be money well spent by us. As we stand around, the manager announces they have a 1 year old baby called KALAMA ..... our mouths drop- this is fate-how much closer to Kalorama could her name be. She was found in the Samburu District (near Archers Post) in Northern Kenya- its an area that is drought prone and she was standing chest high trapped in a well-she was 4 months old at the time. I got a chance to feed her- well kind of-she fed herself-smarty that she is. Her giant baby bottle kept in a bucket outside her stall. This hairy ended snout reaches out towards me and then searches the hanging bucket for the milk bottle- at one stage she hit me in the head with her bucket on her mission for more milk! She also sneaks greenery from her neighbours pen-so quite a character. I hate pouchers , pretty much dislike anyone who would hurt an animal- so unless she gets sick Kalama will thrive and be a full size elephant - I'll mention from time to time how she is doing, in case some of you are interested.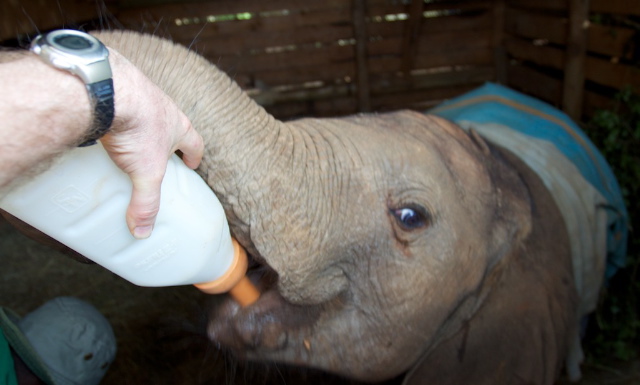 It was a funny day, as we all waited a baby rhino rushed by, he didn't even have a horn yet...but he did have a cute jacket on!!!! I was starting to think it was some strange baby animal race without jockeys but wearing coats!!! My sister had an issue over the rumoured feeding of the baby elephants- I kept saying it's not a petting zoo which went over really well (opps). It doesn't say anything about feeding on their website... she wasn't the only one-tempers were rising over this issue.

An American kid, left unsupervised by his parents went too close to the black rhino cage and ended up getting stabbed by it's horn. His parents totally useless, afterwards we see the same kid (once more no parents) hassling the wart hogs. Are parents just dumb, these are wild animals, the rhino could of killed him- just stupid. We were hoping the baby elephants would stampede and crush the american parents.

We head back to the manor and a few new faces arrive, the first few hours at Giraffe Manor are daunting for some and people never know what to do when a wild Giraffe walks up to you!!!! Do you introduce yourself?

I head to the Utamaduni Craft Centre with Sis, it's got a great layout and system. A huge house and each room relates to a product. The road heading to the centre is full of pot holes, cars are always breaking down on it, your heart ends up in your throat from the bouncing and you backside gets a good work out. But the centre is worth it and you don't get hassled. We see a novelty- white people! *GRIN*. A hippy guy and his girl buying drums.

A group of the rich list arrive at the manor on their private jet, 'sausage' the wart hog freaks them out a bit, we find that funny. Sausage likes us poorer folk more.

Miles walks me to the front gates as I want to photograph them, very cool. He's a nice bloke, good to chat. Soon to be a first time Dad, imagine being born here. When I return 2 giraffes (Helen & Laura) are on the patio, which means the guests have to go inside.... Giles ok's me to get a few photos FACING the manor with the giraffes out front-it's a rare chance, I am stoked.

They eventually wander off and life returns to normal. Trudi and Sis sit out front and write some postcards and read, it is a glorious day.

Jess gives me the code for the computer, I need to check our ARIA charts to see what position Crowded House's INTRIGUER enters the Aussie chart. Mark says #1 for Australia #1 for NZ and Top 10 UK. I say #2 for NZ, Top 10 UK and was unsure about Oz, I started thinking #2. Well Mark was right for Australia, it debuted at #1 on the Australian charts. I am stoked, all the hard work has paid off, well for this week anyway. I rush outside to tell the guys- "#1 , #1 in Australia" I shout. I'm way too excited and the Giraffes freak at this strange man shouting numbers- the 2 bolt.... and even the wart hogs run away. Oh -I've scared all the animals......opps! There goes Giraffe Manors harmony.

We dress for dinner and the manor gives us some champagne to celebrate which is nice. This part of the trip has been magical, will be a shame to leave tomorrow. Sis is in a room all by herself, one of the funky staff quarters-a giraffe follows her to her room and sausage the wart hog stops her leaving!!!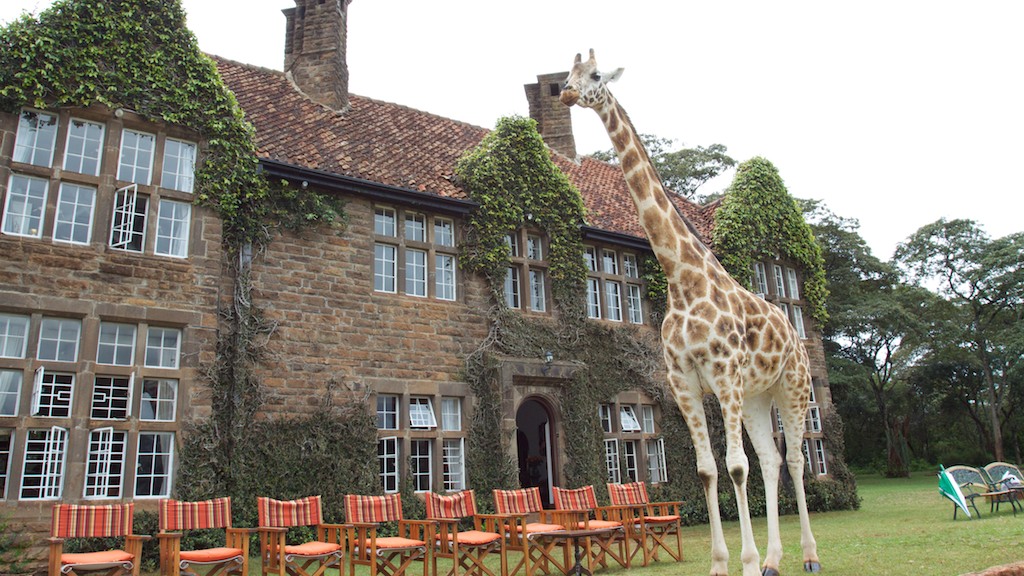 ---
June 21st
Lake Nakuru

I'm awake at 6.30, shower and pack-we head to the dining room-the first people this morning. I use their computer to check the UK charts, want to do this before any giraffes arrive in case my excitement causes a stampede *GRIN*. I tell Jess I think we will be at #13 in the UK, it ends up debuting at #12. In the eighties we would of been amazed at a #12 debut but this is Crowded House after a decent UK tour and promotion so 12 seems a bit average. I have this feeling in my gut that it might drop fast, I could be wrong, I usually am. (It proves to be right, 2nd week UK chart is #47!!!). OK #12 is nothing to sneeze at.

The giraffes turn up at 7.00, nearly all of them, they must know the schedule- it's a chance to say goodbye. Kelly decided she would eat the roses off the tables, I think she is the only rose eating giraffe- so this long neck stretches through the windows across the table and gobbles at the roses. Jess comes in with a few more to 'feed her'... at least the giraffes breath will smell good I say.

We head off, the staff all say goodbye as do our 2 new friends Giles and Jess-it's almost teary. We will never forget this lovely spot.

The driver gets us back to the Holiday Inn and we check in, and get ready to depart again at 8.30. A new van and driver-today its 300kms return to Lake Nakuru . It's in the Lake Nakuru National Park. You'd know it from the masses of Pink Flamingoes that come here to feed, sometimes a million. It's been in many movies, a sea of pink on the lake. The roads again go from good to bad to worse...to good. At the town of Nakuru there are thousands of people walking about, some are on small carts being pulled along by donkeys. Not sitting just standing, almost donkey cart surfing. At one point we see a cart racing along without a driver, just the donkeys!!!

We arrive at the National Park entrance and stop for a 20 minute break. We hop out of the van and I spot 2 Zebras grazing inside the gate. I grab Mark and we sneak in and film and photograph. Our first close ups of Zebras, their stripes amaze me. They snort turn their heads and run like brumby's into the undergrowth, only to return a few minutes later with a hundred zebra mates, a small zebra stampede happens, just like the famous river bank footage. We try not to get killed and snap away.

Back in the van and we are off. It's Trudi's day and she organized this one, desperate to see her flamingoes, so off to the lake we go. The smell of that many birds hits our noses first. Also swarms of malaria mosquitoes are about so we cream up, spray and cover. The Flamingoes are wary of us so no real close ups, the new Canon and it's zoom lens do get some great shots though. 80 white and 50 black rhinos live in the park too- we spot a mother rhino and her baby by the lake and get some great photos. An hour later a family of three white rhino's is only a few feet away, the driver is concerned the dad might attack... so we are careful. Monkeys and baboons are everywhere, the baby monkeys like human babies, all pink... cute! We drive out to an open plain by the lake again and I spot the worlds cutest Zebra. His Mum is rolling in the dust and he is having the best time. He grabs his mums tail and he knows he is the cutest thing in the whole of Nakuru Park! I take the 'money snap'!!!!!

The driver tells us the myth of an old lion that lives in a tree here. The 'Tree Lion', we all think he is pulling our chain but let it ride. Apparently people hear her calling in the tree tops but never see her. Lions rarely get mentioned in this park so we don't like our chances of a big cat photo. As we are leaving down a very small track, I turn and spot in the canopy ...yep a lioness. She is quite a distance away but you can see her in a high branch- like she is looking for prey. The driver is way too excited. I have the 70-200 L series on the camera in a flash, I'm almost nervous. I go for it and take 6 shots. Her heightened senses are working, she can smell us and turns and looks directly at the van. I can see through the lens she is old, quite a few scratches and worn in places, she is truly beautiful like some gorgeous old movie star- who has kept her classiness. So honoured to see her. It is incredible. The driver asks me to send him a photo for his guide book as he doesn't have one of the mythical 'Tree Lion Of Nakuru'. I do!!!

Trudi has shouted us lunch at Sarova Lion Hill Lodge. It sits high on the lakes eastern slops. A stunning location, it's open air restaurant offering great views. It also has the best toilets in Africa. Lovely carved and polished woods and shiny handles. See I'm impressed by classy loo's! We head back to Nairobi for the night, a long long drive, and the van seems to be going faster and faster as darkness sets in and the pot holes deeper. I sleep on the back seat till the bouncing becomes unremitting and sit up. Our bed at the Holiday Inn felt pretty damn fine that night.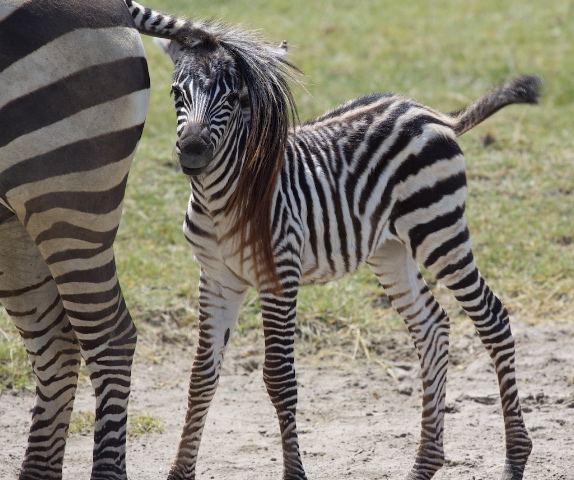 ---
June 22nd
Lake Naivasha

We wake up early again, I don't think we ever slept in, not once in Kenya. The street traffic outside the Holiday Inn started at 6.00. Women carrying washing and produce on their heads, lovely linen wraps, chatting and laughing. We all have our usual healthy breakfast, I did find the vegemite much to the joy of my sister. Note the local Nairobi cat is now at my sisters feet every morning, I'm glad she has had her rabies shot!!! We check out, I leave my main bag in the lock up. Our driver from the excellent 'Shoor' travel group is on time again- we recommend them, being on time via Nairobi traffic is an art form. It's an easy drive to the lake today, a mere 70km. We are all perky and chatty. As we bump past the corrugated iron shacks we are reminded how lucky we are. For a few days we are staying at the age old 'Country Club', a leftover from the British Occupation. It's next to the lake, from days when flying boats landed and gin was sipped while you sat in those wicker chairs on the huge manicured lawns.

We have a double front cottage, split down the centre between the 4 of us. It's all seen better days in some ways. Sis makes some comment about the bed mattresses being from clark rubber.... I love the location, as long as the rooms are clean. I'll suffer in silence. I call my Sis "The Princess" today. We take an afternoon trip to Crescent Island, which is a wildlife sanctuary. A small boat takes us over and a ranger guide meets us. The animals were brought over to the island years ago when they were filming 'Out Of Africa'. It is a lovely location. The island is a protruding rim of a collapsed volcano crater-and zebras, giraffes, elands, gazelles, and other fun critters roam about. We walk, the suns out again, but it's a very enjoyable place. The guide is good, he lives in this tiny hut for 6 months. I tip him well, some people give him zilch. I can imagine what he lives on, I even share my water with him. Some dutch tourists are in awe of my 'tree lion' photo, saying they had heard of the myth!!! Cool, I rock.

Three hours later and we are cruising across the lake, no sign of Hippo's today, maybe tonight. As the sun starts to set, the clouds arrive- the first overcast rain day of the trip. We head up the lit paths for some dinner. Food is average but we are happy to be fed so no real complaints. We do chuckle that this strange jelly creation is a different colour every day. We all have some local Kenyan beer, prefer the White Cap to Tusker. White Cap is pretty good, we don't drink masses of beer but it's refreshing (burp), great after a day in the Kenyan sun. We are looking sunburnt, the malaria tablets make us easy targets to be burnt.

As we walk back to the hut a misty rain starts. Trudi is taking lead and misses our turn off and we go close to heading into the lake! Of course this starts Sis laughing, Mark hiccuping and I'm giggling- a fine group we are. While the guys are all having a shower I grab our umbrella and decide to go for a walk to the gazebo overlooking the lake in the hope of seeing a Hippo. The rain starts but I am determined. A gate guard walks with me, a man of little words but great chiseled face like Kenyans have- such a photogenic bunch. The rain is bucketing down and he points just as a lightening flash hits, a hippo head is out in the water, ears flicking-I see her. I remember thinking I'm holding this metal umbrella and huge lighting bolts are crashing down- I need to get back or I will fry us both. Monkeys are racing through the trees to some safe haven to avoid this sudden downpour, I should follow their example and head back. I say goodbye to my new friend and head 'home'.

On the way back, a piper steps out and plays some bagpipes-rather surreal-guess it's a left over thing from the UK. It's hard to hear him via the rain but it was hauntingly wonderful. The rain ceases after awhile, about 11.00, my small bed isn't too bad. I snuggle deep surrounded by netting- I am a white man in Africa!


---
June 23rd
Hells Gate

We are woken up nice and early by some big crow like birds-high in the tree. I consider releasing a volley from my very loud cap gun, but security are patrolling so I do worry I might get shot. We grab some food and head to reception to order a cab to take us to the eastern entrance-Elsa Gate. I'm excited, some bike riding and just saying we've ridden through Hells Gate. The driver gives us 5 hours.

Mark sets up the HD camera and films us riding past-heading to Fischer Tower-the 25 metre volcanic Column. I also climb up the column, about 3/4 of the way. I take some pictures of Sis near the column pretending to blow her brains out with the cap gun- we are such a nice family. We spot Thomsons Gazelles grazing and our first batch of really wild zebras who do not appreciate us being on their territory. I stare one down-do not fuck with me Zebra, I am the Gryphon- I will not back down. I call his bluff, he snorts and heads off (Phew). A family of warthogs are taking the kids for a day out. The 3 babies are way too cute chasing each others tails through the high grass, Mum and Dad at front and rear keeping an eye on them. This is great no car or van, just bikes and nature, lapping up the intensity of it all as we ride through Hells Gate Gorge.

2 of the bikes are pretty crappy and gears get stuck, at one stage my brakes lock and thankfully I was going slow so only damage my leg (ouch). I have my small kit so Sis wraps up my knee. Trudi now takes lead and we ride to the top of the plateau near Nair-burta. A small shack on top is where nair hair removal cream is being produced-ok thats a lie. But there is a picnic table and shade. Masses of superb shiny starlings and rollers zoom by, they are loud and beat their wings against the updraft. The view is brilliant. I put the travel blanket under a tree and just chill and give my leg a break. Trudi tries for Central Tower and I am photographing, Mark filming Sis is pondering life methinks!!! I see Trudi in the distance and we cheer her on, I fire the cap gun as encouragement-Opps. OK that was me who caused a Zebra stampede. They sure are sensitive , it's freaky EVERY Zebra for miles around is running-oh shit! Well they DO love a good run. Eventually they stop-urgh- sorry. I spot a lammergeir way overhead, this huge bearded vulture is still quite rare-I wonder why he is circling us- does he think we will simply run out of water and die. The top of our hands are a bit burnt despite sun block-it's a hot day. We ride some more, that damn Zebra walks out in front of my bike, I am going VERY fast, Mark is right behind- the wind blowing past my face and do I really trust these bikes, their breaks, and how it will hurt hitting this very rocky road-I focus and we are ok. I head off to look for Trudi while Mark and Sis go the other way, we will all catch up. Our plan works, I spot her near a family of Giraffes grazing on some high trees. The rich ochre soil against a very blue sky is an artists dreamscape. At one stage I sit alone on a brick wall, a junction of 3 roads and take it all in- just makes me sigh, close to a religious experience.

Trudi arrives and she didn't make it to Central Tower, roads are too brutal, but big points for trying. My knee is burning a bit, so I take it slow and sensible (yes dear reader I can be sensible...rare as the Lammergeir but it does happen). We catch up with the others just as some baby Zebras gallop past-way too cute. A tourist with a Nikon camera stops and asks about photo spots- we say there are some good Canon camera spots up ahead-he gets the joke-he says ' I think not' in his oddball European accent. Trudi turns and her Canon camera is around her neck- he is out gunned.

We all make a burst towards the finishing line, the last of our bike riding energy expelled. The small shop has coke and fanta-they taste fantastic. Big sugar hit. Sis buys me a red Hells Gate Tshirt, probably to match our slight sunburn. We head on back to the Country Club past the masses of flower growing buildings- a huge % of the worlds cut flowers comes from here.

We shower and wash off all the red ochre dust , oh look a brown and slightly pink skin is underneath. My cute ears are slightly sunburnt. I make a new friend Joseph from house keeping- his honesty helps me a lot in a strange vacation moment, where a few items were stolen from our room- the only bummer around the trip, but we have travel insurance and they will take care of us. We watch some football and have more beer-the Aussie game is replayed at 1.00 tonight-we are snoring in our beds by that stage. The lone piper again slams out a tune on those bagpipes as the sunsets...

So for the moment it's goodbye, I remember a few words in swahili from today....

So "Vyoo viko wapi" Opps sorry I have that wrong that's "where are the toilets"...... I'll try again "Tuta ohana" ...... SEE YOU LATER

from Peter in Kenya xxx