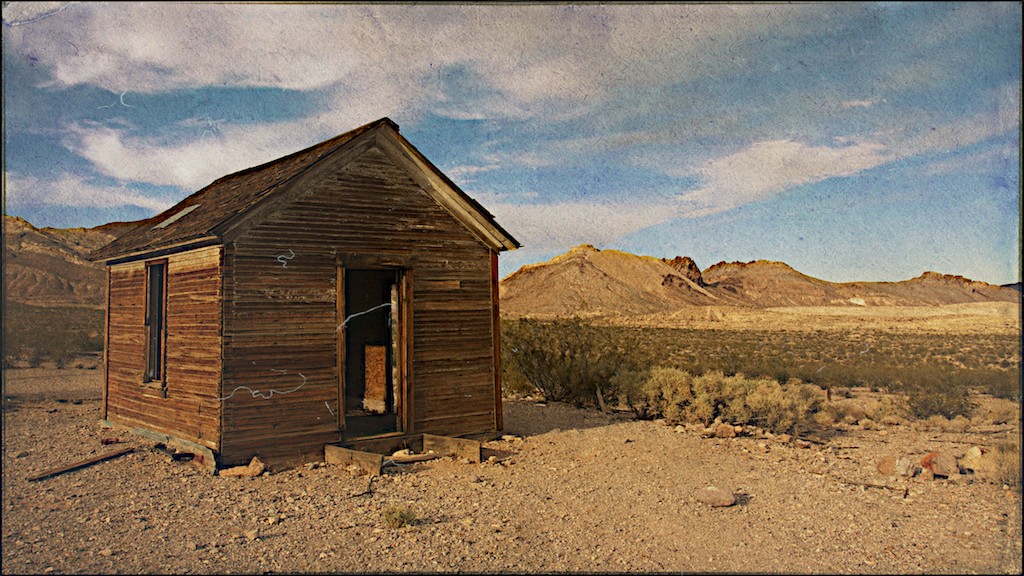 My favourite photo from the trip. An old cabin by the desert -Rhyolite-Nevada. Some magic added by Mark to age it.
July 18th
It looks like we will be working right up to when we depart. Somehow we keep finding some space in the bags to stuff in more and more envelopes and parcels to be mailed in Hawaii. The new scales here at home are so exact we get it so close to the maximum weight for our bags to get on the flight without being charged any extra. Thankfully life members with Qantas means we get an extra few kg's so that helps. I go to lift my bag and it is so heavy. I even swap over my toothpaste for a micro tube-I'm serious. Talk about getting it right. Surely if I peel off some stickers on the bag itself and maybe take out a few screws that will allow for another letter or two. I wonder if anyone appreciates the lengths we are gong to, to get mail posted *GRIN*. Even my onboard jacket was decided by the amount of pockets it had, just in case I needed to stuff them with letters!


---
July 19th
I visit Dr Chiro today for some corrections and acupuncture so I'm ready for the long haul on the plane. I feel great, but have to say the cold Winter has just added some excitement to the thought of getting some sun over the next 3 weeks. I'm not a sun sort of guy but at the moment it's all I think about and to go for a swim in the ocean and lie on a sandy beach for a few hours. To leave my email world behind , no computers , and no bands- sounds like I am getting a life! Wow! Imagine that.


---
July 20th
Do some last minute clothes washing, and pay a few bills, all those 11th hour things. I've emailed as many people as possible to beg them not to email me while I am away, it can be daunting to come home to 8000+ emails, so I tend to beg to people to lay off while I'm away. Banshee tries to hide in the suitcase again, she keeps talking to me, she knows something is up. Going from 2 acres to the Pet Hotel would not be much of a joy for her guess.


---
July 21st
Give both Fran and Trudi a call, their birthdays today. Trudi has hit a magic number and decides to hide from the world, she succeeds and I can't find her so I leave a message. I chat to both Mum and Sis tonight, as I will miss them while I'm away. Sis has already put in her request for her souvenir!

Good to see that Bert and Ernie from Sesame Street have finally come out and want to get married. To show your support for Bert & Ernie's Gay Marriage head to this online petition! *GRIN*. Now if PM Julia Gillard would just give the nod to Bill & Ben The Flower Pot Men in Australia the world would be a nicer place! http://www.change.org/petitions/let-bert-ernie-get-married-on-sesame-street


---
July 22nd
The Captain America movie debuts in America today, it will do well, I know it will come in at #1. Good to see the True Blood cast are at Comic Com, the show just goes from strength to strength, along with Dexter and Breaking Bad, all deserve to be appreciated. Anything that isn't a cooking, fat or bad talent show gets a thumbs up from me, such dribble and sadly the masses gobble it up. As they say one mans shite is anothers gold. proof a turd can be polished!!! We see the South Park episode on Facebook- totally brilliant, if anyone asks me what I think of facebook in interviews I'll re-direct them to that episode. So funny.

We carry the chickens down to Thomas's house so they get a vacation too, a big pen full of lush grass, chickens have such short memories they'll forget us I'm sure. As long as Mr Fox doesn't have a chicken banquet I'll be happy. The girls are loved and hell they keep us in eggs, got to look after Joan-Frances, Meg and Ginny.

I hear on the grapevine that they will be ok-ing a final season for Breaking Bad, it will be filmed next year. At least it will get a fitting conclusion which is a nice thing for the creators of the show.


---
July 23rd
Melbourne-Sydney-Honolulu

I wake up at 7.30, I did get some sleep, no pre- flight adrenalin which is great. No tea or coffee the day before probably helped.

Rosemaree arrives on time god bless her, and we arrive Tullamarine with time to spare, so we head to the frequent flyer for breakfast. The flight to Sydney departs on time as well, loads of snow over the Jindabyne area, all the mountains are snow covered, more snow then a rock-stars nose!

Sydney is grey and the airport train not working so free bus travel from domestic to international airport-save $10.00, it should be free anyway, sucks that they charge to do the short journey between those two airport areas.

As we board our flight to Hawaii we are stopped as our ESTA doesn't show up as being cleared, which is rubbish as I know it has been, it's some computer hiccup and is corrected, as a tiny bead of sweat rolls down my forehead! They work it out and besides we sensibly have paper copies with us.

Our seats are 1 K and J so any closer to the front and we would be flying the plane. It's an ok flight, pop a Stillnox and that removes about 3 hours. Such great little pills don't feel revolting afterwards, almost a 'real' sleep. However I do find a small page of scribbles that I must of done afterwards and good grief my handwriting is worse then usual- NO IDEA what it says, obviously some random thoughts on the flight. I simply can not read what I have penned!

We arrive Honolulu same day, around 7.45 in the morning, immigration is a breeze and we just walk through, jump in a taxi and arrive at the Ramada Inn on Ala Moana Blvd. We do like staying here, so much I recently penned a review for Trip Advisor on the net. It used to be the Holiday Inn but Ramada bought it out a year or two back and renovated it. They have 2 suites on the Penthouse level so we always grab one of those, prices are great, and the rooms fantastic. Loads of space comfortable beds, kitchen and big open balconys. Plus the staff are pretty good. The one very odd thing- THEY DON'T HAVE BOTTLE OPENERS in the room- I am serious. Reception said I could come down and use theirs! Weird, so I opened the bottle using the handles of the drawers in the room! I'm not catching an elevator 17 floors to open a bottle at 1.00 in the morning.

Today is a chill out day, but we also make the effort in our worn state to get the mail posted. So we walk down to Ala Moana in the sun carrying some massive mail bags- this is way too familiar , I've forgotten how many times I've posted mail in Hawaii. It saves around $4000 though. We have some lunch and a frappuccino , they are perfect for such warm weather. I also head to Radio Shack and grab a small GPS, the car rental company charge $15.00 and day plus tax so it works out much cheaper buying one, we are getting a bit of a GPS collection happening!

We get changed and head to the beach, I notice the lifeguard towers don't exist anymore, which is strange. It's a Saturday so sun worshippers are out, loads of sun tanned Hawaiians playing volleyball on the foreshore and palm trees gently swaying in the breeze. I love Hawaii, there is always a calm here and it never feels like that frantic American mainland, I understand why people love it. I'm in the water within minutes, it's warm, and nice and the salt stings, I have missed the ocean but especially the sun, it's been a cold Winter at Kalorama and the grey has drive us slightly mad I think. I try to entice the boyfriend in for a swim but he is happy reading and watching me pretend I am a dolphin (not a whale!).

We have a simple dinner tonight, just wanting to recharge, watch some HBO and have a beer on the balcony under the shiny lights of the waikiki hotels. I nearly break a few drawer handles opening the local beer.


---
July 24th
Diamond Head- Honolulu

We go to the Ala Moana Bakery in the shopping centre, I always get them to make fresh salad rolls with roast beef & salad, it's a joy to find fresh rolls in the States. Plus we are heading to Diamond Head today and hike to the summit of Le'ahi. The summit hike was built in 1908 as part of the US Army coastal artillery defense system.

We head to the Hilton and catch the bus (#22) and get dropped off at the parks entrance. Some scenic views and Mark has the HD video camera and tripod with him and seems to stop every 2 metres to film. I'm not very patient today so I decide to walk ahead. The Kahala tunnel is first up, so you walk under the cater rim. A guy is skating with some new hi tech flat board skates.... kind of cool but he takes a tumble on the road and a bit of skin and blood are left for the wild life to peck on! Urgh. I head through the tunnel which was built in the 1940's and you exit onto the crater floor near the information centre. Plenty of trees and benches so you can hide from the heat.

Mark catches up and we start hiking the trail. You hike about 1.3 kms and then start the 560 feet climb from the crater floor to the summit. Most of our friends are not healthy enough to do this hike. It's the uneven steep terrain and even sets of steep stairways. People were panting all around us, some were not prepared and didn't bring water. I probably gave half of ours away to overweight people who were gasping for air with nothing to drink on this hot day. I think Mark assumes I drank more then I usually do....little did he know I gave some away.

It's a relief when you make it to the first tunnel that cuts through the crater wall for 225 feet, simply because you are out of the heat, but when you exit you are greeting by the 2nd very steep staircase, and it is a problem getting by any overweight people climbing back down, their is no room. The next section is a spiral staircase and it reminds me of the one in the statue of liberty and it climbs 4 levels. You climb through a gap in the concrete bunker to head outside of the observation station. This hike it really doesn't pay to be chunky and one poor overweight guy looked like he was going to get stuck like a cork .. but he wiggled his way through.I was happy he succeeded. I made a mental note to exit before him though, just in case he does get stuck. You could do a roaring trade selling water up here, it's only an elevation of 761 feet (232 m) but the hot day and rough terrain really take it out of many. We were (surprisingly) ok despite some jet lag etc, carrying the camera gear, tripods and HD video add a lot of extra weight but it's worth it. Wonderful views from this old defense look out. You can still see the 5 spots where the original defense batteries were located. Heading back down is much much easier, and you just want to warn those who are attempting the hike with no hats or water to turn back, we also spot one very pregnant woman and another carrying a month old baby which was plain stupid on such a hot day.

You make it to the green area at the bottom of the crater and just recover in the shade under a tree. Magoo's has a crushed ice van and they also make hamburgers. I have to say the hamburgers were fantastic, a wonderful surprise and their mango smoothies-yum! We get the bus back, the service has ground to a snails pace so all of us at the bus stop just climb on the first bus that eventually arrives. Two fellow Aussie girls chat to us and we are all unsure where we are going. So we get off and it's a short walk back to the Ramada. Mark spoils us tonight by shouting myself and the 2 hot aussie girls dinner at the wonderful Indian restaurant- one of the best Indian feeds i've ever had. We party on with the girls back in the room, a wild wild night. We all go for a swim in the ocean at 5.00 in the morning. I win the hottest kissing contest. Wild Aussie tourists!!!


---
July 25th
Honolulu- Las Vegas

Our Hawaiian air flight is in the afternoon so there is no rush to get to the airport. Our check out time is 12.00 so we stay till the final minute. Hawaiian airlines frequent flyer area is right down the other end of the airport so we have a ice coffee instead and head into the cool waiting area. People are going crazy with texting, computers, phones and games... nearly everyone, so socially obsessed. Also again loads of overweight people, "stop texting and go for a walk" I want to call out and save their lives! We read instead.

Hawaiian Air - excellent as always, they leave on time and arrive 5 minutes early. I can't recall much of the flight, food was good. I pretend I'm asleep and watch Mark read some of his Rob Lowe book. The Hawaiian noise canceling head phones keep playing up, so we had to swap 6 pairs till one worked. I play some Tetris style game and get the top 8 highest scores, really wanted to get all 10 but I grew bored.

We arrive in Vegas at night, glittering like a jewel. The Luxor manager was true to his word and as soon as our plane touched down the giant laser light from the Luxor pyramid went on, beaming across the sky like some call for the chariots of the gods! We wait and wait for the shuttle bus that goes to the new hire car centre. Hire cars in Vegas are now in the one big area instead of at each hotel- which I hate. We are with dollar (again), as AVIS were rude arse holes- and the line is huge despite it being 1.30 in the morning. They are so slow, but I am lucky a third staff member signs on and she is fast. I am ready and off to get our car while the other people still stuck at the 2 counters. The garage woman has locked the keys in our car so instead she gives us a brand new medium size car that's only done a few miles. We just want to get to the hotel and don't even bother with our GPS. We can see LUXORS beam of light so we head in that direction. Of course we get slightly lost but only for a few minutes, I'm trying to focus on driving on the opposite side of the road and we lose count how many times I turn on the wipers instead of the turning indicators! Yieks. We arrive, park on the roof of the garage and stumble into the Luxor with our bags and a bucket of stress! I know I'll be fine driving here but I keep forgetting how fearful the first hour is on the American roads.

The Luxor is amazing inside, who builds these monoliths? Fake Egypt, and the inside is a hollow massive pyramid, I keep wondering if it would stay standing if a huge earthquake hit and hope we are not inside to test it's structural integrity if it ever happens. We find our spa suite and it's fun, of course the website photos has the suite being double the size but it's ok, slanting pyramid walls with full length angled windows and a side sitting room.

Cheesy Egyptian furniture but the beds are great and good pillows. As is tradition I run to the slot machines while Mark has a shower. I stay 7 minutes and return with $85.00, so dinner is well and truly paid for.

We both can not sleep tonight, hopeless really, we watch the sun come up from our pyramid windows and draw the drapes like some gods of the underworld.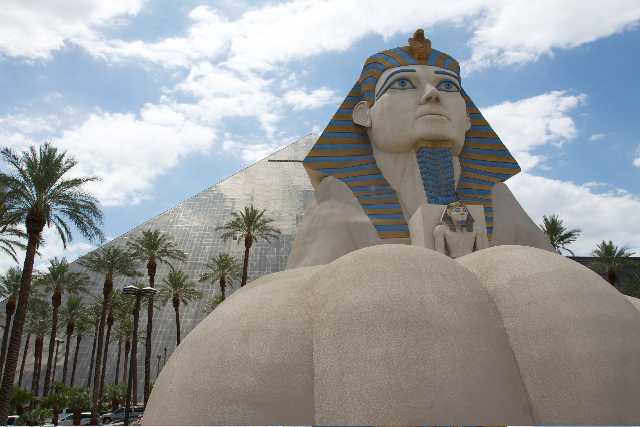 ---
July 26th
Las Vegas

Later this afternoon it's Mark's birthday, well if we were home in Australia, so I am going to celebrate. Tacos & Tequila is booked, it's inside Luxor so handy.

We walked about today took photos of Vegas without it's lights. Played some more slot machines and won some meagre amount- but hey at least we won. I stuffed a 20 into a machine for Mark and he was worried about losing so i hassled him to play, down to the last $1 and I pulled the handle and we won $42. I can see how easy it would be to get a gambling addiction. When we win we cash out straight away and leave. It's the only way.

Mark heads up to get the HD camera ad comes back saying, 'check out our room'. Jennifer has blown our minds with a Luxor surprise, food and moet and other fun more R rated stuff. Just this wonderful surprise. Of course yours truly has left his address book at home so I am at a loss for numbers. I do have Miss K's and thankfully was calling her so she passes a message on to Jennifer. Miss K just makes me chuckle, sucks our drive is so limited, we'll have to get her to move to Vegas!!!! Track down Jennifer and I don't think she knows how extra happy her surprise made us, good grief more alcohol-hic hic hic. By the time Bec calls I am talking but the words seem rather slurred......I'm sure it was just the echo on the line. Hic Hic Hic.

So a few JD's at the bar, they seemed incredibly expensive for Vegas. Off to Tacos & Tequila, it's packed so we are first on the list for a table. The Tequila girls are actually attractive woman, Mark wanders off to check something out & our table comes up...so I send one of the Tequila gals over and she plays it up.... sexy woman chatting to him... I watch as he looks startled! Well it is his birthday (cough)... I do keep threatening that we will have a Charlie Sheen moment with strippers and misbehaving and he just can't work out if I am serious. Hell i could be!!! It is Vegas......

The barman makes me a Midori Margarita and it's a good one, ok two..ok.......Mark's drinking up the Corona's. The food is ok, the Margarita just makes it taste really good as I fall off my chair (I didn't really). We head out into the Vegas night and check out some of the way too bright casino's! Forget what time we are back but I think the sun was coming up again. Happy Birthday Marky.


---
July 27th
Las Vegas to Valley Of Fire

We head northeast today, to one of the more obscure national parks. It's Valley Of Fire state park, about 55 miles from Las Vegas via Interstate 15 (exit 75). It's Nevada's oldest and I think largest state park, the red sandstone adding the fire colour to the surrounding Mojave desert. I'm interested in the petroglyph's which are about 3000 years old. So I'm off to photograph them. We see a kit fox on the way, well a glimpse as they are so fast, and way too cute. They do employ very cute rangers at the parks entrance, so any women (or men) wanting a hot ranger head to Valley Of Fire surely some must be single!

It's now over 110 outside, the air con in this new car is getting a serious work out and the 6 bottles of water we packed get used up quickly. Valley Of Fire has a visitors centre and that is it, you can re fill your water their, but no food or anything else so you need to be prepared. I like that you can not but food etc, just water.

The petroglyph's at Atlatl rock are cool, obviously in the past someone decided to graffiti their names amongst them which is depressing but they are still incredible. An atlatl is kind of similar to the australian aboriginal woomera (spear thrower) I guess all early cultures have something like that. The local ground squirrels seem to live in the hundreds around Atlatl.

The only real lame site of interest is Arch Rock, it's so small, you miss it when you drive past and of course no climbing. I was tempted but restrained myself.... sometimes you respect the area and forsake the photo. (Yes Mark you were right). We spend a lot of time outside, and Mark gets some wide angle footage using the tripod. A few tourists but the heat keeps them away.

We end up at the visitor centre, mainly because it has air con and some history of the area. The high today was meant to be 110, it's already 117 so even a hot day for Valley of Fire. We head back to Vegas and call into the road house near the Interstate 15 entrance. Fill up with fuel, buy a drink. The back of the store is packed with fireworks, massive amounts, imagine if they all went off, especially sitting on top of giant fuel storage, what a bang that would be. We are both amazed at how massive the fireworks is, giant explosives nothing like what we had as a kid.

It was a great day, once more we push our bodies a bit, so an easy night. Maybe it's the amount of water but I seem to be peeing a lot more then usual.

We get some VIP tickets for the Eiffel Tower Experience and take the lift up to the bridge to capture the view of Vegas. I guess they have had some people jumping as it's now surrounded by a wire mesh with a few scattered small camera holes. The breeze is great though and it's nice to see Vegas from this viewpoint.

We call into MGM as the lions are out tonight, and get some very cool footage. They look healthy and happy and it's easy to tell with such beasts. Just like overgrown cats, playing and licking each other, ok they could rip your head off in a few seconds....


---
July 28th
Vegas- Centennial Hills-Bishop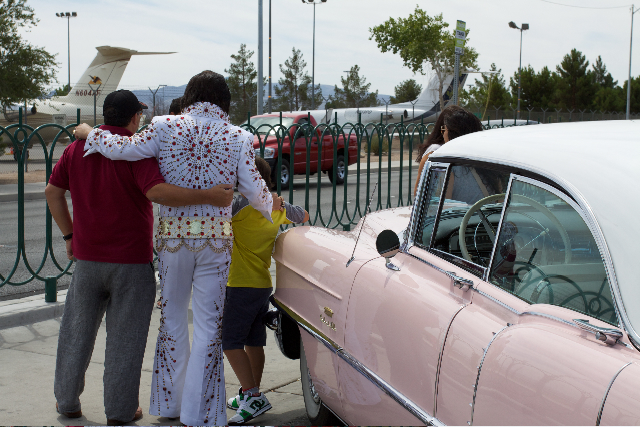 It's 1.24 in the morning and I'm writing this from my bed at The Elms Hotel, Elm street, Bishop, California. It's been a bizarre day... let me tell you about it.

We left the Luxor Hotel Las Vegas at 11.30 and headed to the Vegas 'Welcome" sign, you know the one, art deco shaped and used in all the movies. people who get married in vegas always pose in front of it so it's packed, the car park is so small everyone double parks. I let Mark out and wait for a park. I finally get one and much to my surprise Elvis is parking next to me. Possibly I was already hallucinating, I pinch myself and blink my eyes, no it's the king alright- after all who else would turn up to the vegas sign in a pink cadillac? Naturally a girl on either side of him, they sidled up straight away, I feel so inept - I have no girls next to me, I don't even have a Mustang this time around, though I do have a huge "L" series lens on my camera.....! As I turn a father and son push the 2 girls out of the way shouting 'the king lives" and pose for a shot ($5 a picture people I'm sure-well the King has to pay for those burgers somehow).

We wave goodbye to Elvis, the wedding parties and head towards Yosemite via the odd ghost town. Straight down the 95....via the Las Vegas Valley.

I'm still wanting to pee a lot, my temperature is burning high and now I'm getting pains, all this happens on the freeway and quite suddenly. I'm in an area called Centennial Hills, the new master planned community, northwest of Vegas. The net describes the area as "off the beaten path", and it felt like that. I tell Mark how ill I am feeling and that I don't think i can keep on driving. My heart is racing, the pain increasing and every part of me tells me that something is wrong. I'm in a bubble, I feel very alone and start worrying what will happen- no idea where a doctor or hospital is, Mark doesn't drive and how the hell do I get off this freeway- the cars are going so fast and I need to slow down. Just as I am asking my guardian angels to help, it proves they can act damn fast. I swear less then 20 seconds I spot a brand new hospital rising out of the desert. It looked like it was growing their and never have I seen such a lovely sight. I see a side exit and run a red light and possibly a one way ramp! A police car is waiting and I have no idea why but he looks away at that very second, he doesn't chase me or even look like he spotted me. We follow some windy roads and soon we are in the car park of the Centennial Hills Hospital.

I jump out of the car, tell Mark to put all our gear in the boot as we don't know how long we are going to be here, the pain is getting worse and fear makes one slightly wacky and angry. My suitcase wont open as I need my travel insurance card, so I kick the shit out of the lock - well that will open it! I bolt towards a door way just as a doctor lets themselves in, I have a feeling I've taken some staff entrance, oh well whatever gets me to a doctor quickly.

A head doctor walks out of the corridor spots me and magically glides towards me, and gets a security man to almost carry me to emergency, it's starting to blur..I describe Mark to the security guy, as this hospital appears to be massive and I worry he will never find me, just in case I am dying! (now I'm in the drama queen stage)....I'm checked into emergency and my fear of American hospitals being total shit is dissolved. It's clean the staff are wonderful, lovely Miss Molly takes care of me and my doctor (are you ready for this) his name is Dr Slaughter! I'm given some pills to instantly ease the pain... and the test start, urine first and then 4 tubes of blood next (I wonder if they are some secret vampire league -using this as a front to score massive amounts of blood and Australian blood-as we all know- is so exotic!!Too much True Blood.). I'm slightly delirious but the pill has kicked in and the pain reduced. My security friend finds Mark so quickly, my description must of been good- 6ft, stressed and wind blown hair..!!! I now have a wheelchair- wow and an orderly wheels me to some new funky computerized axial tomography machine...ok a CAT Scan but some new version and it really checked me out...... footnote did you know that EMI (such as in our old record company EMI) developed the early CT scans (originally they were called EMI scan")..honestly...

Anyway I'm holding my breath and going by the instructions from a computer voice. I'm secretly digging this , I love technology and I remember thinking, well this will be good fodder for the F/16 diary!!!!!!! So I'm wheeled back out into the waiting room, for about 30 minutes, till all my blood work and scan results are in. Next I'm taken into some private waiting room and propped up on a bed, it's becoming a bit blurry, a nurse is in and out and Dr Slaughter. He re confirms that yes indeed I have a kidney stone, it's 3mm so it's in the 'safe' range, and an 80% chance I'll pass it out. Anything 4-6mm and they tend to keep you in. It's happily moving down my urethra hence the pain. It's almost the Kidney Stones on tour!!! Dr urban who I keep wanting to call Dr Urban Cowboy- no idea, the pills are making me a space cadet... runs through a list of final results on the Diagnostic Imaging Report.

Here is me from the inside: Lung bases- Unremarkable, Liver- Normal, Gallbaldder-Normal, Biliary tree- no ductal dilation, Pancreas-normal, Spleen-normal, adrenal glans- normal, Kidneys- minimal right sided hydroureteronephrosis secondary 4mm distal right UVJ stone. 3mm kidney stone on the right in the upper pole and no evidence of hydronephrosis, Urinary bladder (this is my favourite) Grossly unremarkable, pelvic structure-unremarkable, bowel-no evidence of obstruction, gross mass or inflammatory change and no evidence of diverticulitis, appendix is seen and normal, Lympth nodes- no pathologically enlarged lymph nodes identified, Peritoneum-no intraperitoneal free air, no free intraperitoneal fluid, Aorta-normal in caliber, Body Wall- no body wall mass, Osseous Structures- no destructive osseous lesion or widely displaced fracture.

So that is me....over all pretty damn fine, when you get these results you just never know what they will find, technology not only lets us peep at the stars but also the hidden, our internal universe (no uranus jokes please) so I actually left feeling pretty good. Apart from some blood work checking on sugar levels etc I've never had such a scan so it was kind of exciting and a relief that it appears that parts of me are grossly unremarkable! I am happy to be that!!!

So next is my pill list. I'm given Tamsulosin, Sulfameth/trimethoprim, Promethazine and Hydrocodone! It's like that Morrissey song where he lists all the pills. I go into details with my doctors as I have no great urge to take 4 containers of pills every day for a month and thankfully I don't have to. Promethazine is really in case I feel like throwing up, and that seems to of passed.... so only need this is I have nausea and vomiting... Hydro it's a pain Narcotic so I really don't want this, I also know it's history and it's an addictive drug- it has an opiate type feeling... so unless I'm in severe pain I won't take this one. It's probably in the top 10 of addicted drugs in the USA. Its ells for $15 a pill on the streets!

The other two I do have to take- Sulfameth as it's an antibiotic, and I'm fine with that, with food twice a day easy....,and Tamsulosin which is an alpha blocker and I need this too- but yieks it sometimes decreases sexual ability, I kept thinking that and every day I seemed to be more hornier! Maybe they gave me Viagra by mistake!!!

As I go the hospital give me a final present, a discount card of some sort, and it takes $80 off my prescriptions, so the whole deal costs me $40.00 at Walgreens across the road. I'll never forget the folks at Centennial Hills Hospital, I wish all American hospitals could be like this, I know they (sadly) are not. I don't have my diary with me so I can't remember any of our local addresses which I need for the script, so I give them our Capitol Records Bldg address- I bet it's the first time anyone has given their record company as an address for a script! I am dissappointed that Mark didn't have the HD camera with him would of loved to have a shot of me in a wheelcahir exiting the hospital! Very Elizabeth Taylor!

While I'm waiting, I buy a few things, I think I'm still a bit high from the original pill, I do buy Miss Banshee a cat laser light, this micro pen projects a laser and you can change the image from a dot to a mouse to a butterfly and cats go crazy chasing them! Cool. I leave on my hospital arm band tag for most of the day, I like it, like I've escaped from somewhere. Back on the road....

We call into Nevada Joes at Lathrop Wells to grab some gas. It's a funny gas stop as they have their Welcome To Area 51 sign out front (it's a far cry from Area 51)..... and the Cherry Patch Brothel is located in the establishment. A big sign saying 'truckers welcome" which someone sneakily changed to say 'fuckers welcome"!!!!!!!!! Next to Nevada Joes is the fireworks company, where you can buy fireworks and set it off outside. I watch some kids throwing crackers at each other and shooting sky rockets into the air. I grab a cold drink and pop my first medication. Pill #1 , 100 more to go. I pay at the counter and I'm convinced the Brothel Madame is also the gas attendant, she asks if there is 'anything else I'd like' and I run a mile! Big sissy that I am.

We head towards Rhyolite- it's a Ghost Town in Nye county in Nevada. We first spotted some of it (the Cook bank building) in 2004's "The Island" movie which was filmed here. Though the movie industry has used it a few times, right back to 1925 for the silent movie The Air Mail, Cherry 2000 Sci Fi movie was filmed here and also Six String Samurai. The Bottle House is kind of famous but I love the old train station building, very grand but looks like it belongs down south in Mexico. We arrive just before dusk so we are rushing to get some filming in. I head off to scout some locations for the camera and take the Canon with me and snap off some images. My favourite is a small shack on the outskirts of the town, possibly my favourite photo from the whole trip. I had to lie in the dust to get it right, after the day I had I wasn't remotely concerned of rattle snakes! We get some images and head off before the sun sets, driving after a hospital visit is one thing, driving at night another. At least Mark got to see Rhyolite, the least I could do after putting him through hospital hell.

I tell Mark I shouldn't do any massive drives, and that is useless, hotels everywhere are booked out, so I drive and drive and we end up at Bishop. The Elms Hotel. I rent 2 bungalows so we can both have sleep. Mark doesn't want to leave me after such a day which is way too sweet but I feel good. We just want simple food, so head to a Dennys for chicken salad. I watch 2 lesbians climb into the back of their wagon for the night, it appears they are sleeping in the Dennys car park!!! Well quite a day, I am a bit hyper and take the HD camera and film the very groovy Elms Hotel sign, and head to bed and read. I say a thank you to whatever is looking after me, it's one of those moments where you are left feeling pretty lucky and all the other stuff is bullshit. Life feels pretty good at this moment- so there you go that was my day...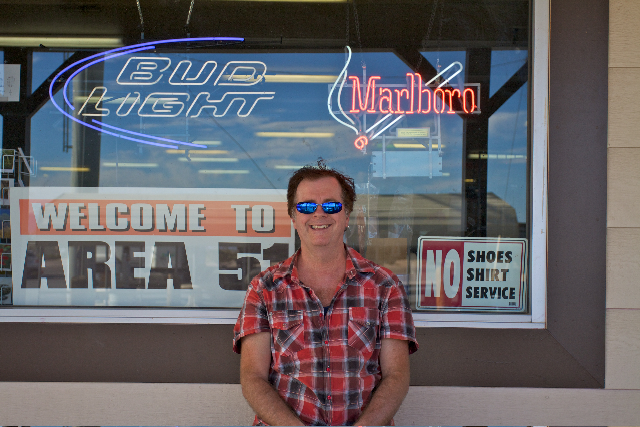 PG after hospital rattling on pills at Area 51.
---
July 29th
Yosemite

It's about 240 mile drive today- had some sleep, probably the pills kicking in. We call into Mammoth Lakes as we love their bakery, it has fresh sandwiches and juice and pretty good cakes. We've been to the Lakes before, it always smells great! Mark is filming and this kid walks in front of the camera on purpose, the started throwing rocks at ducks, his parents just don't give a shit- so I hiss like a snake and give him my best 'I will rip your neck open with my teeth' look- which is a cross between Jack Nicholson in The Shining and well Jack Nicholson in ..The Shining directors cut! He looks scared , I stare his parents down and they shove their dead beat sperm into the car. I hate kids that are rotten to animals, in fact anyone. ..the parents obviously care little that they have a brat.

Apart from the brat, it was such a good day, this is one damn fine part of America. Mark buys me a chocolate eclair, we pull over to some roadside rest area and pig out before they melt to mush. We also find some huge areas of snow so head out and watch people fall over. The snow melt at Yosemite is massive this year, usually it's all gone by this time of year and tranquil but not in 2011, just another piece of climate change I guess.

We enter Yosemite National Park and I'd forgotten just how long a drive it is to the main centre of the park where the wonderful Ahwahnee Lodge is located. It's such a cool place this brilliant facade and the dining hall is over the top. Jason at the desk rushed us through check in, so we were happy about that. Our room was pretty good, incredible views of half dome and the water fall was rushing over the side. Chocolate dipped strawberry's awaited us. Now that rocks. It's the hotel where queens, presidents and movie stars stay. I'm more impressed that Captain Kirk stayed in the room we had... such a sci fi geek boy I am! I found a pubic hair in the bathroom and pondered if it belonged to Kirk. (C'mon you know I really DIDN'T!!). We went for a walk along the river and photographed the scenery. I spotted a baby deer all by herself and spent the next 40 minutes getting closer and closer. I know how vicious female deers can be, especially during mating season so I was wary - and she was a wild creature after all. She left me get to an arms length, it took ages to build the trust, and occasionally she struck a pose. She was amazing, so pretty, I can't believe people think hunting these animals is actually sport. Meanwhile Mark was across the road filming some bucks, who were grazing away. I get him and escort him to 'my' deer (40 minutes and already it's 'mine') Mark walks like a Yeti stomping through the woods, I tell him he has no stealth. He gets close enough to film, and eventually Miss Deer grows bored and climbs into the thicket to have a nap! We leave her be. She's a pretty one.

We walk back to the river and film from the suspension bridge. The families are all swimming and floating down the river on blow up islands. I paddle in the water, which is a bit cold. Just sit in the sand by the bank and enjoy the beauty of this place. We know tomorrow being Saturday the numbers in the park will triple, so we will escape before the insanity happens. I chat to a girl who is working in the park, she is from Miami and only has 3 weeks left at her job, she loves it here and was amazed the deer came up to me and nuzzled me. She was watching me at the time. I've decided deers are chick magnets (opps).


---
July 30th
Yosemite - San Francisco

We spend a bit more time in the park, pulling over near the side of cliffs and trying to avoid the traffic. Thankfully 95% of it is driving in. A storm looks like it is heading to Yosemite so we timed it well with the weather. A women slipped to her death while descending Half Done during the rain. I have no idea why people keep risking their lives when the weather is bad. The chain climb up Half Dome is good during nice days but when the weather turns it is just stupid, nearly all 14 deaths this year have happened during bad weather.The granite trail at the bottom always looks safe but if it's even slightly wet it is easy to slip.

The traffic coming into the park is insane, especially the Route 140 entrance where cars are bumper to bumper for ten miles, waiting to enter the park . There must be another thousand people arriving, so it is packed.

We call into the small town of Groveland. We have a BLT at the Iron Door Saloon which is located on the main street. It was originally built when the gold rush was on, so around 1850, it's a solid building, some of the walls are made of granite! There is a tribute to Black Bart- the infamous stage coach robber and other fun stuff on the walls and they do make a fine BLT!

The best coffee we have ever had in America is located a few doors down from the Saloon. It's at "Firefall"- 18749 Main Street-Groveland, CA. If you are heading to Yosemite call in and grab a coffee off Mary Ann, they grind it themselves out back and we were amazed- great coffee in America- how incredible, will wonders never cease!!!! *GRIN*. I can't recommend this place enough!

I have to adjust to freeway traffic again as we get closer to San Francisco. The GPS takes me in a slightly different direction because of a 30 minute delay if we would of stayed on the current course. In the end it actually saves me 7 minutes not to mention the 30 by taking me down a different freeway. I love it when technology works. Mark is busting to pee.... I look at the numerous empty water bottles on the floor and he says 'no way'- he holds it till we arrive.

The Bay Bridge is clogged, so a snails pace, this is nothing new it usually is slow. We eventually end up at the Holiday Inn at Fishermans Wharf. A bit touristy but my favourite Italian restaurant is near here and it's a handy location. As I walk into the foyer I notice a rather odd assortment of people- a 1 legged man, a vampire boy and a woman with several babies and massive amounts of head hair, a european couple who looked like they were pretending to be a count and countess, it was all a bit strange.

America is stressing out over the debt ceiling, the tea party are creating such disasters, they care so little about America and all about fucking Obama over. Scary bunch. I'm sure it will all work out in the 11th hour, neither major political party will do well from this and the world is shaking it's head telling America to get it's shit together. I feel a bit sorry for Obama but you know he is the president and if you sit in the big chair you have to deal with stuff like this. As I said awhile back it will take America several decades to recover from the horror that George Bush created.

I try to find Deb's phone number but like all the other numbers it;s in my phone book sitting on the kitchen table, I think everyone will have to forgive my stupidity on this one, I rarely forget to pack things- what a dimwit. I headed back down to the computer room to email her and grab a number but two people were hogging the computers so I gave up trying.


---
July 31st- August 1st
San Francisco

It was noisy last night but much cooler here, which I love. Today we drive to the Palace of Fine Arts. Mark tells a rude Japanese tourist to fuck off, I watch a sudden wind blow their hats into the giant lake by the Palace (karma). They look at me suspect, I'm waiting for them to start crying out "witch witch"..... they keep a wide birth. I control my urge to say 'stop killing whales'. I am evil. The japanese tourist succeed in getting in another fight with an American couple, they nearly knock an old lady over by rushing like over excited tourists.... people are shaking their heads at them, it's all kind of bizarre. I just sit and watch, all a bit freaky, they sure are pushing everyones buttons. In the end so many locals were really furious at them, I thought fights were going to break out.

Someone screams out "Good Riddance" when their tour bus leaves. Yieks.

We head to Amoeba and sadly it's nowhere near as great as it once was, I didn't buy a single cd or lp. Mark bought a dvd or blu ray but that was it. A crazy man started screaming at our car in the car park , saying he owned all of San Fran and every car is trespassing - I smiled and felt sad for him and his fucked up brain. Just a bi-polar mess & a sad lonely life.

We head to Castro and eat at the fantastic "Squat and Gobble"-3600 16th street, Castro. Excellent value, exceptional food, if it was anymore gay friendly it would be a parade not a restaurant. The lesbian couple next to us surrender their spare table, and all the locals are arriving- nice people nice food- save this one when visiting San Francisco. Food for the soul.

I walk down to the Castro cinema and take some photos and the rainbow flag fluttering. i find this note attached to the lights: "At night, in this noisy city, without stars, I went down to the water and told the moon "I hurt"!.

I could happily live in the Castro, there seems to be some love for Australians (well both of us are tanned today and our legs look pretty good from all the hiking climbing etc). It also has a really great record/dvd store. That's Streetlight Records- 2350 Market St, Castro (they also have stores in San Jose and Santa Cruz but no idea if they are as good as this one). Remember to check out upstairs as that's where the really cool stuff is to be found. I tracked down the Morrissey bonus cd I needed here, we bought several dvds and blu rays. The staff at the front counter are delightful - and we shared a few funny moments- :"love your accent" - (what accent we always reply).

They were helpful and even surrendered up the Adam West Postcard from his upcoming performance at the Herbst Theatre on August 12th (Yey Batman). So if you want a cool store try Streetlight Records, stores like this are fading fast so support them before they are gone forever and we are stuck with boring downloads.

We drove down to the Fort Point under the Golden Gate Bridge, a good time of day to get some shots. Someone had jumped off the bridge so the rescue teams were out several fire engines etc, it was bedlam and thankfully we had all our footage before this went down. We escaped the madness and with all the road works in the area ended up driving across the bridge (DOH) so we parked and filmed from the other side. We got back to the hotel before end of day traffic reached it's peak. My diary is a bit blurred for these few days so I have joined them together. For several nights we eat at my favourite Italian restaurant which is Cioppino's (400 Jefferson street, Fishermans Wharf). I love this place, we always get a table the food is great. They spoil us and I keep coming back. If you are in San Francisco go here for dinner, it's a good place to eat, prices are good too.

I book a suite at Circus Circus RENO . I see that the Pajama Club have now blown out all their USA shows, Sean is sick and in hospital. So I'm doing more 'touring' of the USA then the Pajama's!!!


---
August 2nd
San Francisco-Reno

The USA doesn't default on it's debt, an agreement has been reached, it's not that surprising, the American public are probably a bit disgusted with the way the political system has handled this, there are no winners they all come across as crap. I'm sure Obama has greyed even further and the make up couldn't hide the bags under his eyes, end of day he is still better then such dickheads as Palin and Trump!

Another sunny day in California, we drive to Reno via Lake Tahoe , so its around 300 miles today. The lake is lovely. We stop at the top of a peak and head off to film. I go out finding some locations and Mark dissappears, I kept calling "Banshee here kitty kitty" but he obviously didn't hear me and I locate him near the car. They find a body of a scuba diver that went missing in the lake -17 years ago. They located him in an underwater ledge and apparently his body was well preserved!!!!!!! Tahoe is the 2nd deepest lake in America so it is not surprising that he wasn't found- but 17 years! The divers had gone deeper then most standard dives, using new mixed gas equipment and spotted him, went to the surface and called authorities. A remote control mini sub located him and brought him to the surface. Not many people know that his body had actually been found- previously in 2001. They tied a buoy line to it but the line snapped and they were not able to locate it again...till now! I wonder what else is in the lake? A few sightings of the Loch Ness monsters cousin, named Tessie happen at the lake every year. There is a museum for Tessie at Kings Beach. It truly is a lovely area.

We make it to Reno and spot several police cars near the Casino where we are staying. Is one of them officer Jim Dangle from Reno 911? Neither were wearing shorts so I guess not! We stay at Circus Circus as it was easy to book and the suite was so cheap. never again the suites are next to the fire escapes so the metal doors banged all night from kids running up and down.

We are walking past the slot machines so put in $5 and win $40, ok that's it we've won lets go. I have never played a 1c machine, but I do, and win $19, which is a lot for a 1c machine. The people at the 1c machines scare me so as soon as I have my winning receipt I go. They have blurred lipstick and look like they are falling asleep and do they know their 2 foot hairstyles have destroyed the ozone layer from all that hairspray!

We are really at Reno so we can drive to Animal Ark, which is located 25 miles into the desert. However a very attractive woman convinces me to sign on up for my One Club Card (it's free) and has $5 credit on it, and I actually win $28. I like this free card. So after that I'm somehow convinced to sign on for the Slot Machine Tournament - once more its free and you have 5 minutes to rack up the highest wins. I come in 3rd from the 200 or so people who have played. It's great as it gets so boring you never want to play another slot machine in your life. I cash in and it covers dinner.

After dinner we watch a fantastic high wire act at Circus Circus and she has on some super hero type costume! Mark films her in action and the best thing about Reno- it's empty, dead, I'd say for every 10,000 people at Vegas it would equal 1 at Reno. It may well be "The biggest little city in the world'" but it's a bit of a rotting corpse. I kind of enjoy it's emptiness and love observing the people who live at the slot machines all day and night.... I was uncertain what to do with the free slot machine bungy cord that I was given, I'm starting to think it's to strap you to the slot machine when you fall asleep!


---
August 3rd
Reno- Animal Ark

We drive to Animal Ark, it's hot again outside, about 110. It is a wildlife sanctuary and is not a zoo. As they have told us, it's a safe haven for animals that are non-releasable into the system. Some are permanently disabled or orphaned. It's nestled in the hills north of Reno and nice a remote which is perfect for the solitude some of these animals need to recover. Here is their website please check them out: http://www.animalark.org/

Apart from the great work they do I also like Animal Ark for another reason, they are off the grid so all their power comes from solar. You can't miss the massive solar stacks and also a wind turbine. It powers all the cages, the electric fence, the water pumps the house and other areas. It now uses new solar one batteries and the huge array from NVenergy. This is proof positive that solar works and works well.

We visit Ringo who is a racoon, Mark asks me- "is that snake meant to be in the pen" and we check out the sign- hmm no snake. By this stage the snake is lying on top of Ringo's big log with Ringo in the log! We both are fairly sure it's a local snake and harmless... but I decide to tell the Ark Ranger woman just in case. She's busy working with Yogi (yes a bear) and says she will check it out in a minute. We head off to see Yogi who is sunning himself.

Our ranger friend comes back.... we ask about Ringo. Ringo is fine...he just had a live kill! Arghh the poor snake became racoon food..yes Ringo killed it.......! Racoons have BIG teeth, and life is cheap if you are a snake...poor snake. We still feel sad for it.

My favourite snap of the day is of Tonka, manage to get very close to the mountain lion, I'm down wind and mountain lions can be lazy on days like this, I'm sure they'd have a healthy appetite for Gryphon's if given half a chance. I get 2 great photos and can't help but obsess over Tonka's big feet!!! (and what big teeth you have). He used to be a film star and eventually rescued, usually such animals are euthanized when they can't work any more so good on Animal Ark (and his previous owner) for saving him. He's a handsome devil. I could go on but really check out the Ark yourself on line, the white wolves are incredible and the Bobcats and white Tiger....the kit Fox and Arctic fox.... all look healthy. The only stressed animal that I saw was the coyote and I think that is what coyotes are like, no matter how big the run, they hate it and pace. I always feel sorry for them, misunderstood ... still Mr Coyote is alive..and being looked after. I think we will sponsor Amelia and Sadie-both are orphans and sisters (Coyotes). They were bottle raised at an early age so depend on humans so can never be released...

It was a fantastic day, I'd love to come back to Animal Ark at some other time, and go to the Night Wolf Howl- which is at 7.00 at night. Very very cool. Drive back to Reno.

We head out to film a bit of Reno from street level and that's when you know Reno is not Vegas. I always feel safe on the main stretch at Vegas but here drug dealers and hookers just outside the door, so many empty shops.

We eat at some pasta place inside one of the casino's and surprise it's ok. We are a bit worn so we head to the room and chill out watching "Xmen First Class". It's such a noisy night we get very little sleep, Mark runs naked to the door to confront one of the screaming kids on the stairwell- I remind him he is naked! *GRIN*. Now that WILL scare him... or is it a python he stole from Animal Ark?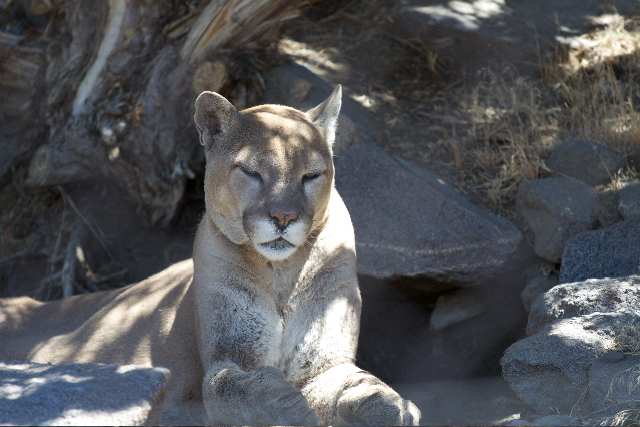 Tonka would love a Gryphon for breakfast!
---
August 4th
Reno-San Francisco

We leave Reno at 11.oo. Decide to have the most basic brunch and will find Denny's for a salad. We call into Boomtown- which is this oddity Casino-Hotel with a Denny's inside. It's strange as it doesn't appear to have a front entrance. It's empty REALLY empty, and when we eventually find signs of life, we start to question if they are indeed living. Really OLD people, all with hip replacements by the way they were getting about. Naturally we stand out a mile and what can you do, Nod your head and smile. Yes the circus is in town. We sit down and order feeling all these 'family groups" eyes on us, watching us eat like we were going to poke the food into our ears and burp out of our nose. They really can't talk the 'Wo-man" who was collecting the Boomtown Keno tickets was very questionable, an old transgender dame maybe? Possibly she was a 'real" woman whatever that is, but she kind of freaked me out. I went to the bathroom and she was the only person in the main gambling room and she was talking to herself -I just smiled as I quickly walked past. She turned and squawked "KENO" at me in a loud deep voice... my Michael Jacksonesque voice said "No I'm ok-thank you" and bolted. I love transgender people but I think she was a real woman who just looked like she had a failed operation!

We went into the Boomtown souvenir shop to buy some postcard stamps for our 2 cards for Mum and Sis. I notice on the front page of the paper that they are allowing bear hunting in this area. How fucked is that. I was so angry, I asked the lady behind the counter about it- and said "as a tourist if this goes ahead none of our family will ever come here again". I hate this sort of shit, lets hope the bears kill several hunters before they are taken down that would be poetic! What sort of losers call this sport? I can't remember bear slaughtering being part of the Olympics! I even went as far as emailing Nevada Governor Sandoval... for whatever that is worth. If you want to protest this you can email him via his website at: http://www.briansandoval.com/ and you can email him on the section "Tell Governor Sandoval Your Ideas". You don't have to subscribe etc. We get out of Boomtown which isn't booming at all and leave the broken hipped people behind.

The GPS changes our route as there was massive traffic problems up ahead so we head back to San Francisco via different route. Back at the same hotel, trying to figure out who designed this place, who'd put the good suites exactly opposite loud ice vending machines? I still believe little thought is given to building hotels. It's the first time it has been grey and San Fran locals are all rugged up, we are still in shorts and it doesn't feel very cold. OK maybe cold enough not to go to the nudist Baker beach.....


---
August 5th
San Francisco

There are loads of roadworks happening around San Francisco today. We head to San Francisco Zoo, and once again the GPS corrects our course. We end up near the wonderful Cliff House, which is quite old, and really check out the fantastic historical photos on their website: http://www.cliffhouse.com/ Sadly the main house burn't down in 1907 it was truly amazing compared to what exists today. However we are their to walk amongst the Sutro Bath ruins.

It used to be a huge private bath's area built in the late 19th century. It was the worlds largest indoor pool establishment.... and what's left would make a great movie set. The small beach inlet was perfect for the structure and you know it must of been huge when you visit the crumbling ruins. It looks like it should be the Lost Boys movie set 2011. The original baths had 7 swimming pools-6 salt one fresh, a museum, a hall that could seat 8000 and even an ice skating rink. Those were the days. There are caves and a giant turbine water pump used to be in one, at high tide it could pump 6000 gallons a minute into the baths. The caves today are cool, some parts closed off as "dangerous" but we all know Australians can't read so we did explore a bit. Breathtaking views from the dangerous areas. Very little remains of the rail line that used to drop pool visitors off but it must of been scenic chuffing it's way over the cliffs of Lands End. They were a struggle to maintain because of the costs and in 1966 a fire destroyed the bulk of it. It feels incredible to walk amongst the ruins and for those who do not know what it is, you have people assuming it was an old fort or military establishment. I wonder how many people live in San Francisco and have never been to the Sutro Baths?

We spend hours there and finally head off to the Zoo. We park across the road as there is ample parking and the Zoo parking is about $10. So put the $10 towards admission. The first thing we spot are giraffes and Mark goes 'no more giraffes" we were spoilt with Giraffe Manor in Kenya..... we obsess over two penguins who tease the camera by walking along and pretend they are about to launch themselves into the water and change their minds- walk a bit more, finally they did, a huge cheer from the Gryphon.

The Australian section of the Zoo, all the usual suspects, Kangaroos, Wallaby's..and one loan Emu. The locals keep saying O MOO.... yieks. I thought their was a stray cow they were calling. The animals seem happy, well fed, and they do have a killer ice cream after you've walked for several miles around the Zoo. We do get to meet the new baby anteater- and he is growing so fast. Pushes his mothers nose out of the ant hole and has a merry feast, no wonder he is growing so fast. He loves the camera too, posing and almost smiling- what a star.

We are back in the hotel once more before the end of day rush. Back at Cioppino's for another dinner, our last before we fly out tomorrow. We sit near the front today and watch the passing parade, a lot less people but being a Friday night it will get busy and louder later on. In fact it does, our worst night sleep in America, if staying at the Holiday Inn at the Wharf avoid the main street side especially on Fri and Sat nights. Set our alarm for an early wake up.


---
August 6th
San Francisco- Honolulu

I don't think I slept, Mark snored quietly for a few hours, I was envious. I was up at 6.00 before the alarm went off. We were ready to go quickly this morning. A fast instant check out and on our way to the car hire return. The street was incorrectly numbered so I had to make a quick decision on the freeway which was shitty and a bit scary. We then caught the airport train to the departure area. Hawaiian air first class baby, always a joy. The frequent flyer area had food and the coffee was ok. I checked out the Aussie papers online, mostly to see if it will be freezing when we get home. 4 degree's , hmmm ok. I also see that AC/DC have 4 wines coming out in Australia via the Warbuton estate, I assume they are Australia only. We'll be buying the Bon Scott lineup "Highway to Hell" cabernet sauvignon, the other 3 relate to the latest AC/DC lineup which we care zero about.

We head onboard seats 1A and 1B, I'm all snug and will pop a pill for a few hours in sleep land or wherever such pills take us. The Hawaiian first class tickets are the same price as Qantas economy!

We arrive at midday and it's hot outside. Our favourite suite is ready and we feel a bit spoilt as there are quite a few people with standard rooms having to wait for the late check out to finish. I hate waiting after a flight, always makes you feel worse eh? I head out on the balcony and it really is a beautiful Honolulu day. I suck in the rays as I know we are going home to grey and probably rain.

Mark wants to go to Ala Moana to check on a few stores that he missed out on. We buy some more fresh rolls for lunch at the bakery and a drink and sit outside and devour them. I'm spoilt, he buys me a very very cool ring, we are both laughing as the Bongo jewellery company made them. We wonder if Bongo Skyhook has a new trade!!! It's the most awesome ring and they had so many other cool items and the prices incredible. I bait with "is this my wedding ring"...knowing i will push buttons. Mark finds a very lush warm Hoodie so buys that. We find some cheap copies of the RENO 911 dvd box set so secure those. Hey we still have some room left in our bags after all that mail has been posted.

In the afternoon he wants to film on the breakwater, so I take my Stones beach towel and go for a swim. I wave from the water towards the camera which is right down the beach and then re consider as people probably think I am drowning!!!! The water is wonderfully warm and clear but it drops quickly, you walk for a few seconds and suddenly you sink!!! I float taste the salt on my lips, this is perfect.

I have an afternoon nap after drying on the balcony. Mark watches porn, ok that's a lie he started editing some HD footage instead.. Porn sounds far more exciting though!!!!! I head to the ABC store and grab Rosemaree an Obama Bobble Head for her computer at work. Shes picking us up at the airport so want to get her a present. Our friends have all received an Ecard, a snap of the Luxor that I took... some went out on time, some later as the hospital saga delayed me getting them all out. I probably missed people so I am sorry- I am hopeless when on vacation.


---
August 7th
Honolulu

I head for another swim to wake me up. I do it early so i can dry the speedo's and board shorts on the balcony. I re-pack my bag in the afternoon, after kicking the shit out of it at the hospital I think I've broken one of the locks, so a new bag may not be far away- this one has been very loyal & gone around the world a few times.

We meet this cute girl at Seers who is on the check out counter, chat for awhile, not sure if she was picking us up or vice versa. All a bit bizarre.

Watch True Blood, what a show no wonder it is so popular- looks like being another fantastic season. The Sam Goody store has some True Blood merchandise but nothing we really loved. Jen in NYC has sent us the most fantastic stuff ever... how can Mr Goody compete!!!!!

Mark takes me to our favourite Indian restaurant and I am spoilt- the food is so good at this place. It's the Bombay Indian Restaurant at 1778 Ala Moana Blvd, every meal is exceptional.

We watch the sun go down, knowing tomorrow we catch a flight home to Australia. The office re-opens a few days after that. We leave America tanned, happy and calm- despite the odd kidney stone a fantastic time was had. We do love the States and the people we meet (overall) are really nice and they seem to like Australians- lucky we are not french eh! (opps). So thank you America once more we've seen your good side and a huge thanks to the people at Centennial Hills Hospital for taking such good care of me.

Still there is no place like home- eh Dorothy?

PG