November 2nd
I'm really looking forward to seeing the Tower Records movie (All Things Must Pass). The USA bluray is out in January so we'll probably have that before the movie is even shown here in Oz. I miss that Tower store (8801 Sunset Blvd West Hollywood). Every time we go to Book Soup I stare sadly across the road knowing it no longer exists. I hate the Internet for it's shitty compressed downloadable bullshit. http://www.towerrecordsmovie.com/trailer/

I wing by Rosemaree's late afternoon and surprise her. Steal her away to Eastlands shopping complex. They've finally opened the new section and JB Hi Fi have returned to the complex. We grab a few Skyhooks discs and the odd bluray and just make it to the counter before the doors close. I wonder if all these specialty shops will still be open here in a years time. The Parking Gods were smiling and had a spot awaiting my car.


---
November 3rd
1 year since we started the official Skyhooks Facebook page. It keeps growing and growing. The Post Reach gets to around 80,000 which is outstanding. With all that Skyhook activity and the website on both cd releases it's lit a few fuses with the fans- very excited. Of course a handful are still bitter and the odd comment is just plain stupid but welcome to fan world. The 1% that think they own the band, the 99% that simply love the band and it's music I'll always respond to them.

https://www.facebook.com/pages/Official-Skyhooks/751125208300602 (Feel free to give us a 'like').


---
November 4th
Bongo Skyhook calls and he's interviewed and doing a Q&A for DNA magazine. DNA are the most popular gay magazine in Australia , so they are penning a piece on the 'Hooks. Always happy to help, I send him some fun images to accompany the article.

Finally Australia Post deliver the disc mailers that I paid for , they can be so slow sometimes, I don't know how our local post office works having to deal with Oz Post. I hear from 'Belle in France & her little birthday present arrived safely. I sent it way way early so it would be on time for once. I suck at birthdays.


---
November 5th
I plant some wheatgrass, I long to juice it in our cold press. The wheat seeds are a bit old so they don't always grows so lush if ancient. Fingers crossed.

Work in the office, a good 12 hours, Neil Finn got value from me today (chuckle).

Rainy day outside so that probably kept us in the office. Marks back aches. He needs to have more breaks, several naked woman have offered to walk bare foot on his back! He hasn't responded.


---
November 6th
It's rare this time of year but we wake up to find the mountain covered in fog. Brilliant we are loving it, haunting -we watch Miss Banshee sitting on the decking staring at the ghostly vapour.

I get our JB chart in, Skyhooks 'Don't You Believe What You've Seen or You've Heard" debuts at #22 on the JB Hi Fi 'Best Sellers" chart (#28 on Vic ARIA). Which is pretty healthy, I expected an ok chart week one, week two brace yourself for the usual plummet. It happens after a good debut and no tour, tv etc. Still to see Skyhooks at #22 on the chart is great. Some artists are one hit wonders and never do anything again, they have an album that no one buys after a massive single and that's it- no one will give a shit about their album years later and they'll just become fat old has beens and end up being in the press for all the wrong reasons. So for a seventies band to keep having chart success & sales is quite remarkable.

Nigel calls and we chat over "what is a gig" and what isn't. For our Enz Live list I keep saying on the shows we put on the our "live" list there is a basic definition and someone simply saying so doesn't make it so. I do have a B-list with about 12 shows on it and the ones Nige is talking about are on that list , it takes time to get a definitive list and usually a few hundred corrections. It's probably why so many bands DON'T have complete gig lists. It can be a pain in the arse.


---
November 7th
I keep putting some cool bits & pieces aside for this years giant Fan Christmas Stocking. Each year one very VERY lucky fans gets a massive stocking full of the most incredible prizes. I'm glad we started hoarding a few things previously plus some very generous band members and fans have donated which is wonderful. It's kind of cool as you know one lucky music loving fans will indeed have the best Christmas ever.


---
November 8th
I have a laugh at the toilet paper available at our general stores. The covering has "Who gives a crap" printed on it!

'Hooks #14 on the Australian Artists ARIA chart.

Mark finishes the designs for the christmas cards , so now we just have to have them printed and shell out some big bucks. As always the postage kills us, but I know fans love getting a card at christmas so I'm trying to stick with tradition.


---
November 9th
133 years ago today, Tamworth became the 1st town in the Southern Hemisphere to have electricity. Why Tamworth- who knows!

The Liveable Melbourne study is out today -the 321 Melbourne suburbs rated by a million & one things. Kalorama was 290 when we first moved up here 10 years ago, it now climbs to 213!!! Monstrose is 249, Warrandyte 228 and Kilsyth drops to 280. I wonder if it increases property values, not bad Kalorama 213.

I drive to Moorabbin today, and on the way home call in to see Shirls parents- Joyce & Ron. Joycie's out at the shops so I get to hang with Ron. I can't believe he is 93. Wonderful man and so many cool stories. I take their rubbish bin out to the curb -being the good lad I am. If it was 1975 I probably would of went through it for popstar souvenirs!!!!! A long day, sweltering heat, annoying drivers and I'm glad to be home away from the rat race.


---
November 10th
Breakfast this morning at the Deli. It's been awhile and they've started adding egg (again) to the caesar baguette (YCH). Some of the locals have disappeared , Mark jokes that the few Liberals have gone. There were only 2 of them so Abbott's knifing probably sent them into some sort of political freak out (chuckle). I notice people are now writing "Tony Who?" on the News pages. History has forgotten him already.

Looks like Qantas made some money this year, a few bucks come in on the shares.

I've started photographing the Halloween pumpkin decaying in the compost bin. This morning it had some bite marks on it so i think the local possums are enjoying a pumpkin treat.


---
November 11th
Destiny Point cafe opens at Kalorama. Hessies sister Caroline is the cook which is great. A nice opening day crowd and I'll forgive them for stuffing up my food order. It's good inside, bright and light and the coffee is ok. The owner takes a photo of us, ok me as Mark still hates cameras. Hopefully this new cafe will last the distance.


---
November 12th
"Mr Robot" finally on Foxtel and it's pretty cool. Rami Malek is wonderful, nothing like a hacker drama. Christian Slater has a few moments too, he's managed to get through his cocaine period and emerged with some quality acting.

Another day with no power, they are still working on the underground power lines, but this time some of us were not warned and it stayed off for 12 hours. We took the mobile office up onto the decking and a few Corona beers helped the day pass while we worked.

Breakfast this morning was at EDEN. The Brunch crowd have taken over a second place, opposite Ricketts Sanctuary. It's good and Louse is on with some super cool pancakes. So all cafes are now operational at Kalorama.


---
November 13th
It's Friday 13th and of course I don't give a crap. Though a black cat did have an early morning fight with Miss Banshee. I guess she won as the other cat was nowhere to be seen. Miss Banshee sitting topside of the BBQ viewing the landscape for further cat action.

Another week another Skyhooks release. This time it's the 2015 compilation- "HITS' N' RIFFS". Some people think we are timing it for christmas but really the upcoming Molly tv movie is closer to the point as it has a few 'Hook songs in it. While Warners are Skyhook friendly we might as well encourage it, or before the sales of CDs become obsolete.

I head off at 4.00 a drive into the city for the Midnight Oil exhibit. On the way I wing into Forest Hill JB - who have a 20% off bluray sale. Mark lets me know of the 3 for the price of two deal- so we end up with Supernatural season 10 Blurray, the latest Big Bang Theory season and Game of Thrones. So one was free and then a further 20% off. It works out cheaper then buying the in USA! I grabbed a Hooks cd too , money where my mouth is. I spot 2 people in line in front of me both with Skyhooks so I comment on what good taste they have (cough). Call into Coles & grabs some cockatoo seed and they no longer stock my favourite pasts either. The world really is coming to an end.

I'm back on Canterbury Road and the traffic into the city is sparse, the other way bumper to bumper. I am so glad I don't have a job where I have to deal with traffic every day. Urgh. Of course it becomes manic in the city near the river and arts centre. I park in the AC car park and arrive close to on time. Jeanne from the Arts Museum is by the door and welcomes me with open arms. Sweet lady, and glad she is still a main wheel behind the exhibits.

The speeches are short for the opening which I love. The Chaser guys are fun and nice to see Premier Daniel Andrews on stage. He's a fan, great that our Premier loves music. Good speech too. Rob Hirst in his striking pink Oils King Gee outfit. You can tell he is proud of the exhibit and it looks great. I run into our mate Liz which is cool as it has been awhile.

I corner Mr Hirst later around the Bondi Lifesaver and Stagedoor Tavern gigs and he remembers me from a Oils- Crowdies tour which is nice. So I get a snap with Rob and I leave content. Mandy the photographer is at this one so we chat and I promise to send her some of my Mental As Anything snaps. I'm offered some drinks and food at the bar but I feel exhibit-satisfied so I head off for the long drive home. The Exhibit is worth checking out at the Vic Arts centre. It's FREE (that magic word) and runs till February 28th 2016.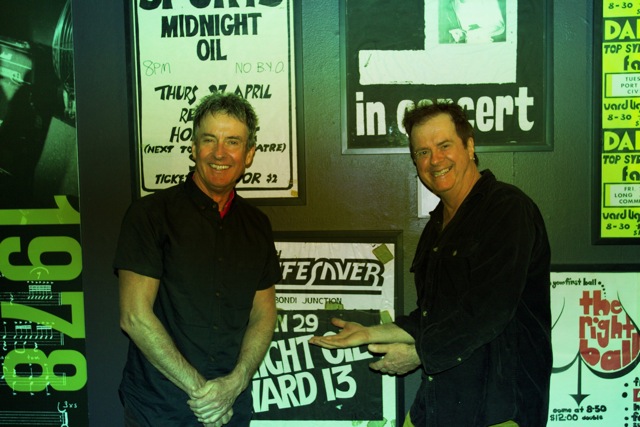 Oils Rob Hirst & PG
---
November 14th
Six attacks in Paris, horrible, evil rules the day. Even sadder is the one at Le Bataclan, a familiar venue for Crowded House fans as the band played that one a few times. The finger of blame will be pointed and paranoia will run it's course too. Everyone has an opinion but terrorist win when people become fearful.


---
November 15th
Repair the lawn mower, bloke moment for me and feel good that I can do such things.

Netspace/iinet having major problems with emails, so we've had to hold off by 6 days till they get their shit together. So if you are waiting on an email from us , it will take a bit longer.

Welcome to life in the fast lane!

Peter