November 21st
Only a few days to go, so making sure I have everything ready. I keep staying positive about the weather, after all I am wearing the lucky red bowling shirt at gig #1 and history has proven the power of the 'red shirt' can not be denied, plus 16,000 fans chanting daily (like crazed monks) -"no rain, no rain". We will be ok.

Tickets for Cabaret on sale today. I'm holding off for extra shows to be added, better seats hopefully. What a great cast!


---
November 22nd
Lasagne for dinner and extra small ones for Mark in case he stays here. Marks Dad and Kerry head to India today. It's cool that even at an older age some people keep having adventures. I tell Mark we will be like that, travelling till we are pushing up the daisy's celebrating our 100th year together.

I hear from our tour manager Sean and looks like I'll be picked up at the airport in Sydney by one of the drivers. I love that. He has his shit together.


---
November 23rd
ARIA awards.

Miss Banshee must know I'm heading off this morning as she kept me awake the whole night. So worn out and a tad pissed at her. Cats can be exhausting.

I depart at 6.49 am and the drive to the airport is ok. Some rain on the way but thankfully dry when I pull the car into the long term car park. happy holiday makers on the bus, all going to exciting destinations.

I arrive at the hotel and just checking in when in walks Nick. Mr Seymour looking good & he's obviously excited. A staff member offers me a champagne , which decline, in need of H2O. "I'll take it" , i know that voice, Mr Matt Sherrod, huge bear hug, so thrilled to see him, it's been too long. Neil and Mark are next, I'm feeling the love. They all have that "on a mission" look-so must be 12.00 and off to the ARIAS for soundcheck. I head to my room, which I love, right near the water. My bed is very comfortable and so tempting but I am not temped as I may never wake up. A call from our managers daughter with pick up times, 2 cars and all the family on board. I try on my "new" shoes, I like them so much I photograph them.

At 4.15 we are in the foyer, yes I'm wearing a cowboy hat (sorry Molly), it felt right,with my crushed black velvet top. OK it feels a bit odd (second thoughts) like i'm heading to the country and western awards. Great to see the wives,kids and friends.The best bit, seeing Sunday and Olive Hester. Yes Paul and Mardi's gals-they are now both beautiful women, I'm so overjoyed to see them, truly could cry. Love our chats, possibly the best part of the awards.

The foyer of STAR where the awards are being held is packed , hate crowds, well some. I'm chatting with our managers two truly excellent daughters and people are coming up to say hello. Soon the "it's on" bells are ringing so off to take my seat.Liam from Universal is next to me, he's a good bloke, so I'm happy it's not some horror next to me for several long hours. David from our UK label has flown in, wearing an excellent blue suit, almost exactly the same as the one I looked at, so glad we are not bookends!

The awards are long and I keep wishing I was elsewhere, Veronicas do a retake, and other hiccups. The lighting etc is over the top, I kind of admire their tenacity of the whole production. What seems like several hours later, a 'dinner' break and then Crowded House are inducted into the Hall of Fame. We all head to the foyer. Elroy Finn wins my ARIA award on the night for most brilliant accidental move - but he can tell people all about it- such a classic! He has me in tears.

I spot Molly at the bar and he nods a hello. I ask Sunday and Olive if they want to meet him, they are fine-no need they say.. The first bell tolls and people start heading in, myself included. I walk past Ian (Molly) who's now in a chair and he looks a bit worn and confused so I decide to stop and check if he is ok. He tells me how he's lost the women he arrived with. Meanwhile half of Australia bounds up to be photographed with him. Some are quite demanding and some could damage him by jumping on his lap, they forget he has survived a major health crisis and is in his seventies. A few I take to town on their behaviour. So inconsiderate of them. So 15 minutes later and the bells are tolling, for the final call, people are still getting drunk (it's a dry Arias inside). Molly wants to go looking for the woman, He has my arm, and we are walking the room counter clockwise. It dawns on me what it must look like, a younger man , (and now Mollys holding my hand-which by the way I'm fine about-skin is skin and I'm more concerned about his health) but, BUT I'm wearing a fucking cowboy hat! People are snapping away still, do they think I'm Mollys boyfriend, or a groupie in a hat. I try to ignore the thought, determined to find this mystery escort-friend of his. I do care about him, and really he shouldn't be left alone at such things. Hell the man is an icon, and the insanity around being photographed by Molly tonight made me realise how much. Let the Molly marathon commence.

I find him a seat again and grab him a champagne, we both need a drink. Russell Morris wanders up also with one, and slips and spills most of it on us, I swerve so Ian cops a bit more. I do snap at Russell a little , and somehow end up congratulating him on his award win earlier tonight. He's known Molly for years, so if anyone can throw champagne on him, its R. Morris.

The final bell and now I want to get inside, I go and find an ARIA official to help Ian, by the time I return the mystery woman is back and it's not a happy moment . I end up bailing and promise to return after the induction. Not even a "Molly moment" will keep me from seeing my beloved House get inducted.

Missy and Bernard get my thumbs up for their excellent CH cover. Our Flight of the Concord guys make the intro-wonderful very amusing speech as expected. The band are next , I'm kind of really proud tonight, and I keep forgetting to thank them for my "thank you"- as always I blush red- but so nice to even be included. They do what they do best, hit the stage and play their hearts out. Standing ovation- huge smiles.

I keep my promise and head back out but no Ian Alexander Meldrum to be seen, I hope he saw the induction. ARIA party etc, was kind of average.I soon was bored, despite many "wow cool shoes man" comment-if only they knew they were a mere $2.00. A secret that only Sunday and Olive shared all night, much to their amusement. I should win the ARIA for best Shoes !!!

I sneak away into the Sydney night, happy to get to my room and call my husband. We chat and I say (I'm having an early night) . "Lots of photos on the net of you and Molly" he teases. Ha-long story I mutter...."and Mrs Brady...Florence Henderson has died" -oh No-that is sad. I hang up and the phone rings again. It's reception. "Your cars here my Green". Now I'm confused. "No I didn't need the driver, caught a taxi back". "No 2 of your friends are here with their driver". They grab the phone. It's Pip and Kaz. I ran into them during my Molly marathon... and they are off to a party at Paddington. They assure me this is the cool party, artists etc. I'm semi convinced but they have made an effort , so should I!?. 15 minutes later we are cruising past Paddington Town Hall (those wonderful Skyhook concerts all those years ago). They didn't lie, the house is awesome, and the party excellent, Mark would of loved this part of the night. Music and my feet are aching from dancing. Our hosts are mighty, and soon I'm sitting out on an open roof garden under a now starry sky- the rain departed. The city skyscape so beautiful it looks painted. I do partake and it seems even more magical. The time flies by, and on the way home we ask the driver to drop us off near the bridge and walk through the park. What we all thought was the sun coming up, was in fact a large street light (OK misbehaving a bit now). I'm tucked in and they summon their driver and "off into the night" which was our catch cry. Dare I look at the clock. OK 4.45 am. It's going to be a long day.


---
November 24th
Crowded House Gig #1-Sydney Opera House.

You'd think if anything I would of overslept. No, I awoke at 6.45 AM. So 2 hours sleep. I can easily survive days on 4 hours but 2, we shall see. Manager Bill tells me 2.00 in fine today for my start, so I wait till 8.00 and send Wendy and Doug a message, or an icon, or something.OK I am still a bit fucked. I get a call from Pete-BCO-accidentally sent the message to him. I head off exploring the area and take some "bridge" photos- the first of many. I'm down the end of the road and it rains on me , possibly the goddess giving me a wake up call- it worked. The next 4 days I am going to remain focused and do my job incredibly well. I vow to no one in particular.

I think of Paul (Hester) 20 years today since that farewell show. Such a loss, Mark and myself miss his friendship. Matt is an awesome drummer and as each day goes by I get to know him, so no Paul comments etc take anything away from the incredible Matt Sherrod- we really did get another good bloke on drums.

Great to see Doug and Wendy, we have brunch and I am spoilt -their shout. Good mates, lots of laughter.

Nckola Seymour is in the foyer with their kids- even they have grown, she's so cool- hell I love our band family, something special about all the kids being part of this too.

A driver takes me to the venue- I keep call it "Welcome to Crowded House's Thunderdome".! I have packed the Tina Turner wig just in case. (Noooo! seriously you believe anything I write). Catch up with Sean and secure my AAAA pass, it's an extra "A" absolute access. Meet Rachel , she's overseeing pre backstage stuff and we work so well together.No ego from either of us or turf pissing. First thing I do is re-work the rooms a bit. The huge long Sari's are unrolled and candles and lanterns. How I got all this to Sydney is beyond me. I iron the lucky red bowling shirt. You know it's been blessed by Positano Gypsy's, a VERY famous religious leader (no names please) and even Mr Hester himself- twenty years ago at this very spot- you can still smell Hessie's patchouli oil on it. All will be well. I'm happy with the chill out room, which I believe the band will use the most, and work on the change room. I keep it more basic, more practical.Space, coat hangers and mirrors.

2.55 head to the box office and round up some kiwi contest winners. They won tickets and airfares via one of Neils charity's in NZ. Part of the deal was to see soundcheck. I track most (all?) of them down, a really nice bunch. I take a group photo for each of them, as a keepsake. I have to say the sound is excellent.

I'm called away, have to head back into the heart of the city with a driver to secure 12 brown Monk outfits. Sydney's light rail construction has caused traffic chaos and the driver circles the block after letting me off. I have a pocket full of cash and some rough directions. In a deco building and a rustic elevator, I finally find the place. "You have the most beautiful aura I've ever seen" says the person in charge "so I'm taking $50 off". It really threw me ,is It Ecstasy blue I think in my mind, then erase the thought in case she is a mind reader. I bolt to the pick up spot , brown monk robes blowing in the wind. People staring ,or was it my aura enticing them all? Is your Aura worth fifty big ones I think as a business man speeds past.

Driver gets me back with time to spare and robes are already. Should I even ask dear reader?

Kirin and band are special guests and I like them, they seem like fun. Mr Kirin himself and I discuss the best metallic nail polish for men - see we are such 2016 men. Thank the old Gods that the world is changing and the typecasting of Blokes is thrown out the window. Straight men experimenting and letting all their collective baggage be turfed is a good thing. Only the old and out of date hang onto that macho shit. The times are no longer a changin' they've arrived.

I head out to the line and chat to the club members, some have been here since 8.00. many familiar faces, so excited. They all know I am sincere in my appreciation for their exceptional passion. They are part of this brilliant adventure, so glad they enjoy all of this, and not staying at home being boring old farts. Lots of laughs today. They'll certainly help make these shows be terrific.

Dinner coupon from my mate Bill, we finally have a manager again that keeps me in the loop, asks the right questions and he's a mate- so this Gryphon is one happy worker. We sneak out to the Opera House 'stage door' with Bill, Sean and photographer Tony Mott. An interesting musical collection.

Doors are open and the steps full, and the die hards stage front on the forecourt. I think I know all of them.

"Now the monk robes..." explains Nick. Each night, as part of the surprise entrance, 12 monks walk onstage, all hidden under their hoods. Neil, Nick, Paul and Mark are four. Neil somehow hiding his guitar so he can kick into the first song "Mean To Me". Duges will have one robe and I will be in another. The rest will be mates and those with guts enough to do this.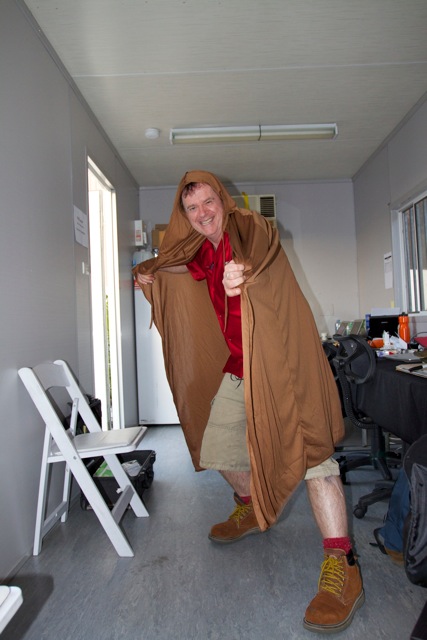 Sunday and Olive Hester arrive, I know Paul will be watching (if such a thing exists) and ask if they will be monks. In fact they can "de frock" Neil. We need 2 people to remove his monk hood so it doesn't detune the guitar and get caught on the fabric. They are soooo into it, and that makes me smile. So 10 minutes before we gather in front of the band room and carry the robes up. I also bundle Neils and the bands- I am a walking Monk factory. There are Monk nerves on night one. Neil chants at us or is it Mark. By this stage giggles are creeping out from under the robes, which are mostly mine. The intro music and out we go. The lighting is great (good work Arlo who is back in our crew fold). I make it my mission to turn every 20 steps, a full circle on the spot. Arlo's lighting just makes me want to do it. No Monks collide and within 1.5 minutes the gowns go and "She came a long way from America... " rings out into the night air. I kind of Madamme Butterfly in front of Nick to hide his bas seeing clipped ion and then I'm off, after a quick look at tho sensational crowd.

The show is excellent, so many sing alongs from the crowd and Neils singing really well. I'm back in the band room while the band are on stage singing Private Universe. Tim Finns up in a few songs with "It's Only Natural" and I'm making him a tea & honey pre song drink. Love that he is in the band room with a guitar singing obscure songs. I linger enjoying the Tim Finn solo concert just much.

It's all over rather quickly and backstage is full of band, mates etc, so I am pretty much the last to leave- just after midnight. The last driver takes me back as I wait for the final 2 stragglers from the crew. Show #1 done and dusted- and all good


---
November 25th
Day #2 -Crowded House Opera House.

I wake up early (again) not sure why- maybe it's the excitement of the shows. head to the foyer for my usual coffee and to read the reviews (all very positive). The lovely Maria looks after me - feeling the love never pay for coffee, just brilliant. She's a lovely woman. I am a bit hungry so walk up the street to a little food place that i found. They make a killer schnitzel and salad roll. Devour it in the park while I wait for Wendy and Doug to do their Sydney harbour Bridge climb. I'm back in the foyer waiting on the driver to take me to the venue and chatting to Elroy. Finns are off to the beach for a swim. Sounds nice on such a warm day. I head in at 1.00 today and re-vamp the band room. Different rugs and mats and even change the furniture around a little bit. I wonder if anyone will even notice?

Elroy is in the room rehearsing 'Pour Le Monde' which will be added to tonights live set..and Tim having a vocal rehearsal around "How Will You Go". I'm glad they are changing the set a little bit. Unlike those predictable Rolling Stones says Mark.

I head over quickly to eat tonight, very rushed and by myself which is fine. On the way back I spot Miss Di and the others in the wheelchair area so call on in to have a chat. So good to see them. Tab is there as well, I do worry about them all. It's not a bad spot to watch the show. A little bit of grief is given around a guide dog needing somewhere to pee , so I try to sort that out. Really security had the decision, open the gate to the grass for 2 minutes or clean up dog piss and shit. A non brainer-they open the gate. Have a few happy photos with the fans, I'm a bit sunburn't from today-it's a cookin' outside, even in my hat. So many people come up to say 'hello' which is nice but it takes an hour to get back. The Monks need sorting for tonight & Harper & Elliott Finn are up for it & Bill our manager.

I ask of I can have the 1/3 remainder bottle of Gin and bread for my room, all good. Laura, Stella and Sue are waiting in reception. I do call and let them know I will be late. Finish at 12.45 tonight, I'm waiting on Arlo- I never leave till the last of our crew has gone, I'm like the Army, never leave anyone behind. It's fun in the room, D&M's and lots of laughter. All alone again by 3.30.


---
November 26th
I got some sleep last night, well a Stillnox sleep. I wake up feeling a bit "flat". It could be the slight case of sunburn. Wow this "Tour" is now past the half way mark. Ha!

Sit with Matt in the foyer , and lovely Maria brings me my coffee and papers (Great review from Bernhard Z). She just knows where I am. OK it's the usual corner chair. It's very comfy. Matts so chirpy. I eel like we have connected a lot more. I dig him and we talk organic vegetable growing. Just as I am about to leave I see Skip and little Arlo in the foyer. Brilliant to see them.

Back to my room at 10.00. My beautiful sister sent me a massage certificate. Renata arrives on time and she is brilliant, a really great massage. 1 hr of bliss. I'm ready to take on the world. What a great present.

I decide to wear my ARIA shoes to the show, I do take my chunka chunka boots but the shoes are classier. I hear from my Sis about 30 minutes before the show starts and run out front with a little pack for MIM. Small T-shirt, water and I borrow a band room pillow, which I will return tomorrow. Finally track them down and so awesome to see them. MIM is gorgeous and so excited.

I find them a spot and say I'll return later- the Monks have to get ready. "Monks"? says Sis. "Keep looking for the twirling one" I say... that will be me.

I make it back with time to spare - I got the time wrong, all is well. Lights camera action.

Half way through and I'm sitting with Tim and Harper in the band room, he's playing guitar and I tell him about how kind he was to my sister-her first gig-Split Enz. Tim lifted her up and sat her on a speaker to watch the show. I'm about to rush out front and have one of our orange plastic water bottles with a drink in it for MIm and family. I scribbled an Opera House- MIMS First Concert etc on it. I figure a fun one off souvenie. Tim reaches for it and writes a very cool message to Maddison on it. Seriously this is great.

I'm back out front and I see a crowd looking elsewhere, it's people on the steps watching Maddie dance to Crowded House. God she suckers them all. It's her show, Crowded House are just special guests. I sit with Sis and her hubby and the popstar known as MIM for a few songs and time to head back to walk Tim on. Tea and towel moment i call it. IT's Only Natural just so mighty tonight.

After the show I head out to say hello to some club members. I run into Reg Mombassa and Pete and Sue.. walk them back. Our backstage area is packed tonight, I look after as many people as possible, try to keep therm outside under the stars instead of the band rooms. I leave at 12.30 tonight- catching up with Doug & Wendy at the hotel. They wait patiently. My feet ache, I forgot to change shoes, I am a cripple ...seriously they really ACHE.

Call room service they make the best toasted sandwiches. Yum. I bait Wendy a bit, she's a good sport. It's around 3.00 and Dougs nodding off so we say good night.


---
November 27th
I'm awake early again. meeting Sis, Mim and Sis's husband at the hotel. I'm in my usual chair and usual coffee when the MImster arrives. She runs to her uncle and jumps in the air and I catch her. Lots of kisses planted-wow most beloved Uncle ever. We decide to eat at the hotels food area. I spot the Finn clan outside and take Maddison out to meet them all.

One of our crew Marcus arrives and sits next to us. Mim likes "the pictures" on his arms- cool tattoos. Marky B is such a softy, MIM instantly likes him. She's a good judge of character. Matt and Mark come up and say hello. It's probably good that these guys see that i do indeed have a very normal side- it's not all orgy's and Martini's! Nick sits next to us and my sister and husband just think he's really great. Which he is, having a family is wonderful for Mr Seymour, I love seeing him around his kids and exceptional wife. So happy for him.

It's a lovely morning, so relaxing and of course Sis plays "stuff the money into brothers pocket" and refuses to let me pay. Grrrr. What is it with us Greens , we can never just accept but the endless urge to give. I walk them to the car, makes me sad to see them go. I walk Sis and family to the car and she returns the band room pillow I gave them for the Opera House steps. Miss MIm waving goodbye- so lucky to have them all - makes me smile and sad. Still Christmas is arriving fast so will see them again soon.

I sit with Nick, and Matt in the foyer, the lovely Maria grabs me a coffee. We three decide we could live at the hotel forever! Well it sounded good at the time.

Van arrives and off to the show, shuffle the band room around again and have it down pat-so wander on out and talk to the club members, which I always like. They are still so buzzed by it all, so good to see.

Another great gig- "Chocolate Cake" just rocks it's heart out tonight... the band are on fire. We black out the side parts of stage, as tonight is being filmed. I monk it up again and give Mark a secret hand sign onstage, wonder if he spots it on the tv screen! Hope so.

It all goes well, perfect weather again. A huge number of people watch this, and no doubt will have an overseas release too. Look after way too many people backstage, sometimes I try to do too much, so starting to feel fatigued a bit. Still can't sleep so watch the Roland Howard documentary on tv at 2.00 in the morning. Thats after moving 4 massive trolley loads of stuff into the storage area, pretty much by myself. Re pack all the band room bits and pieces and bags. No time to party, this has to be done. Still feels weird that it's all over, I'm buzzing though, so happy that it came together and in such a mighty way. The fans seem very content. So is our new manager Bill, he made such an effort, just happy it paid off. The fan base has been a blessing, without their endless support these magical shows possibly might not of happened, they keep it all going and from the emails and comments, it will be four very special nights that will remain in peoples memories for a long time.


---
November 28th
I'm awake at 7.00 , my feet ache, gone through a full bottle of peppermint foot rescue. Check out and go and have my usual coffee and read the papers. It's been a late one for band and crew so most look a tad seedy. Mr Finn in some very dark glasses. But despite his slightly hungover state, he still manages to head upstairs and sign the batch of 8x10 photos . It's appreciated, and gets an extended hug goodbye. Christ knows when I'll see him again. I'm hoping he really enjoyed the experience of the shows. I wonde rif he knows how hard I worked on these, probably not.

Somehow my van doesn't arrive so I just grab a cab to the airport and bite the bullet. The hire car is ready and I'm off down the coast. Bulli pass is closed so a take the longer but more scenic beachside route. Call in and visit Sis at work, Miss MIM all curled up sleeping.

Home and hang out with Mum, she's ok, well kind of, life will never be the same and with the final part of her eyesight going, we are just so worried. Head over to the shops to grab some grocery's and buy Mark some new track suit pants. I also call into see his Mum & step dad , which I always do.

Mum stays up late tonight, well late for her so she has made an effort. I pop a pill and get some sort of sleep. It's so humid though.


---
November 29th
Wake up early and drive for a coffee but the shop is closed. So I head down to the lake and lie down in front of the Koonawarra boat shed. Under a tree and almost fall asleep. Sometimes it's nice to lie down on a grassy band and snooze.

I call into the old peoples cottages and visit my 94 year old great whatever relative. So good to see him and he's having a great day.

I'm home again and make some sandwiches for a planned picnic today- just Mum and Sis and myself near a beach somewhere. Sis says it won't happen, Mum won't go, but she does. Sis loses the bet and we end up at Bellambi Beach near the giant rock pool. It's really windy but we spend an hour together . I'm happy for such moments.

By evening she's grumpy and we have 'a moment'. It's hard being so patient, I try... Mum sulks. Sis and MIM arrive, Maddie so excited to see me, it does my heart good. I buy MIM a book "I Want To be Famous" and I read it to her.


---
November 30th
I leave fairly early as the pass is still closed, and get to the airport on time. Stung for some extra extra excess baggage which is no surprise, I don't even care. I make up the money at the freaky flyer, food, photo copies even a shower. Flight home is ok, start watching the Ab Fab movie and I'm surprised at how good it is- like the early shows, we will have to buy it on Blu Ray.

Mark has made homemade sausage rolls , which is so very cool... so happy to be home, even after an amazing time in Sydney.


---
December 1st
First day of Summer and it's cooking outside, which means Christmas will arrive so very fast. I'm pretending that I'm still away so i can play catch up on all the work. Bloody emails too, so many. The amazing Giant Christmas Stocking from the club will be given away soon, one lucky fan just does so well.

Hundreds of emails from fans who went to the Sydney gigs- all so passionate and very happy- it's good to see. I know this diary will be late (sorry).

Guess we should be wishing everyone a very happy Christmas!

Sydney rocked!

xPeter