December 2nd
8.47 PM, there is a certain time in the evening when I like to wander outside and take photos. This time of year there is still some light & it's glorious. Our house has a particular glow, as does the sky and many night creatures are starting to stir.

The Rolling Stones- "Blue & Lonesome" is in the shops, I bet this one goes to #1. Quite a few people in line at JB Hi Fi with copies. Imagine band members, most in their seventies and they still can have the #1 album-incredible. I buy the Ab Fab movie too, was surprised just how good it is.

I'm awake very early and start work on my pop art christmas tree. The wood is the original, from our house, so about 90 years old. Old boards and I've angled them on the edges, different lengths. Lots of spare paint in the garage, so each "branch" a different colour. Love working with wood and a saw. I think it needs another "branch" i'll work on that in a few days time.


---
December 3rd
Olinda Pool has it's "Pool Opening Party". The hot days are here so hopefully the locals will once again be supportive. Still great that Labor kept it's promised and helped re open this brilliant community pool. It wouldn't happen under the Liberals, they are too busy closing such things down. Still we could march the Libs up to the pool and drown them all- that really would be money well spent!

Everything is so lush up here, it's a bit like living in the Amazon rainforest.


---
December 4th
Wayne from Daddy Cool dies, as we all get older this will happen more and more. I do wonder which Stones member will go next. Sometimes money can't buy good health.

I have a quick coffee at The Deli , by myself, but the locals come and sit down. It's nice up here that the community seems to enjoy our company.

Package Neil Finn 8x10s to mail off, a bit over cutting cardboard. But it's good to protect these precious gifts for the fans. Australia Post tend to bend and squash everything these days. Annoying they can't read 3 simple words- "Please Don't Bend"!


---
December 5th
Call into the Trophy shop and pick up Wendy's Pool player trophy. "Best & Fairest for 2016". Hope she likes it. -fun.

I also visit the High Priest of Sol to get a replacement magical component for the Orb of Thesulah!!!!!! Not magical enough , it's still not working.


---
December 6th
A long long day in the office, we get a lot done. I decide to add the extra branch to the Christmas tree, so during lunch I work on that.

Send in my Invoice for the Opera House shows. I appreciate the work and what fun work it was, a very enjoyable few days.


---
December 7th
I'm off the mountain for date night, but it's just me, so I'm desperate and dateless. I call into Sassy in the hope that one of my favourite shops is open, but it's not. In fact every shop closed and not a car on the road. Three very strange mannequins in the window freak me out and the "no signs of human life" just add to it. As Edna would say "It's all rather spooky"!


---
December 8th
I order the Stones Exhibitionism book for Mark as a late Christmas present. It's via their website so we know they won't get it to us till after Christmas. It looks good.

I climb around the blackberry bushes on Ridge Rd, the secret spot a ranger showed me (The G-spot of the mountain?) and manage to get enough blackberries for jam. Ours won't be out till February , so I'm lucky to get this mere buckets worth. I have scratches all over me, I hope those who scored Jam appreciate it.

Have an urge for Mexican tonight. It kind of sucks and not the food. Lesson learned.


---
December 9th
Happy Birthday to the exceptional Nick Seymour. Such a decent bloke, I'll always have time for Mr Seymour, he's a good egg.

Mark works on the Christmas Card design. Those who went in the Clubs Giant Christmas stocking will get them first, whatever is left will go out across the globe. So sore fingers for a month.


---
December 10th
Mow the lawn, and the nature strip. It's a huge effort, but looks fantastic when done.

Put up live video of "Ego is not a dirty word" from the Hooks Geelong gig of 1991.

I see Upcoming president Chump makes a fool of himself again with one of his tweets. Seriously America is this all you have to offer the world. Urgh.


---
December 11th
Well those ol' Stones debuted at #1 in Oz. Congrats boys. Impressive.

I keep my promise and cook Indian dinner for Laura, Kevin, Doug and Wendy and as always Marky. Spent long hours getting this right, even grinding my own spices. The table looks rather cool, the company great and the food terrific. A really brilliant night and of course it ends with some serious pool playing. We love these people. Kevin gives us the most sensational metal art present! In fact we are spoilt by all!


---
December 12th
I put our friend Trudi's present in the car as I plan to drop it in tomorrow when I'm in the city. The state government kept another promise and came up with the funding for the permanent music museum as part of the arts centre. My friend Jenene is a major worker for it and they have been trying to make this happen for awhile. So tomorrow is press conference day. I get a bit freaked out when politicians keep promises. Dan Andrews apparently is the most popular Premier in Australia these days. That will piss off the tired old Liberal voters.


---
December 13th
Up bright and early and head to the city today. I find a park near the Domain, but the parking machine is have a hissy fit, so I leave a "please don't fine me" not on my car. Walk across to the Arts centre to The Channel at Hamer Hall and given a press release. The new exhibit will be called the Australian Music Vault. Not all that keen on the name but as long as the content is great it will get a thumbs up from me. Smiling as several Skyhooks objet d'art are on display as well as Chrissie from the Divinyls school out fit. Chat with Jenene and happy as this has come a long way. Nice to say I donated ,worked on the very first exhibit and many since. Martin Foley from the government (Minister for creative industries) gave a half decent speech. Gudinski and Molly up on the microphone. The media are in attendance and a few acts including the brilliant Pierce Brothers perform. Molly mouths a 'hello" and nice to see Dean from Liberation. I'm out of there as soon as it's all over.

Next I drop into Bongo's place and nice to see Chrissi again. Give him his replacement Skyhooks mirror and word him up for his Facebook page around the upcoming gig.

I drive down to Chapel street and get Mark a practice amp for christmas. I have to find a way to sneak it into the garage. Chapel street's glory days are well and truly over, sad as it was once magnificent.

I use my navman to attempt to go to our friend Trudi's place but street works and barriers-so end up going over the Westgate bridge- TWICE.... it was looking like a third time so I bailed. Sorry Trudi.

Finally get home and all that city traffic, just wears me thin.


---
December 14th
Finally track down a hire car for Christmas, freaked out that the 3 majors have ran out of cars. But found one, so the final "done" is crossed off my christmas go home list.

A Chrissy card arrives from the Strachan clan. Every year Shirls parents remember, they are the best. Love that they will (probably) live forever! Joyce still has the same hairdo she had in 1975!!!!


---
December 15th
I make the effort and drive to Rosemaree's and drop in her presents. I just want her and a few others to have them in time for Christmas. Otherwise what's the point. Her gigantic bras and other big gals clothes were on a drying rack, so I hope she see's the parcel near her door! That bra cup could eclipse the world!! Ha!

The lucky winner for the giant Club Christmas Stocking is drawn. BLUE ticket #1101. It takes awhile but eventually track down the life member who won -they are stoked. I felt like a wonderful Santa Claus.


---
December 16th
I mail Tim Finn some photos I took of him, and 1 of Marie backstage in Sydney. I forgot the cool family shot with the kids as Monks. Such a great photo, they'll really like it. Tim has this cheshire cat eating grin. Marie a twinkle in her eyes.

I see Australia drops to #60 as far as world internet speeds. The Liberals Fraudband is pathetic- you'd have to be a total fuckwit to vote Liberal on this ! It's shameful and such a waste of money on something third rate, when it could of been sensational.


---
December 17th
Catch up with Fran for coffee and they give us the most beautiful lantern. Just perfect for our garden area. Love seeing Francesca, we give the family Mouse Trap for Christmas. You can't go wrong with a classic game. The original mouse trap game seemed larger.

I rush to get the post to the general store on time . We have a small parcel for Jennifer in New York and want her to get it sometime close to Christmas. You never know with christmas post overseas, some things are fast, others so slow. It feels very strange that a new year starts in 2 weeks time. Life speeds up.


---
December 18th
I put up a cool version of Chocolate Cake (live video) from Western Australian gig in 1991- the regulars on the Crowded House Archive page love it. Such wonderful feedback. Glad it is appreciated.

Mr Swampy send some some fantastic coriander seeds , so attempting to grow them by the side of the house, just below Kevins exceptional metal art work... and I get to use Jan's garden markers for the first time.


---
December 19th
Head to Mexican with some friends. Reasonably well behaved and lots of laughter. It just freaked me out that we are heading home in a few days time. Viva la' Wollongong!


---
December 20th
Drop some champagne into the General Store, so they can have a glass or two- Christmas is insane at the local post office. I'm sure I drive them nuts.

Excellent bottle of spirits from Hisako & Martin for Markys bar. That will be very handy for future cocktails. I manage to reclaim all of the floor in Marky's office, mine I'll slowly do , all the way up to new years eve. I have more "projects" underway , I need my lay out space.


---
December 21st
I email Belle in France, her incredible chocolates have arrived. I always get freaked out how much she spends on us. She tells me she is delighted with our present, which is nice.

I have a nice chat with Mr Griggs , we are all NOOT looking forward to the Aussie summer.


---
December 22nd
What a strange old year 2016 was. Such peaks of highs and lows. I'm sticking with the positive, otherwise I'll end up old and bitter as each year rolls by- a crap way to live. Life is too short and just say there is nothing after this one. having faith is not enough, a dose of reality is sometimes more important.

Lasagne for dinner. It's a really good one- yum. Give Mark a hair cut while it's cooking in the oven.


---
December 23rd
Go for a quick drive and drop in Allie and Janes christmas present. It's important to get presents to people in time for Christmas. Plus for once we won't have that one present lingering around the christmas tree. Nothing worse and really it takes 20 minutes to make the effort, not hard at all really. Our bags are packed, well mostly my bag. Mark has carry on.


---
December 24th
Not much sleep, Miss Banshee snuggles up, she knows we are going away. So she keeps me awake.

Very little traffic on the way to the airport so we arrive with time to spare. Breakfast at the freaky flyer. I tell Mark that it's crazy that airport security will take away a Bic shaver if it's in your carry on, yet I can ask for a shaving kit at the frequent flyer and carry that on board. Qantas move us up to better seats and a spare between us , so room to stretch out.

Leave a little bit late from Sydney airport for the drive to Marks dad and Kerri's - on top of their mountain. It starts to rain, but I'm ok with that, it may be a cooler Christmas then previous years. Nice to see them both but it's a quick visit. Back in the car and head towards Robertson, where we stop and call home so they know we are only an hour away. My relatives are at my Mums already and she's not in a good mood. Which annoys me, did she want me to parachute out over Wollongong?

Drop Mark off at his Mums, and do a quick change into my Santa outfit for Maddison. Finally home and it's a nice night, my great great relative is 95 so it's brilliant he has shown up. Imagine being 95, I can't, he is fantastic and has such moments of clarity -more so then i do. Drive my cousin home and have a beer, come back and help Mum wrap some more presents. My final effort is made curling the celery for tomorrows luncheon. Finally crash at midnight. Ho, Ho , Yawn.


---
December 25th
Up fairly early and help Mum with food preparation. The pudding is bubbling away, and I'm cutting fruit salad. Mums fridge is packed so I tell her the fruit salad will go into the crisper. I get the table ready and other things, the "perfect son" moment, and finally all done. Sis and MIM turn up to open presents. My Sister just bombards me with presents, all of them amazing, she spoils her brother. Maddison is having a great time, especially the huge pop up Frozen tent, which seems to open by itself out of the christmas wrapping. So of course have to venture in and out of the tent. The $2 giant bubble sticks are loved and we send hundreds of bubbles up into the sky. I pick up my cousin David and he's my witness that Miss MIm did say "I am a Jedi" as she wields her bubble stick like a light saber. She goes for my knees. Ouch.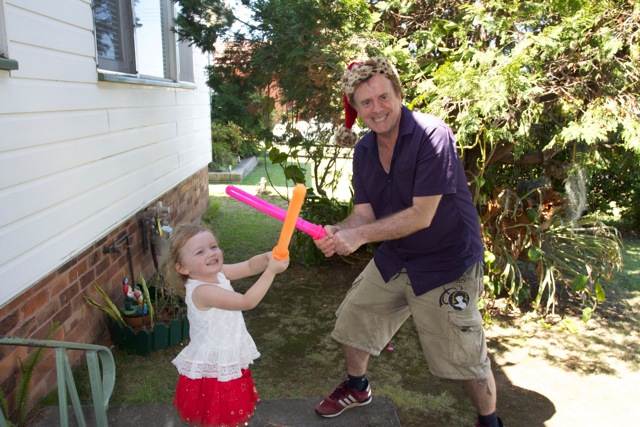 Lunch was great, pudding, trifles excellent. My Uncle singing (yieks)... and of course we forgot that the fruit salad was in the crisper. All that effort and we all forgot. Argh! My sister falls asleep sitting up on the couch. She's been working too hard, she's worn out.

The 3 of us drive to the Crematorium and put flowers on our relatives graves. People comment how cute Maddison is, in her Christmas fineness, she gives them that cheeky smile.

Temperatures hit 40 degrees in Adelaide so around 105 fahrenheit, Melbourne is only a few degrees less. We all sit and chat and MIM keeps us entertained. I eventually drive my cousin home, and call into the service station for fuel for tomorrows airport trip.

By evening the house is empty, just Mum, sadie the dog and myself. Mum has an old lady nap and I watch an ABC documentary on the WA town of Derby! I snack on lunch leftovers for dinners as I'm full as a fat ladies sock!!! I normally don't eat so much at one sitting.

It's turned into a nice Christmas and I'm snoozing away by 11.00. Almost over for another year.


---
December 26th
Happy Birthday Banshee. She turns 12 today and we'll celebrate when we get home.

I pick Mark up at his Mums at 6.30 AM, so an early start. Our parents tell us traffic will be bad and roads packed but they weren't , an easy run to the airport, very little traffic. Return the car back to Avis and time at the Freaky Flyer. The coffee lady was on deck, so she whipped up a decent brew. I raided their copy machine and managed some copying for our office and the club.

The flight back was fast, once again a spare seat between us (thanks Qantas) and I waded through the many Christmas photos I took this year. A chance to edit many. Our car is at valet, so we walk straight out the side door, hop in and head home. It's my one piece of luxury after the long driving each christmas. The Boxing Day sales are on and we avoid most traffic. Home by 12.30 and sing Happy Birthday while she blows out her candles on her fish birthday cake. She's a good cat, crapped in her toilet box and nowhere else, last thing one wants is to clean up cat shit.

So that was Christmas, we love our families but it's wonderful to be home.


---
December 27th
We decide to spoil ourselves and head to Eastlands and a few other shopping places. Quite a few vouchers this year from generous souls, so a bit of a shopathon for us. I'm excited as I now have this high pressure sprayer so i can work the outside of our house a bit. JB wasn't all that packed considering they have their 20% sale on, grabbed some Blurays . I notice both the Crowded House (debut) and Woodface re issues have sold out in some stores. Our electric guitars need some new strings so I stare at the packets , uncertain what to buy-you'd think I'd know by now. A really great afternoon with my best mate, shopping is bloody hard work (yeah right). I am very excited about the new class IIIA laser arriving . It has so much potential. Yeah Boys with Toys. I know, I know....


---
December 28th
Happy Birthday to Mr Yeti !

The first anniversary of Bowie's death coming up in a few weeks. I've found the 30 seconds I filmed on an old camera-from the Sydney showgrounds November 1978 show , the first time Bowie was in Australia. So with some help from Mark (and thanks Doug) will put it up on my You Tube page as a tribute on January 10th. It's all pretty average but from the front row and just a little tribute I guess to an exceptional artist. Long live Bowie.


---
December 29th
We head to Brunch today for breakfast, one of the few food places open on the mountain. Great to see Louise & Mark again. We get our favourite table in one of the smaller rooms, away from the tourists. Love my pancakes Louise!

It's bloody hot today, but Ailsa Craig still nice and cool though, we haven't even put on the air con yet. We know we will. I'm just waiting for the right day to give Banshee a bath.


---
December 30th
Happy Birthday to Skyhook Greg. I have some of our very special blackberry jam for him. Only managed a few jars this year as the blackberry's are only just starting to ripen.

Fiddle around with our new laser. All those wavelengths for colours etc. It's pretty cool just have to remember to not look at the laser itself. I am laser addicted.


---
December 31st
Morning at the General Store and work on our BAS stuff for Mr taxman.

I was considering going to NYE on the Hill at Loch Village down the coast but heard that Hoodoo Gurus were doing the lead up for the Fireworks and really wanted to check them out instead. (They rocked).

I put up a bit of Crowded House performing Auld Lang Syne 30 years ago, and by sheer chance (cough) there it was on the credits after the Sydney Fireworks- good old ABC! That made me smile.

So happy new year everyone. 2017, people seem very afraid of what will happen - I'm approaching it in a positive way. Bring it on.

All the best

Peter