May 9th
The endless May birthdays continue- have a good one Doug!

I chat to Tim's manager today, he is also very generous and comes up with some cool prizes for our mid year club raffle. There may be some good news too on the CD of Tim's upcoming "Fiery Maze" available via us further down the track via Frenz of the Enz. The fans will dig this, wonderful that after all these years of creating Split Enz , Tim's music is still grabbed en masse. Thank god he's not pretending he has some giant selling album while multiple boxes ill up the back room of his house, albums that nobody wants or could give a fuck about. he's also up for a few Festival appearances later on too in Australia which is excellent. Go Tim Finn, creator of Split Enz.


---
May 10th
Finally the list of prizes is coming together, the band members have been very generous,especially Noel, Nick and Tim , some excellent scores for 7 lucky fans.. I especially like the "Noel will teach you how to play the spoons" prize. He's great, the winner can take that one off their bucket list. I love those special unique prizes, and how incredible is the Cromb for offering that.

My birthday tomorrow and I have the urge to head down the coast, back to Cape Paterson. Not even sure why. Mark says "rain" but he knows it's my day so whatever I want, "road trip" we shout!


---
May 11th
Finally a chance to sleep in and the phone rings, I expect it to be my Mum but it's Allie & Jane- very odd, Mum's usually the first cab off the rank on birthday calls. Quite a few after there call and then Sis. Bad news, my Mums in hospital , I'm going to check back later to get the full scenario. Sis tells me to take the day and head to the beach. So off we go.

It's exactly 300 kms round trip from our house. Grey sky but overall it's a no rain day. We call into Kilcunda. Straight to the beach. My first job was down here, at a music Festival taking photos ("Sunday at the races") February 3rd 1980. Peggles , Mark and myself. We thought we could rent a tent down here so only took bed covers. Huge mistake- no tents not even a spare caravan. So being young and packed full of spirit and ingenuity- we made a green dome - hidden in the sand dunes down the beach. Plastic garbage bags , knitted with string (Peggy's wonderful stitch work) and sticks for centre posts and tent pegs. I'd have to get up many times during the night and tighten the strings. The coastal winds are insane- and still were today.

It's changed a lot, even the dunes have moved some what. A smart person scrawled "Fuck Off Turnbull" in giant letters in the sand. Beach politics is alive and well-we cheered.

After that we walked up to the old train bridge. This would of been a scenic journey by train all those years ago. It's been decades since the trains ran but the bridge remains. We'd been back to Kilcunda many times, once with Bec, Mark and Mandy K- hanging upside down off the bridge doing our best Lost Boys impersonation. Very drunk , outrageous.

Next we head towards Wonthaggi, they now have several huge wind farms in the area- which I'm fine about. Churning out the power. Wonthaggi has grown, somehow some golden arches arrived and many other shops. Even the little road out to Cape Paterson now has a bike track- where was that when we needed it!

We find our house at Cape Paterson but a bit shocked as the owners sold the side block of land and it's now so squashed in- so much it doesn't have an entrance way on the street. You can never go back Dorothy. This was a cool house , but now just feels strange, so we don't hang around very long. Decide to head to the beach.

The winds blowing and the waves are crashing and the long golden beaches seriously eroded, as the tide comes in it's a case of climb up onto the sand dunes. Take a few photos and watch the sea birds floating in the breeze. It smells fantastic here and not a soul on the beach. I do miss this, living by the coast is fantastic.

We have some lunch at the old cafe , which used to be the only place to eat at The Cape. Now there is a tavern and several other shops. The girl makes a killer hamburger for us , we drive to the old boat ramp and devour it. Where has the natural rock pool gone, somewhere out to sea, once more the tide comes all the way in. I wonder if this is Australia wide?

We head home, but spot an cool ancient tree in a field so spin the car around and take a moment for some photos. Took a lot today , good for Sheepbook I guess. Spot the word PUB on a roof, many KM's away so our thirst sends us in that direction.

Finally home and hear from my Sis that Mums in hospital, so make plans to head home quickly.


---
May 12th
Spent most of the day on the phone and Net. Booking planes, cars and getting everything ready for my time away. made Mark some very cool mini lasagne's. A few mates are calling in to check on him. I've only told people who called on my birthday that I'm heading off.


---
May 13th
Didn't get much sleep so up early and on the way. I just grabbed a Jetstar flight as they had the desired arrival time. I grabbed a hire car via Budget, they had the most amazing car deal - just way too tempting. I am not taking an baggage, no airport wait , I just hope my flight is on time. I have very little memory of the flight, though i did have some breakfast at the freaky flyer lounge.

The flight arrives Sydney, early- how rare is that. As I depart a $20 note blows onto my knee at the boarding gate. Ok thanks money god$! A small wait at Budget but worth it, they just upgrade me, from a small A size car to a brand new Hybrid medium-large size that's only been driven for 50kms. Nice car and way too many features. I try to listen to midday radio, most of it crap. No food on my flight so I'm hungry and call into George's Rustic Cafe at Sylvania. Homemade burger and ok coffee.

Finally arrive at the 'Gong and call in and see Sis- she's at work. I have a cool sister- great to see her. She grabs my 1 spare shirt and it's straight to her dry cleaning staff-thanks Sis.

Next stop Mum and she's worn and torn but still here. So very happy about that-she is a survivor. I hang around the hospital for a few hours and eventually head home to her place. On the way i call into the mall. Some charity has a $1 ticket raffle, so I had a coin and buy one lone ticket. I win some second prize pack- latest James Bond dvd and a small parcel of other goodies. A surprise win one one ticket.

Home and slightly freak over the large blood stain from Mums arm, head. I get onto it straight away, use a full container of cleaning fluid. Her dog obviously missing her and wanting any and all attention. Call Mark, read, clean the house, feed the mutt, have a shower and back into the hospital for evening visit. I'm with Sis and the person in the room next to Mum, passes away, sad for such a young family. An early night for me as it's been a long day.


---
May 14th
My Sisters husband has his 50th birthday tonight, a surprise party so I volunteer to help Sis at the reception centre on the beach. I call in and see Mum and make a time to see Sis at the venue. On the way I spot some hybrid version of Lucha Libre- Wollongong wrestlers with masks etc but add hard rock music. Quite a crowd. I remember that Comic-Gong is on (yeah like Comic Com) and the streets are full of surper heroes and villains , apparently 6000 people make the effort. By luck a car surrenders it's park and I'm in. Thankfully I did pack my very excellent camera so take a few photos. Nice to see so many people having fun on this beautiful Saturday.

The car spots around the City Beach Function Rooms are packed, I manage a park on Lighthouse Hill. Right near the Mr Whippy van (make a mental note of that for later). Always nice to see the local beaches, where we seemed to live when growing up. The surf and sand smell incredible and loving the feel of sun on my skin. Sis has already been flat out at the function room, looks great. I am her slave brother so whatever she needs me to do, I just do it. They are a great couple and will be together for ever. No failed marriage here.

A few hours later, back to the car but time for a choc-top icecream from Mr Whippy.

Back home again but call into the supermarket for some supplies. I spot some Minnie and Mickey masks , a mere $2, I so know Miss MIM will love them. Call my cousin and I'm picking him up for the event. I'm on my way to his house and spot 4 horses that have escaped and are on the road. So I stop and I am the horse whisperer , they all walk up to me and let me guide them back to their field. I love horses, such exceptional animals- the only problem is, from all the nuzzling, I have a subtle "horse odour". Thankfully I de-horse myself a bit at my cousins place.

We call in and see Mum, she's in a feisty mood, so must be feeling slightly better. Only stay a short while. "At least i won't have to do the bloody chicken dance" she says-which makes us laugh. I wish I was in a hospital so I don't have to do that, I hate the f'n Chicken dance too . Heaven help anyone that tries to make me do it.

First in and grab a great table for our side of the family. Miss MIm is shy girl, keeps smiling at me from a distance. I elbow my cousin-"watch this" and put on Minnie mouse mask. Maddie's eyes open wide, she points and bolts in a fast run. Like i said, best $2 prop I ever bought. I am in awe how she has grown, what a beautiful girl I have for a niece. My Sister and her husband excellent parents , just glad they are not scumbags who end up in jail and make their kids cry - I count my blessings they are decent people. So many parents should not have children, so many people should of been drowned at birth! The world would be a better place.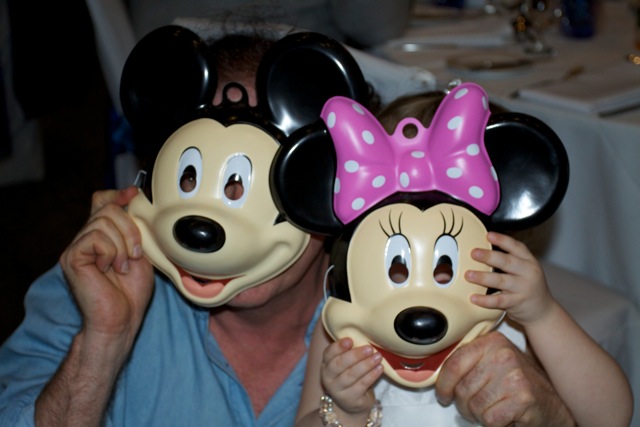 It's a fun night, and Mum is missed. The lights shine on the dance floor and there she goes, shoes off and loving the music, Miss MIM. I just laugh-hmm what side of the family does she get "shoes off asap" from. Yes her uncle. I give Sis, Mim and hubby Mark a kite each, all 3 different sizes, thought the family could have fun flying them. An excellent night and drive my cousin home. Asleep by midnight after I chat to Mark in Melbourne.


---
May 15th
I'm awake early again, spend a few hours working on Mums bathroom, all those exceptional 1960's tiles, now shine like they are new. Just areas where she will no longer be able to reach. Sis, Mark and MIM take me to lunch at the club, really nice as I never eat breakfast. Takes awhile to leave as someone wants a talking Penguin. Miss MIM.......

Visit Mum and a few of her scars have healed but they discover 4 broken ribs too as well as cracked knee. Heart stuff all seems ok, it's a long list but she will be in here for months.

I park near North beach as I want to visit Agate Beach. One of those teenage spots where I'd sit with Mark, talk and look for amazing agates. I'm a bit horrified how erosion has wiped out 90% of the beach too. I sit on a small section and am surprised to see a rock that looks very much like the shape of Australia. Even a little Tasmania is nearby. One lone swimmer is braving the water of the natural rock pool. I click on the car radio and the Butthole Surfers very very excellent "Pepper" was playing, such a fine song. A surprise to hear it.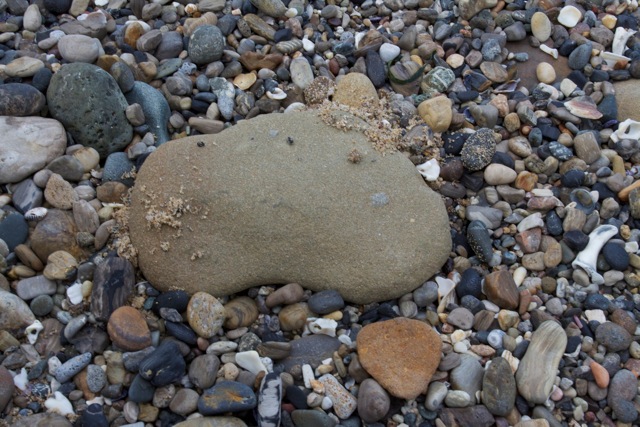 Back home and back to working on the bathroom. Cook myself dinner- feels strange being alone, what a lonely thing to cook dinner just for one. Feel sad for a moment, and decide to give the oven range a super clean. How obsessive am I? Afternoon I visit my dads old family home, and try to locate the water fall where Mark and I used to swim up on Mt Kembla. I even call into my old High School and make an effort to park in the Principle's car spot (Ha!).

A late evening visit to the hospital from yours truly. So quiet, no one else has visitors in the ward . A little while later Sis and MIM also rock up. Maddie has some mini moment, I just roll my eyes-kids. Nan gives her the look, Maddie stops and gives us a killer smile- we are all suckered.


---
May 16th
Up again early- it's just strange being awake so early. I call into Dandy's for coffee..and read the local newspaper The Mercury. I arrive at 8.00 for hospital visit, more flowers from Mums garden, fresh ones every day or so. She has these mighty roses that are a million years old at least, people in the elevator comment how incredible they smell. I arrive at Mums room and it's empty! That 5 second strike of fear.. but she's just been moved, around the corner- a room with an excellent view. I get some clothes and items out of my bag that she needs, and we just talk, I hold her skinny hands. We laugh at something stupid, who knows what, we always laugh- it doesn't take much.

Late afternoon I visit Marks Mum and step dad. I go to my special shop and buy some excellent cake. Gotta look after my in laws, always nice to see them.

Meanwhile work is piling up in Melbourne , and that evening Mum assures me she's ok. I speak to her doctor etc so Sis organises a flight back. I'll be returning in a few weeks, I'll be doing a few of these plane hopping moments, I know that already. I decide to surprise Mark and not tell him.


---
May 17th
I can't sleep, really restless , maybe eager to get home. A last minute burst of cleaning and Mums house looking really good. I feed the birds, wash the dog and have enjoyed being free of most possessions - such a simple life style, no wonder people like it. I've taken around 120 photos on my canon, so I'll kill time on the flight and edit those.

I'm at the airport early, no traffic. In awe that this cool car cost me $113.60 for all these days. So cheap-thank you Budget. My Sister has vip'd checked me in so I'm through the system, security in a whole 3 minutes!!!!!!!!

I'm at T2 terminal Sydney and no frequent flyer , but my favourite coffee haunt is here. Veloce cafe. I really love the Muslim couple (?) who run it. She has an awesome laugh and sense of humour . The coffee is excellent 100% Arabica. I grow so tired of the bullshit dumped on us, especially by conservative Politicians that all Muslims are bad and out to kill us. These 2 people just prove the paranoia to be bullshit. Fucking conservative politicians- the T-shirt is correct-Too many right wing christians, not enough lions.

I watch a lady at the departure gate arguing with the Jetsar guy over carry on luggage. I almost feel sorry for her. He's really nice to me and comes up and say, you can board now, not certain why I have some VIP early boarding, but I just smile and get to my seat. They leave on time much to my surprise. I work on photos, with the exception of the delicious toasted sandwich and water that arrives for me, once more thanks Sis. happy to be heading home.

My car parking fee is outrageous, but stuff it, it was easier parking here and I'm quick to leave and head home. I surprise Mark , and I just don't want to let go of him. It's nice to be home. i send all the super models hiding in his wardrobe packing- "leave bitches"!


---
May 18th
I try sleeping in but that won't happen. Our mate Allie shows up and shouts us breakfast-so sweet of her. She's been in contact with Mark a lot while I've been absent. A few mates have checked in so that was very nice of them.


---
May 19th
Check in with Mum, she had a rough night . She knows there are a few more of those that will happen.

Chat to our manager around the Crowdies Reissues and looking good for the vinyl artwork to be completed first.


---
May 20th
It hit zero here last night, a vast difference to the weather in Wollongong. We'll be lighting the fires a lot. Mark kept the office functioning, he got a lot done. He's more efficient then i am *GRIN*. I did come home to 2000 emails. Oh joy.


---
May 21st
Happy Birthday Sharon Finn. I mail a card from the 'Gong. One of many May birthdays. I think we know someone every day in May that has a birthday. Think we all end up broke buying birthday presents. Thanks everyone for the cards too, so many, blew me away when they all arrived.

Fun evening with Mr Crombie- he picks the lucky raffle winners and hands over some very cool prizes too. Stay for a few hours and chat, decent bloke Noel. I call Nigel on the way home but something seems wrong with his answering machine, so give that up. Spend the evening contacting the lucky winners- people get so buzzed, it's really nice to let them know good news.

I'm playing Russell Morris's "Van Diemens Land" cd. So great he penned a song about Rosaleen Norton- talented Roie. "The Witch Of Kings X". I'm stoked to have one of Rosaleen's original paintings, it's a bit primitive, not like her super fine work- but a Roie original one the less. Still waiting for someone to create an exceptional TV movie on her. Only a matter of time, there have been a few false starts over the years.

Lebanese meatball casserole for dinner. Gotta love that.


---
May 22nd
Loving Michael Agzarian's FIZZA posters that are showing up in so many major cities- he does such wonderful work.


---
May 23rd
Our friend Claire's birthday so want to drop some plants/seeds in to surprise her tomorrow. I've been collecting them for weeks so hopefully she'll be able to pop them into her garden this summer.

The rain arrives, the grey and the cold- so we have the open fires blazing away at the main house. Nice and snug.


---
May 24th
Afternoon drive to Hurstbridge and fill the 4WD with stuff from our mates Giles & Fens house. They have the big move soon so we are taking a car load up. Any excuse for a road trip . There is an excellent health food shop at Hurstbridge so they have everything I want. Should of made time to see our mate Spock- he's just finished some LP artwork for Cherry Flambe' which looks fabulous. Hoping to catch up when BCO play The Caravan Club in a few weeks.

Another person came up to me and asked where they can buy the Turnbull Sucks car bumper sticker. I should have some in my glove box-they sure are popular.


---
May 25th
Work in the office all day and even a part of the night. I hear from Neil which is great. He always gets back to me..I like that.


---
May 26th
Our day off, so road trip to Wangaratta - 560 KM return.

It's a horrid start, traffic accidents everywhere, roads blocked and 30 KMs took us an hour and twenty minutes- I started to get a tad kooky. We soon settled when we were finally on the main highway. Lots of laughing with Mark, despite the weather being shite. As we get closer to Wanga, it clears. Fen is waiting for us and it's nice to see her and Giles. They spoil us , and take us to lunch which was really good. Happy for them, good mates of ours. We laugh at the 2 neighbours nearby wanting to kill each other though.

A late drive back and as the sun sets the temperature falls and icy sleet tumbles onto the wiper blades. We stop at a roadside rest area and I climb a boulder and Mark takes a photo. It's freezing, I have about 5 layers of clothes on. Finally arrive home, a bit of an epic drive and Miss Banshee gives us one of those 'where the fuck have you been" looks. This is what you do for mates, we were happy to take time off work to do so. Plus we love a good road trip.


---
May 27th
Wings- VENUS & MARS album released today, I love that album. Always have, it's still a classic after all these years (1975 release). The McCartney book is out soon, will be a fascinating read me thinks.

I really like the Canadian President, wish our PM was like him.


---
May 28th
Chop wood- fill 4 huge containers worth. Look at those mini muscles on my arm glisten and gleam. I'm good with an axe- such a solid instrument of death.

Happy Birthday to our mate Andy White. We will catch up soon I promise. Life is side tracking us both.

We DO catch up with Peter Farnan from Boom Crash Opera. He calls in and wonderful to see him. I've made some of the classic tomato soup so we all wolf it down. A fun afternoon, looking for ward to his upcoming solo album.

Another Poll and day with Labor ahead and again 4.5% swing against the LNP. Whatever happened to Turnbull being the great white hope. It didn't take long for him to fail.


---
May 29th
The diary clicks over it's 20th year today. Twenty years of my waffle. So if there are any of you from day one or even if this is your first viewing-thanks for sticking with me. Life is an adventure. While I'm at it, thank you Deb Levitt , it wouldn't happen without you. [editor's note: you're very welcome]

I'm sitting sat Destiny's Point enjoying a Sunday coffee and 8 mod bikes go by, with girls driving them. That made me smile and I stupidly didn't have my camera ready. I suppose everything doesn't have to be a "captured" moment. I love how the last girl gave me this huge smile and a big wave. Small things like that make my day in 2016.

That's all for now

20 years- it still blows me away.

Peter