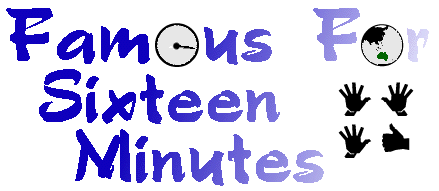 The Life and Times of Peter Green
Archive: 15 March - 28 March 1998
---
March 15th 1998
Spend the big part of the day cleaning up the office which is looking more like an archive "bunker" then a working enviroment. I'm just waiting for the day when the piles of work folders crush us to death. Spend an hour cleaning the gold and platinum records- it's the only place we put them up, seems a bit wanky having them through out the house. Hope the Recurring Dream ones come through soon, guess they are waiting for sales to reach a certain point. Hell it's done well.When you consider that both the Oils and INXS Best Of's...are only double platinum. Recurring Dream is about 8 or 9 platinum in this country.


---
March 16th
Monday morning and you can tell that Summer is almost over, there was thick mist blowing past Belmore this morning. The Finns tennis court looked like it was a scottish moor.....I'm sure I spotted Kate Bush walking amongst it singing "Wuthering Heights".

Pull up some Fonts for the back of the Hessies Shed shirts, hopefully Kass will have some as well- didn't really like any of ours. Think we'll do some LLT/Shed shirts in Grey,White and Green...cool. Maybe some long sleeves. Andy White drops by in the afternoon. Nice to see him. Looks like he'll be adding some extra dates, wants to do a mailout to the alt list. Still talk of him coming out to Australia to live for a short term. He needs to send an email and while we are sitting in front of the Mac a huge lepidoptera flutters in front of the window watching us- I wonder how it sees man through it's eyes? She's a very pretty insect- all that gossamer and scales must of cost it a fortune.


---
March 17th
Sue from Polydor calls and they are trying to get Paul up to Sydney for the Parallel Import Protest, sadly the Hessies Shed business just takes up every hour of the day. Have to say no. I'm sure Paul and the boys will protest in their own way.

Meet up with Kevin from LLT at our tshirt printers, he's excited about the Shed Shows, Paul is taking a lot of work on though and needs to deligate some of it.

Still haven't locked in Neils exact date for the guest appearance at the Shed. Hopefully we'll know by the end of the Diary update.


---
March 18th
Leanne is flying in from Western Australia to see the last Hunters Gigs. I get up at 5.00 in the morning and let her inside...her couch is made up, I ignore my hair tilting at a 45o angle and stumble back to bed.

Jj and the Carnevale are playing their second gig at Revolver tonight but we can't make it. Our friend Toija's boyfriend Marco has his first major Opera debut and we are filming it. Well Mark is filming it. It's "La Boheme" and he has the main role. Its at St. Martins Theatre at Sth yarra, great Theatre- has a good sound. Marco were great and the orchestra wern't sunk into the pit, they were quite visible, looked and sounded good. I just wish the producer would of stopped clicking his fingernails in the second half...annoying when you have him next to you. Even the audio on the vid. picked up his consistant clicking. Sent Marco flowers for opening night, it's bad luck not to receive them on opening night- well that's what all the florists tell me.....conned again!


---
March 19th
Made a huge effort this week and fill up several mission bags, it's getting cold so I found all these great jumpers and warm shirts - good for winter.Hope it keeps some people warm.

We catch up with Andy at the Elephant- give him a Miss Candee Telstra postcard as a souvenir of his visit. It's so nice to hear an Irish accent in the early hours of the morning.

Damn, go over on my internet hours and have to give them an extra $13, guess it's not much, so easy to do. Leanne tells us that Mark Seymour stormed off stage last night half way through the Hunters set. Weird. Find this in chalk out the front "Words are just loud whispers". Sticks in my mind.


---
March 20th
Our LLT credit card machine is ready- I've signed the paperwork, need to get Paul down to the band to sign.....

Have a decent chat with Grant over Neils plans for the next 6 months. We are keeping the lid on everything for the moment. Deb and Kayt are busy working on the Neil site  and it will be http//www.frenz.com/neilfinn. I think they expect to have the big site opening on April 21st, heaps of cyber food and everything Neil-ish I'm assured. So it's only a month away.


---
March 21st
Tim is down at Bondi Beach- at the last minute he was added to the Native Title Reconciliation benefit-titled "Sea of hands". He even penned a song called "Sea of hands". Not sure how it will be used. He performed it on the day. Without having just another go at the Howard Government but native Title is another area that they are fucking up- it's such a sensitive issue and the Howard bulldozer is just knocking everything down in sight. Hope an election is coming soon, Howard is so incredibly piss weak, the only good thing he has done has been on gun control and people had to die to bring that into play. How can people even consider supporting this wombat!?

Back to Tim- because of Neils touring commitments and promotional schedule, he wont be able to play at The Youth Suicide concert which is coming up in Wellington NZ on April 9th BUT brother Tim has stepped in and saved the day and he will be appearing on the bill instead. It's a gigantic 50c admission (so I'm told) so any NZers reading this get your arses to Wellington, it's a good cause to support.

Neil and his new band are playing a warmup, iron out the bugs , show at Tabac in NZ. Wonder if all the band members will be presented with their own secret security key for that mysterious back room?


---
March 22nd
Up nice and early for the Record Fair...speak to a lot of fans- take along Neil and Tims Woodface jackets and let the club members try them on and get snaps wearing them. My favourite memory is looking out the window and seeing club members amidst the trees of Camberwell wearing jackets painted with tree limbs.

Good day, but a long one, everyone was asking about Neil playing on Pauls show. Ok at this stage it's close to 95% sure, the date looks like being April 2nd. Talk that Paul Kelly is on the same show. It was almost the 10th but that date is impossible because of promo for the upcoming album, but April 2nd is looking pretty good. Tickets available at ticketmaster. Very very limited.


---
March 23rd
Tonight we have the warmup/rehearsal for the Shed date. Right on time the new Hellbent (Largest Living Things) cd arrives. So the warm up show will be a cd launch...well maybe not, but we will have stock there.

The contracts arrive to get Crowdies out of their Capitol deal....meet Paul and LLT at the Espy and help him change the band room into a "special place". As Paul said "this part is the bit I like best, not the gig but fixing up the band room". Inside every drummer is a decorator screaming to escape. (PG 98) I get him to sign the contracts and we start the chant of "I'm Free, I'm Free". Now just Nick and Neil to sign .

Back home and we start mailing out the LLT cds, club members and the internet site (http://www.frenz.com/LLT) have sold half of the first run of the cds. Between the Shed and the stores we'll sell out fast. So if you want a copy don't delay like many of you did with the LLt debut (and missed out). Time ot order now.

Meet some of the gang at the Blue Elephant, running late, wolf our food down and drive through the rain to the Esplanade Hotel-sexy and sassy St Kilda. Leanne is waiting on the steps, we get inside and the sight of the Shed onstage looks amazing. Far bigger then last time. neils some hammers and saws though. 100 friends have been invited, the door girl asks me how many I think we'll get in, and I say 87...by the end of the night the clicker reads exactly 87. Now why can't I do that with the Lotto numbers? Pretty impressive. Take some LLT cd covers in to be signed for the Western Australia stores. The LLt boys are getting into their new stage "attire"....George has this groovy hat as does Paul. Kevin has the Boogie Nights look down pat and Barry- a great shirt and "it was only $1 mate".....god bless Barry! Raymond J Bartholomeuz is kind of Pauls offsider, he's a nice guy and wears dark blue briefs...thought i'd let you all in on that. Hands me 12 copies of his "collected Poems"...I read aloud one poem called "To a Snail".........
"Snail
Snail
Little Snail
Can you speak,silent beast of the garden?
Can you chortle,chatter or squeak?
No,you have no Tongue".

(Raymond J. Bartholomeuz '98)
I buy a copy on the spot.

Heaps of familiar faces at the Shed tonight. Colin Hay from Men at Work wanders in, Renee Geyer, a long time Shed Buddy- an incredible voice sips on her gin and smiles to all the other familiar faces. Andy White turns up and squashes onto our group table. Chris Wilson is one of the special musical guests tonight and over 2 hours later it's over. Barry gets a bloody nose onstage, the toaster explodes into flames and smoke and the audience wins the "Pop Quiz". Dougald on the Quiz panel, and he's left his shorts at home.(He'll be kicked out of the stage crew-union for that one). "No shorts, no gig".

Good to see Kelly Wood and Ann- they did the drive from NSW for the Shed and oh yeah the Hunnas too. For those of you who have been asking, there are some tickets left for the Shed Shows and they are available via ticketmaster.

Get home to find a message on my answering machine that Nick is now back home.


---
March 24th
Mail off B/W Neil photos to Kayt in the States. Yes Liam Finn took the B/w snaps for the upcoming Neil FrenzCom website. A really nice double exposure of Neil with the city of New York over his face.

Wow David finally bonks Donna on Beverly Hills 90210. About time we cry.

Hunters do their farewell/private show tonight. 5 encores and everyone gets home at 5.00 in the morning. (urgh). Hangovers all round.


---
March 25th
Spend most of today tracking Nick Seymour down.....phone messages, messages on his door, I even climbed a tree to make sure he wasn't sound asleep in the top room of his bungalow. Phoned his fave Coffee haunt, eventually someone spotted him dropping Mark Seymours kid off at ballet School. Nick and Nickla drop in, he signs the contracts- Nick Seymour is FREE we all chant. NICK IS FREE, NICK IS FREE.

He's looking good these days, a bit of re-growth in his hair, put on some weight looks healthy. He shows me some snaps of his Irish apartment, and we swap some decorator ideas...... "Inside every Bassist is a decorator screaming to escape" (PG 1998) Tells me that some fans hassled him at Mass? In Dublin. Walk the two Nicks to the new car, its part of the bet with Neil on how many copies Recurring Dream would do, a brand new Rover. Black, looks great. Nick won the bet. I fax Neil and ask him if I can have one.

Leanne departs today- she takes back even more junk then she brought with her. Not very sleepy so I watch tv till the sun comes up. A really good interview with Paul Keating (ex Priminister). Maxine McKew on ABC's Late Line put it together. Its about Indonesia's crisis on the world money system. Hearing Keatings interview it makes me realise what a piss poor Priminister John Howard is.

After Late Line I watch a movie on the court case in the seventies  on "OZ" magazine. The English are such prudes as far as Freedom of speech. The case would of been kicked out of court in the States. OZ had an interesting list of subscribers- one being John Lennon. Want to find all the original copies of "OZ" magazine, so if any readers have copies or find any let me know.


---
March 26th
Have a chat to Becky- she's home from The Seekers Aussie Tour. Jj and her are fighting, I'm keeping out of this one. Becks reasons are good enough, I'm sure they can work it out. Spock is meant to be home from Europe today but i wonder if he's stayed away for another week. No sign of him yet. Hot water system blows up- there goes another $1000 out the window. get it fixed straight away, the water seems VERY hot. Burn my dick off...no not realy (shock gasp).....just my testicles!!!!! (sorry Mum)

Watch the latest Voyager episodes that Spy Di sends us from the States, Seven of Nine is taking over the show. She also mailed out the latest Anne Rice Book titled Pandora...and I can say with a huge sigh of relief that its GREAT. A return to form, yes a vampire Book, and its nearly as good as Interview. This book drives me crazy, i swear I hear it calling me to read "it" during the day.


---
March 27th
Have brekky at the Elephant with Alison and Jj. Alison has just arrived home from the States.....so everyone (except Spock) is accounted for. Hope he's ok.

My Lost in Space Movie premier tickets arrive, will have to forfeit a night at the Shed but hey that's life. Really looking forward to this Sci Fi epic. The Jupiter 1 and 2 look great. We all agree that the original Judy is far sexier but this one has a higher intelligence ratio. Danger Will Robinson Danger!!!!!! Hope the new theme music (updated version of the old tv theme) is  released, sounds good. No doubt all the old supporters of the tv show will hate the movie, they always do.

Work on a design for a possible Spellbound Tshirt.....with Winter coming up have to do some long sleeves.


---
March 28th
Mark Seymour plays a benefit show for the animals- at Healesville Sanctuary. It's a sellout. Nice day, not too hot. Must be weird to go from the Hunters last gigs to solo at an animal reserve.

Mark spots a piece in InPress and beat saying Neil is thinking of moving to New York.....first I've heard of it. He thought about it 8 years ago, maybe he means for a short period to work the solo cd........who knows.

Thats it for now, the F/16 counter will hit the 25,000 mark soon, thanks to all of you who keep coming back. Sorry about the mistakes, it's a rushed job per usual.

Love you all- peter

---
If there are any problems with this site, please contact webmaster@aswas.com.