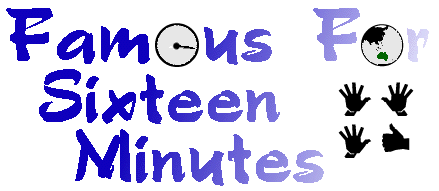 The Life and Times of Peter Green
Archive: 16 February - 28 February 1998
---
Feb 16th
Happy Birthday Nicole.....went close to calling and then realised it was about 4.00 in the morning in the States.

Mentals III exhibition closes, head to the gallery to give them a cheque for my Pete painting....find the band packing up the art etc. Really nice guys to work with, they enjoyed the Melbourne show more then the Sydney one methinks.

Spot Kylie at Globe again, her cheek bones just keep getting higher, strangely enough, we see Millie Minogue (the Kylie drag queen) on Commercial Rd, in a very similar outfit, maybe I spotted Millie twice? She's so cute. Both of them.


---
Feb 17th
Have an LLT meeting at The Galleon- come up with the tag "behind every good house is a shed"....we'll probably use it for the Hessie Shed shows, like to get it printed on some of the LLT /Shed tshirts. It's shaping up really well, heaps of people asking about the shows and special guests are being locked in.The one question we are getting asked every day is will Neil Finn be a special guest. I doubt he will do a full on tour till much later on so Hessie's Shed show would be the ideal place to showcase some of his new material......wouldn't it?

Go to see Boogie Nights and it's booked out except for some crappy seats so we end up seeing Starship Troopers instead, the characters are pretty average but the special fx are brilliant, the space "stuff" is better then Star Wars. Felt a bit sorry for the evil insects, man comes across as a bit of a killing machine. Which is guess he is.


---
Feb 18th
Well today was the final day for Melbourne club members to get in their ticket orders for Hessie's Shed Show- card holders got a very special price, saved $5 plus booking fee per ticket. Some of the shows are now 50% booked out (yes we had that many orders).......the best part is that no one had a hint of Neil possibly playing, so they booked tickets to purely see Hessie and LLT -which is great. Thanks for the support. The rest of the tickets will be available at full price from ticketmaster next week.

Work on some of the scans of Nicks artwork for the possible calendar project. Have about 8 images so far, everything from water colours to acrylic/photo images. Need for Nick to find some more of his artbooks as I know some stronger images are tucked away in these books. Where is Nick? No ones heard from him.


---
Feb 19th
Melbourne band Earlobe play their cd launch at The Punters Club, our friend Charlie who use to be in The Sharp put together this new band. They have a single out called "The Ocean Sun Kings"- heard it on JJJ the other day. They've just got some good press in Beat and In*Press.

Get a call from Grant- Screaming Jets- it looks like they will be heading to Europe to play some dates, their "World Gone Crazy" cd is just short of hitting Gold. The Jets were such a bogan band- the last two albums are really good, its nice to be suprised. With so many Australian bands calling it a day - its going to be interesting to see what some of them do to survive.


---
Feb 20th
Paid my car registration- so expensive......and there are still pot holes on Chapel Street. C'mon on Kennett fix up the roads instead of modeling suits at fashion parades.....!

Alison drops in and borrows my camera, gameboy, world clock...at least she leaves me with my underpants and toothbrush......she's flying out again on her USA holiday, hope she learns how to relax.


---
Feb 21st
Start reading "You'll never make love in this town again"....Macainsh spotted a hardcover version and bought it for me. It's far more trashier then the F.16 site.

Was it in the water? A large % of our women friends have now come out and decided that yes in deed they are gay. We nod and say "that's nice dear, want a cup of tea"....well what can you say? Then again another friend dropped in last week and said "Oh god I'm straight".........I suppose there is no difference. Rosemaree drops in some finished work, her timing is great per usual, she does so much for the office, but we may have to let her go soon , if she gets her new job.


---
Feb 22nd
It's girls day at the Elephant...Tania turns up with young Jake in tow, he plays all coy and cute, the staff wink at him, we threaten that if he doesn't behave we will make him sit with Miss Candee. He now calls Mark "Butthead"...(grin-who taught him that?). Fran drops in, and Rebecca tags along, all excited as she is about to go out on The Seekers tour. She's always wanted to go "a -tourin' but it was looking more like she was going to be stuck in the office. Someone was sacked and in she went- firmly lodged herself on the road. There goes my solar battery recharger, tour tags and large eco-jar of wrinkle cream (for the band) .....hey friends, I'm running out of things to lend you . She'll do well; if you play your cards right on that first tour and prove that you can get along with almost anyone -you'll be asked back for more. Touring can be hell, sometimes it's like a marriage gone sour- you go to bed late, sometimes wake up very early to catch those first flights, drop your bags into a room that resembled the room you slept in three states away, head to the Venue, find what new disasters are awaiting you, meet strangers, wade through their ego's and power struggles, hopefully find some nice people and get the show underway. You pack up, try to make it to the hotel bar before it closes, stay loyal to your spouse/partner and sleep in a bed that is facing Esat- West instead of North South like it should. God I love it. Roll on the Neil Finn tour.


---
Feb 23rd
Meet Spock at the Elephant, check artwork etc. One of the Elephant Boys-Peter lives on the otherside of the Finns Mansion, we are like the two guardian spirits of the estate- Peter South (thats me) and Peter West (thats him). We have the better view.

A parcel arrives today with familiar handwriting- its from Neil. Yes finally the Dizrythmia signed covers have arrived, with a really nice letter....and  a freshly burnt cd of his new stuff. It's about 90% finished and in no running order. I'm really over the moon that he did this off his own bat, just burn't it and sent it- for some reason that means a lot. All of the songs that he mentioned in his letter in Newsletter #42 are on the cd, I love "Spirit of the stairs" , no extreme changes from when I heard it in his NZ studio...and I notice "Astro" is on there....a few of you might remember it from the Melbourne Finn Bros show- it was called "Astronaut" and that was one of the first times they played it. It's too early to do a review etc, plus this is more of a personal present , so I'll make everyone wait till we have a finished copy in our hands. It's just good to have the evidence in our hands that there will be an album, apart from LLT it seems like forever since we had some new music.

We are hoping that Frenz.Com will have a Neil Finn site, I know Sony/Work will have a record company site....plus quite a few fan sites will spring up. The album is scheduled for mid year release, we have a rough date but I'm going to wait till it gets closer as we ALL know how many times dates change. It looks like Sony/Work label will be a joy to work with, they seem very passionate about the project.


---
Feb 24th
Visit the Crombie's -Noel signs more cd covers, the Crombie kids show me their new baby chickens. Cute. Sally is running out the door to repair the Seekers backdrop, (another House of Crombie creation).

Kevin from LLT calls and the LLT cd will have six tracks- they have nearly finished it, start mastering on the weekend. So I guess it will start getting pressed early next week. Mark Ferry (ex-Models) will be doing the artwork. Hmmm looks like Desert Thunder has stalled, it feels more like the eye of the cyclone, Allied Troops will stay in the Gulf, inspections will start again.

In a strange game of chess where the innocents are pawns, war has been delayed by diplomacy....one can hope that peace will somehow see through and the vile manufacturing of chemical weapons, ceased forever. Why do I doubt this, sadly the people who suffer are the kids, the hospital system in Iraq is in tatters, the trade restrictions have stopped medical supplies from getting through and the child death rate jumps daily. I live in Australia, our fridge is full,and Iraq seems so far away, many people say "fuck them- they are the enemy" I'm not sure how a child can be someones enemy, but I also know that Anthrax and other communicable virul weapons can not be ignored. The 35 missiles still not accounted for, all with possible chemical weaponheads- capable of killing millions depending on how it's detonated. Depressing isn't it? feels like a bad movie.


---
Feb 25th
LLT have finished the running order for their next Cd- Hellbent, Already been done,You did it all, Turn off the night, Fragile Missile (LIVE at the Espy) and Free (live at the Espy).  Deb has now added a sound download of LLT playing an acoustic version of Kare Kare. So check out http//www.frenz.com/LLT/ Someone on the TITM list described it as VERY SEXY. We like that.

Sarah M. at Mushroom emails me that a new Ann Rice Book is out soon, hope it's a new vampire one, or maybe something from the Witches again. Didn't like the Violin very much, just didn't do it for me.

Just had a call from Amanda, looks like Marie and Tim are now proud parents- Amanda tells me that the baby Boy was born (yesterday) in Sydney. 15 hour labour, no drugs (brave Marie-OUCH)....sorry I'd give in, the female is deff. the stronger of the species.  The new Finn is called Harper (yes like Harper Lee)....weighed in at 8lbs 6oz. (Wasnt Tim 10lbs of Boy?). Mother and baby are doing fine......Tim has that fatherly glow. Finally an heir to the thrown.


---
Feb 26th
Heard from Sony/Work- just touching base, on Neils upcoming release. Yes WORK will do it's own website but we expect to have one up on Frenz.Com too, hopefully with some Neil input. So keep checking out Frenz.Com for more info on this.

Get a call from Becky, the Melbourne Seeker dates are going well, she had to present flowers onstage to the band last night...her stage debut! She said some of the fans were really scary and demanding.....what's the quote "some of the fans are fucking out to lunch". Charming Ms Booth. Yes Jj has been watering your plants.


---
Feb 27th
I think one of our new companies will be called "kismet".....(destiny or fate) really like it for a name.  It's our special projects account.

Visit Grant from the band Blackfire, we'll be helping them a bit with their 2nd album- "Nightvision" they need a record deal. Paul Hester produced the album and I think he sings on one track- "So Hard".  BlackFire will be having their cd launch at The Continental on May 6th. Hester/ LLT will be the special guest band and we hope they'll have a huge jam at the end of the BlackFire set. Great band Paul has done a fine job as producer. Hopefully the industry will realise there are other indigenous bands out there apart from Yothu Yindi. It really flooded down with rain last night, after a 40o day- it was like red mud. The last time I saw rain like this was climbing Ayres Rock in Central Australia and the heavens opened up and the rock was covered in water falls. All of us were covered in red mud......and it was like that here . The poor old Grey Ghost became Red Earth Ghost...needs a serious wash.


---
Sat 28th
Spock calls, he leaves for the States in a week, he'll have to take Spy's Birthday present.....we found the perfect birthday card.A good laugh. Good to see that Shawn Colvin won the Grammy Award for song and record of the year- she continues to give Neil huge raves in every interview. Sheryl Who?

A huge Happy Birthday to our favourite Space Girl- Sonia  who heads off to Sydney soon, her party is on tonight we have a 4 hour drive down the coast, so hopefully we can get back on time....otherwise its a belated Birthday Dinner at the Elephant.

Our friend Andy White will be back in Australia soon, check out his website for dates, will be good to see him play again. It must be time soon for an ALT reunion? We should hound him on that. Spend the afternoon getting my cowboy outfit together for my Mums 60th Birthday party. Its a suprise Country and Western Party...guess who's the MC? I think I'll be singing a version of Jackson (ala'Johnny Cash)with my Sister who is getting the Ellie May Clamfett/ Bevery HillBillies down pat. What a fun party it will be.

That's all for now, life is good, have fun.
Peter

---
If there are any problems with this site, please contact webmaster@aswas.com.