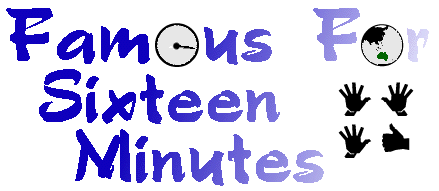 The Life and Times of Peter Green
Archive: 1 February - 15 February 1998
---
Feb 1st 1998
Brekky at the Elephant with the usual crew. Melissa turns up and we decide to head down to St Kilda in the afternoon. It's a Sunny Melbourne Day- crystal clear skys and the air around Belmore is full of the scent of Jasmin in full bloom. Hopefully Hessie and the LLT boys will be down at St Kilda showing their support for their Brothers & Sisters. It's the annual Midsumma Pride March. By the time we get there the streets are packed full of people, car parking is a nightmare, so I pull the Grey Ghost into the nearest street, park illegally and put a "new tenant" sign on the car window, I'll risk a fine if it means not fighting this traffic. We line up and purchase our Stick with Wik supporters arm band. Next it's to the St Kilda Park, full of people. The line dancers are tapping away, meet an old Frenz member who is now a marshall. A huge mix of colour and movement. Originally we were going to do what the other 25,000 people were doing- watch the Pride march from the street and sling back a  cold one and cheer everyone on. Somehow we ended up IN the Pride March. Melissa pointed to one group who had a really cute teddy bear on a pole. I pointed out to Mel that she didn't really qualify as a Melbourne Bear. 1/ She didn't have a hairy chest or a moustache. 2/ She was a woman! We ended up jumping in with a brunette drag queen and the gang from a very hip Richmond pub-DT's. The parade itself has swelled to about 15,000 people marching, and another 35,000 supporting it.

We all end up at the beach, with "Don't dream it's Over" spewing forth from Joy FMs speakers...and the 7ft Drag Queen sitting near us singing along. Seemed to work and maybe we should of used her for the Video Clip. We run into Serge the french photographer and he shows us the short cuts back to the car- which thankfully has NO parking ticket. What a fun day.


---
Feb 2nd
Fiona arrives back in Melbourne today. She originally worked at the Enz office and we hit it off from day one. We were wicked, extremely silly and turned the Enz office into a fun place to work. The Enz manager Nathan at the time could not control us- he tried hard. He'd no sooner be on a plane overseas and Fi & myself would be raiding Nath's Seventies wardrobe-spending the day trying to outdo each other in crass clothes that would have the cast of "Boogie Nights" begging to wear them. Nathan had his own Teddy bear called...."Teddy" (gee whiz) and part of our job descriptions were to look after Teddy. Teddy had his own seat at the Music awards- Teddy had his own two piece suit made from the same Enz material that the boys wore on the Kia kaha Tour....at the brink of madness Teddy even had his OWN seat on the plane! Enough we cried and decided that we (who rarely got pay rises) wanted to take it out on Teddy. Sooooooo Fi and myself sneaked into Nathans room and posed for photos with Teddy. Teddy hanging out the window by his leg from the 30th floor, Teddy head down the toilet, Peter mounting Teddy on the coffee table, Fiona biting teddys nose....Teddy squashed into the freezer area of the bar fridge. We were bad to Teddy!!!! So when Nathan ever pissed us off (not that frequently) we'd run to Fiona's desk and get out the Teddy snaps (for our private viewing)....for some reason this put a far more optimistic view on life. We hope we didn't leave too many scars on Teddy!

Anyway Fi left the Enz office in '85 and was going overseas for 5 months, she saw a sign at some port of call asking for a cook onboard a small yacht. She applied, got the job, married the handsome 1st mate and now lives in Marjoca with 2 great kids. I've got together with her on occasions but this was the first time for many years.


---
Feb 3rd
Happy Birthday Tania. Hope Jake gives you a good present. Bird (aka Wayne delisle) from Mental as Anything arrives today. He is the curator for the Mentals III exhibition. Catch up with him at The Gallery and Mark and myself help them unload the Mentals art, the whole 150 pieces. This gallery will work well, nice and open and a second level. Should just be enough room.

Rosemaree calls and asks if we need a hand- god bless her- one of the few friends to offer, i thought that was nice of her.

Have coffee at the Elephant and one of the waiters tells me he lives at Shirley Grove, near the other entrance to Neils old mansion. His name is Peter too.


---
Feb 4th
Spend the morning vacumning the home office and the rest of the apartment, it's looking good. The office seems to be ready to explode,stuff everywhere!

Laura who also worked at the Enz office turns up early with her three kids, Fi and Soren and their two. Decide that a picnic under the Apple Trees (the highest branch of the apple tree, was my favourite place to be)...lock the big side gate and the kids run riot all afternoon. We must of looked like "old soldiers" reminiscing about people, tours and bad jokes. Nice afternoon.

Get a phone call that Nick is still in Ireland and can't make it to the Mentals III show- which is a  bummer as I was hoping he would talk to Reg Mombassa about the "Nicks art calendar" idea. Nicole in the states emails her ticket choices for the Hessies Shed shows, the ticket orders are rolling in, special guests are being worked out and we hope that 'you know who" will be a special guest. The club price for tickets is really good $10 and this includes booking fee. If you leave it after Feb 18th then fans will have to pay full price from ticketmaster and booking fee.


---
Feb 5th
Get the rest of my press stuff happening for the Gallery show, Francis Leach from Triple J ("Creatures of the spotlight") gets his car slammed by a truck on the way to interview the guys, Graham from the Sun just doesn't show, which puts me in a fine mood...actually i'm not too freaked, the gallery and office have had heaps of calls and we have a record number of RSVP's for tonights opening night party.

We get there early just to make sure things are rolling, they have fallen behind a bit,no price lists yet but the art is on display. From 6.00 on the dot people start rolling in. Laura with her new pearls is first, the Cardwells are next, various band people wander in, and an hour later it's a full house.

Melbourne's King Of Pop- Dave Graney gives the opening speech, goes over well and he does a bit of suburb "bating"...Frankston cops a serving. They end up selling more art then Sydney, I purchase a piece called "Suitcase"...it looks familiar and then i find out that Dog trumpet used it on one of their cd covers. It looks like something Neil could use on a cd single. I covered all areas with the invites, band people from the Seventies, Eighties and Nineties. Sarah from Mushroom spends half the night saying Hi to people, she knows them all. I lose half a stone running up and down the stairs putting red dots on sold art and taking names. Rebecca and her Mum turn up, she brings one of The Seekers with her, nice enough guy. The Crombie clan turned up- Noel ,Sally and the kids...its great to see them all out together. I was over the moon to see James Freud at the opening. Most people know James from being a member of The Models, he co-penned a few of their major hits. I knew him years before when he was a solo artist-worked with him for awhile and he had the #1 hit "Modern Girl". he's lost weight and looks as handsome as ever- I think he's back in the studios with the Models working on a new album. Great that he's moved back to Melbourne. Now if we can just get him to give up golf!

Fran and the girls were heading to the Elephant and said they'd keep a table for us, we ended up getting there 2 hours later, I walk in the door and Scotty says "their upstairs minding your spot". It's nice to sit down after the opening and try to chill out, end up not eating much still too hyper. It's like doing a gig. The Elephant staff are really sweet and do everything but rub my feet ( I should of asked). I wonder why Paul didn't make it to the exhibition, he's a good buddy of the Mentals. Great to see Arloe (ex-CH roadcrew member) with his new baby. Arloe a dad...bizarre. (and brilliant).


---
Feb 6th
Speak to Hessie and they didn't make it because Sunday had a cold, stayed at home and looked after her. Have brekky at the Galleon with the Mentals and their manager Skip. They ask if I want to do the promotion for their next album- could be fun as they were a dream to work for on this project. Paul ,Sunday and Mardi turn up, Paul has this great thing that he does- he walks up and rubs my shoulders.......love it! It's like a quick unexpected massage. Great brekky, all my friends and bands are gossips.

Get some great recipe's from Dominic Tolli from the USA- have to try "Gene's Stew" for dinner tonight.

Hester and the Largest Living Things are playing at the Evelyn tonight. I think the last week of work for the exhibition has worn me out- have lost the vibe and I would love to stay at home and sleep...naturally i'll go, hey it's my band and besides they are playing so incredibly well. Kevin has promised a great long set, with some new songs as well.

Mark, Bec and myself drive over to Brunswick St, and find a park near the gig. We arrive early and Kevin is the only person there......the rest turn up minutes later, a bit pissed off because the support band is running 15 minutes late! Loads of familiar faces, Fran , Sonia, her sister, Lara and all the rest of the "Original LLT gang" are there, two girls from Sydney (Alison and friend) are at the show. Buy a Super 8 camera to offset the video footage, nice to have something rough- the only problem is that each cartridge only runs for 3 minutes......! Film from side stage, Mark films from the front......and the band kick arse.The crowd are dancing, like really going for it- I catch my second wind and get off on the smiling ,dancing punters. When Paul left the Crowdies many people said that he would drift off into cafe/TV society or simply not be able to get it together because of his 'supposed" pot problem. It's with total joy that gigs like this really prove how wrong some people are. Over the past 6 months ,95% of the time Paul has been a true joy to work with- and the Hessie's Shed shows will be the icing on the cake. The band entered the studios to work on a further 5 tracks for the 2nd cd, they are now up to a possible TEN tracks.

LLT are having fun, maintaining control and it is building. As a footnote, the second cd is expected out around March 1st- the additional songs have delayed it by a week, however, if club members order an advance copy then they get it for the advertised price. Later on the price will go up, as it looks closer to being an album not a 2nd ep. So if you haven't ordered the 2nd Hellbent LPCD (long playing CD...ok we made that up)...then now is the time to do it.

The gig works well, sadly because of the support band going over time, the band have to forfeit an encore, despite loud calls from the Punters. Bed is calling me,so I head off.....but what's this...there is a member of The Seekers in my car, how did he get there......what strange cologne he has on, drop him off at his luxurious Sth Yarra Penthouse apartment........get home and still wired from the great LLT gig.....sleep by no meansssssssssssssssssssssssssssssssssss.....

PS- Paul wore red nailpolish, I wore dangerGirl metalic blue! For those of you who asked on the night.


---
Feb 7th
I like to ride my high horse,
his name is dapple grey
the more you push, the more I prod
because I'm here to stay.

(written with The Fauves "Don't get death threats anymore" playing loud in the background).


---
Feb 8th
Hear from Sony/Columbia, Tim's Steel City cd single arrives. The liner note from Tim reads "I absolutely had no brief or directive to write a song especially for Dein's production "Steel City", it really just happened. I was down the South Coast of NSW watching the Newcastle Knights V's Manly ARL Grand Final. I had the sound of the tv turned right down and I found myself jamming along to this big, bone crunching game, with my guitar. It just happened, and that's how the song was born." T.F.

It's that time again for some favourites and most hideous awards.

Fave Books- "Finding Out" (Ian Roberts,Paul Freeman), "The Stake"-Richard Laymon (thanks Richard and Marilyn)

Fave Cds- Lisa Loeb- Firecracker, Ammonia's new cd (out soon)

Fave accessory-red lensed micro sun glasses..in metal case.

Fave Event- Midsumma Festival-Melbourne, Mentals III Gallery opening.

Fave Tv Show- This Life- ABC (WED).

Fave Movie- Boogie Nights

Creep of the year- Gee I wonder who that could be........don't tempt me (grin)


---
Feb 9th
Use a Xmas gift voucher to pick up some new black 501's....Denise  does the alterations for free. Dougald comes with us to the Jeans shop. he's back at school now, doing adult classes, after the Supertramp Tour. He doesn't really want to tour anymore......Neil has asked him out on his solo tour. For selfish reasons I hope Dougald changes his mind as he is great on the road- Doug and Bill and Skip my three fave road people. Would be brilliant if all three do the tour- I think Bill will pass on t as he has a new baby on the way too.

Send Deb a cassette of The Largest Living Things playing a live acoustic verison of "Kare Kare" this will go up on the LLT website soon. get my first valentines Day present from Jen...still trying to work out exactly what i do with it......!

No sign of Tims baby yet, sometime over the next 2 weeks. (we think)


---
Feb 10th
Half price movie day- go see Alien Resurrection before it finishes, six out of 10, but the Alien swimming scene is pretty good.Glad we didn't pay full price.

Paul gets a call from the Oils, Rob Hirst has blown out a few shows because the Pneumonia he got in the States keeps knocking him around. Paul has about 6 hours to learn all those Oil songs, poor Mardi was driving around trying to find an Oils cassette of the best Of for Paul to listen to on the plane. The show went really well, first a Wiggle now an Oil......versatile. I remember when Paul bumped Rob Hirst off the #1 spot for "Best Australian Drummer" in the Rolling Stone Magazine Readers Poll. Rob had always been the #1 drummer.....so Paul phoned up and with some good natured "baiting"passed on his condolences.They are good mates.


---
Feb 11th
Jenny Morris calls- about some business for May. She sounds good and will work on her next solo cd soon.

Quite a few emails coming in from Crowdies fans with their 8 suggestions for the Essentials cd- if it ever happens. I'm going to pass them all onto Neil, in the hope that some rare tracks will be added, hope it doesn't end up being another re-hash. Neil flys out on Monday, but he's back for Pearl Jam.


---
Feb 12th
The LLT studio - The Lodge 2- has a new 24 multitrack machine, it was originally in Johnny Farnhams studio-Gotham -and they have been selling it off, so we grabbed it. Apparently it's a good one and this will help with the recording of many new LLT songs. Good investment. Kevin (LLT) and Kass now have a girl to add to their growing family- cute little Ruby. Hassle Gaslight to pay up the money they owe LLT for their cds, its been months, and they keep asking for stock but have taken this long to pay for the first batch. Pay the piper first guys.


---
Feb 13th
Gaslight payed up, probably cost me $10 in phone calls and faxes to get this $60. Speak to the office and try to find out some rough time frame for Neils solo shows, nothing is confirmed yet.

Toija turns up for brekky and Jj is a no show. We book our tickets to see her boyfriend Marco's opening night Opera. He has the lead, she is so proud- really sweet. We stir her a bit about being pissed at the Exhibition. All in good fun.

Emails and letters still roll in over the Ig. affair- nothing but good, nice to see Lynns post "making amends" on the digest, she's been pretty understanding and fair, Deb has been great, in fact so many people have- i think i'll christen them the "silent majority"....the usual handful making noise. Enough said.

Spend the evening mailing out the Enz/Swingers Cd singles. Mushroom tells me that 70% have already been sold- we've outsold Paul Kelly who was flavour of the month when his cd reissue came out "To her door". Go Enz.

Have just found out from a club member that the Largest Living Things website has now passed Deadstar for the number of hits, in half the time. It's probably due to Deadstar being absent at the moment. We have been told that the Deadstar gang are having another album. The LLT site is located at http//www.frenz.com/LLT. if you want to check out Deadstar just subsitute deadstar for LLT. Thanks for your support on both of these sites.


---
Feb 14th
You old romantic things- you know what day it is- Valentines Day. I received some funny cards this year...you guys know me too well.....chocolates from a select few. The Gryphon was shot with St Valentines arrow ages ago, mid flight, and came crashing down to earth....in lurve! OK I'm a romantic, this is not a new age guy thought; romance lives, and it's fucking great. Flowers are great- I hate carnations, love sun flowers, big spiky plants and dried up roses, death lillys and huge thick bush like plants........ A touch is as good as a huge pash, a slow strip far better then a total nude trampoline backflip. More is less and less is more........and we all want more! Have a great Valentines day....and why chocolates on Valentines Day? It's a test if the one that says he/she loves you can love you with the excess weight and pimples from the chocolates then they must really love you (wink).


---
Feb 15th.
The 10th Midsumma festival is nearing the end for another year. The finale' will be "Carnival". Today we are heading to Melbourne's Alexandria Gardens with our picnic lunch and a gaggle of friends. Carnival is the jewel in Midsummas crown a day of celebration...and afternoon delights. There are stalls, and Dykes on Bikes, Politicians and artists playing on 3 stages,something foreveryone. The Queen of the Prom- Barbara Quicksand will host Wigstock......Dulcie De Jour will again host the annual Dog Show (ever seen a drag pooch?) and we wont even comment on the Lube Wrestling, there is a handbag throwing competition where we are told that "poise and glamour are essential". So hopefully we will survive it and be back again in time for the next Diary entry...or we'll become Miss Candee's house boys.

See ya all. PG

PS-Congratulations to Jo Ann Simmons for being the successful bidder for the Famous for 16 signed Tshirt....it will go out soon.Thanks a lot.

---
If there are any problems with this site, please contact webmaster@aswas.com.