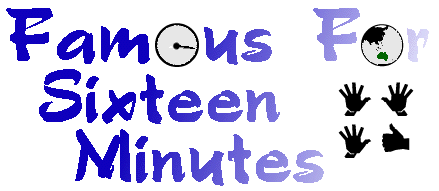 The Life and Times of Peter Green
Archive: 22 December 1997 - 4 January 1998
---
December 22nd
Well Xmas is just around the corner and despite our best attempts to have it together this year, we find yet again (in true Xmas tradition) that there are still pressies to buy and things to do. Having a 12,000 mailout dropped on our laps has not helped things.

Get a nice Xmas suprise at Belmore from Nicole- as if we could wait till Xmas to open the parcel....a "Kids in the Hall" Video...her fave show and I have to admit we are enjoying it too. We miss Miss July - but news has it that she will be back on our shores in '98, for her Australian calendar launch (eh Nic.).

Wing by the Esplanade Hotel and drop in some LLT shots for the start of the "Hessies Shed" promotion.We start filming in April for the tv show. Spend the night cramming presents into the tour suitcase,we fly home to Sydney tomorrow, and somehow all these presents have to fit. At midnight I finish the packing, and end up squashing in 2 pairs of calvins, 1 tshirt and one pair of sox.Hope I get clothes for Xmas or the venue for the Xmas pig out will have to be changed to the Sunnydale Nudist Camp.


---
December 23rd
"The ascent of man is not made by loveable people"....where on earth did this stray thought come from. Felt I had to write it down in the Diary notes.

The limo driver this time around is new, Crystal must have Xmas off. The airport is very busy, lots of people heading home for Xmas....a quick flight, the hire car is waiting, drop Mark off at his parents place and arrive home.This time round I have some crazy silver sports car. Neat. Mum is waiting on the balcony, my Sister pulls into the drive a few seconds ahead of me, her chicks have returned to the nest. Mum hugs us both and it's a nice way to start Xmas. The tree this year is gigantic, I can't imagine how she even got this one home.It touches the roof.I picture this little thin woman dragging this tree all the way up the street- screaming Xmas bah Humbug at the top of her lungs. Couch potato the night away, watch UK drama "This Life" (ABC) finally a show from the UK that is really good....quite funny.


---
December 24th
Well Paul and the band are playing the Esplanade tonight, I'll be spending time at my grandfathers house with the Rels. Show my uncle the snap of myself with Gough Whitlam (Seventies Prime Minister)....before long the photo has dissapeared around the room.

Spent most of the day driving Mum around, the stores are busy, this year Australians spent 15 billion dollars on Xmas Presents. (Phew- that's a record amount) I'd hate to imagine how much of that was on credit cards. End up back at home by midnight....sleep reckless...some morons across the road from my Mums place have a screaming match outside at 4.00 in the morning...hey dickheads it's Xmas.Hope you die.

Sis and myself sneak out to my car and carry in a new lawn mower - it's part of Mums Xmas present....all we could do was giggle....strange children. Mrs Green has a huge green thumb.Practical present, boring but useful.


---
December 25th
I think it was 6.00 when we all sat under the tree and opened our presents,Mum takes over the role of story teller and tells us about Xmas's gone by. Dads been gone for many years now, but Xmas seems to be full of his spirit.Especially Xmas morning.....sometimes I can swear that I spot him sitting on the couch... out of the corner of my eye. It was a fun morning.

Sis goes crazy over her playstation, and we have to carry  her and the station out to the car...."just oneeee moreeee game".....I've created a monster (the people at Sony rub their hands greedily- another addicted gamer). Mum pulls the secret pudding recipe out from it's hiding place and starts on the trad. Xmas  pudding.It's a good one per usual.

Drive up to the top of one of the new estate areas and pick up Myrtle- a slight eccentric, non stop talking distant relative. She's old, her family are a bunch of loosers and to be honest if the mountain tumbled down on them, we'd be there with the bulldozer......adding MORE dirt! She's my Grandmothers sister, and Mum loves her for that and has opened her heart to her,which is more then anyone can say about her greedy daughter. (There goes my spirit of Xmas).....I do "the right thing" and pick her up, walk her to the car" and give her weird family peeping out behind the curtains...the bird! (I am tempted to say Happy Xmas Fuckers- but decide World War III is not worth it).Good will to all men...even total neanderthals.

It ends up being a nice day- not to hot. The amount of family cousins etc that say they got Recurring Dream for Xmas freaks me out a bit. No wonder it's 8 platinum in this country. Win $38 on the scratchies from the various relatives. yey covers my petrol money.


---
December 26th
Pick Mark up for the flight back to Melbourne. Qantas have upgraded us to Business Class....which doesn't mean much on a one hour flight.But you do get off the plane quicker.

Get home in th evening and find out that Melissa fulfilled her bet and did a Karaoke tune at Charltons Pool Room...on Xmas Eve. (Strange Girl). There's no stopping her now.

Boom Crash Opera are playing The Mercury Lounge tonight, fall asleep on the couch and miss the gig.....opps. A bit pieved as Spock jumped up and played a few songs with them. Their new album GIZMO MANTRA is worth checking out.


---
December 27th
I think Neil and family return to NZ today.....there was talk of them spending New Years Eve at the beach house in NZ. Tried calling the house and no one is home.

Happy Birthday Hairball the wonder cat. Yes Miss Ball turns 14 years old and shows no signs of slowing down. Play The Cures LOVE CATS nice and loud to celebrate another year with our fave pussy.

Paul calls and LLT will be having a few weeks off after The Evelyn show.


---
December 28th
Robyn from Mordialloc sends me some personalised "Peter" sox for Xmas and a mystery present for Paul from LLT (note not from Crowded House).

Catch up with the gang for coffee at la' Elephant. Someone from management tells us how much it will cost us if we want to buy the establishment! Would be fun to actually own the Blue Elephant- and think of all the money we'd save not having to pay the bill.


---
December 29th
CJ from Chicago spoils me rotten with this incredible spiral notebook,perfect for some scrawlings for the Diary site. A really cool handscreened cover..... I always run out of notepads. I write too much. Great present.

BuzzSaw fanzine calls and wants to do an interview....so I do an hour phoner. I think it's kind of a character "profile" thing......decide to print some of the rough interview. It's a bit wanky.

Full Name- Peter Mark Gryphon Green (only an "e" on Mushroom TV Specials)

Job Description- Jack of all trades and master of some. Public Relations person.

Star Sign- Taurus (mooo) explains a lot.

Height- 1/2 an inch below average height, but 1 inch over if I'm wearing my silver "bronx" space boots.

Where are they from? Red-Balls- Melrose Ave.

Describe your house- room by room Wow that's a hard one. Hmm second floor level entry foyer- Katmandu Cupboard, Phil Judd painting, Loungeroom- 4 deco doors round corners, huge motherf*cker tv, black leather couch, "Bondage Suite" art creation, Martin Plaza "Picasso" painting above fireplace, African Palms, cds more cds, cds, deco Green pure wool carpet laid by Sharon Finn and William West. The only Crowded House item away from the office sits on the fire place, it's the wind up flying house that Neil lets go in one of the early clips. It has flapping wings and is made from balsa wood. Wings don't flap anymore, Noel needs to fix it up, Noel Crombie originally made it and gave it to me for a present. Dining room- 14 foot grey black Freedom table, high back chairs, Electric art piece called "Peep Show" by Greg "Spock" O'Connor....recycle shredder machine Huge 10foot "Space is the Place" painting by Robbie Porrit.  Ollie from Big Pig wanted to buy this...no sale Ollie, it's mine baby. ........should I go on?

Please do. " Hmmm walk way leading to kitchen. heaps of white cupboard, '60's Gas Oven, Italian Stainless Steel coffee cups (Nick Seymour copied my purchase) Robbie Porrit "food" original sculpture above oven....cooking oils (all light) flying cockatoos above windows, view of the "cemetary in the rain".....turn left into one of my fave rooms- the bathroom. Great travetine' floors...deco edging, deco shower with black tiles....always need cleaning....the bath- inlaid into the wall in it's own alcove with church window...currently occupied by Mr Christ statue....wooden door walk area into the loo. The toilet has a mermaid and fish seat and cover....one off. It featured in art magazines and newspapers, the most well known toilet seat in Melbourne. You don't tell people about it, when they go to the loo- you wait and here "Oh Wow"...and hope they are talking about your loo seat and not something floating in the toilet (urghhh). Turn left again past the iron wall candle holder and into the home office room. This has heaps of gold and platinum record awards, two desks, two computers, scanner, file drawers and stuff everywhere. A framed hand coloured Tim Finn "Grand Adventure" piece of artwork sits on one wall- it was going to be a single cover. The "Farewell to the World" original Reg Mombassa artwork on another....letters letters everywhere....a busy home office. Next is my bedroom, prepare for the Gothic experience. The 4 poster bed is wrapt in white linen, the canopy of the bed is burgundy/blood red material from the Crowdies Woodface Launch at the Prahran Club. It was part of the back drop. A pin ball machine is in one corner. Two stuffed bats circle the bed (they both died of natural causes)...a Tibetan star shaped table sits on the floor covered in candles and Tarot cards, 3 bookshelves all overflowing,one about to collapse. Six doored built in wardrobes, packed. A 19th century framed etching of Christ..(thanks Toija) and next to it a cell of Bart man V's Prince Planet....Prince is winning (thanks you know who)....I love this cell...mowhair mat on the floor.Framed Peter original (OIL) "King of the underground" painting sits above a bureau. A door leading into Catmans room- all windows in this room- used to be Robbie Porrits art room. Cast iron bed, another Peter painting on the wall- "Edie's Homeworld", opposite an original Rolling Stones 1973 Aussie Tour Poster-framed. That's kind of it..........

Your Best Friend- Marko. I've known him since we were five. he's totally cool and tells me when I'm fucked (this is a daily occurence).

Who have you kissed? Karen the Fairy Princess- age 6, Kearen- Orange NSW, Jenny Shannon, Amanda Kennon, Daryl, Cathy, Peggy, Mark, Mum, Sis, Aunt Dibby, Wendy James, Morrissey, Rebecca, Jj, Toija, Rosemaree, Allison, Tony, Nick, Paul , Mardi, Yoko, ......gee that's a lot of lip gloss.

What do you eat F/16 salad courtesy of Spy Di, Dutch Licorice, Samosas, home- made lasagne, Chocolate (but not as bad as before- maybe I'm loved more?) Carrots, peaches, Cherrys, potatoes, no seafood, spinach, coconut icecreams from Hollywood Health Shop, anything from El' Coyote, Blue Elephant Pizza's
Who do you dislike? Pauline Hanson- actually I just feel sorry for her, the media  now control her, John Howard for having one eyebrow and for not seeing Costello sharpening his knives, Homophobes, Child molesters, people who believe that breast implants will make them more popular, Prahran Council, the person that sends me my telephone bill, Margaret Thatcher, The Queen, (the Queen Mother is a honey though)....Hanson.

Who do you love- trashy drag queens, Mark, Hairball, my family, fans, Jj and Becky, all the LLT boys, Grant Thomas because he can sometimes be like Mr Burns from The Simpsons, Amanda and Hayden, Skip, Mother Theresa, Morrissey, Shirley Watts, Prince Planet, Spy Di and Mr Lone Wolf, My Tattooist, Greg Macainsh, Rosemaree, Jeff Koons, Porno Stars, Neil Finn and the family, Nick, Leanne and Wendy,Trudy and Robyn and Alison,  a lot of people.

Have you been in any videos? Yes a few- Skyhooks Jukebox in Siberia (#1 single)- I originally wanted to be in the very back, but somehow ended up in the front because they want me to do this "Blink" thing. I was wearing a newspaper suit with Toija. Hmmm Jj's clip for the David Essex song "Rock On"..was dancing with Cecilia on St Kilda Pier in the rain at 2.00 in the morning, Uncanny XMen  clip-I played a killer zombie wearing RED gym boots so i would stand out from the other Zombies (clever me)...my face blew off. It was filmed outdoors and the Police arrived -they freaked when they spotted drummer Craig pull up with a fake shot gun. I danced on Countdown for the GoGos' and Culture Club...and Boom Crash Opera on their MTV special. Made it onto the Crowdies Weather with you clip, I think i dive for the red frisbee and Noel Crombie was filming it with a freehand camera down at the beach. Toija is in that one too. I think there are a few more cameo's...was almost a drag queen in a Richard Pleasance clip but he went for the predictable Elvis/Marilyn type impersonators....so naturally the clip and song were a flop!

Fave tv shows- Sci Fi- Voyager, STNG, This Life, Twin Peaks, Beavis and Butthead The Discovery Channel, News, XFiles, Prisoner, Brady Bunch, Prince Planet (Astro Boy sucks...gloop glopp-who makes noises like that when they walk)..Breakfast at Tiffanys, cool movies.

What bands have you worked with? Hmmm Skyhooks, SplitEnz, Kids in the Kitchen, Uncanny Xmen, Tim Finn solo, Crowded House, Finn Brothers, Screaming Jets, Largest Living Things, Craig McLachlan (yes I sold out- but it paid the rent), Boom Crash Opera, Enzso, The Rolling Stones (on tour).....Geisha, Pseudo Echo (hair bands),The Sharp

Tell us about the Rolling Stones My friend Tania & myself worked for them on their Australian tour. Basically it was backstage in their band room. You needed three passes to even get into the room, it was like a giant tent- one area had lounges and video screen, pool tables, game machines and so much food. I was the first Hostess to be a GUY.... ...backstage was huge, Jagger had his own jogging track (under cover). Part of the tour policy was that everyone had to have at least one joint....I smoked mine on Jaggers jogging track (sacrilege?). It was a wet night so the band spent most of it in this backstage area- the only other people were their wives and kids. Shirley Watts (Drummer Charlies wife) had never had coconut before and couldn't work out how to break it.....and Charlie got all confused as to why I was working when we were at their gig a few weeks before in Texas. He seemed to think I was working for their record company......I gave up trying to explain. Jagger waltzed up and said " could I have a cappa. darling"....inside I was doing backflips, outside I was trying to be cool as a cucumber......and I could feel the bead of sweat creep down my back. The room really does stop when he walks in. Keith Richards was amazing and very kind, got Mark an autograph- which is a BIG no no backstage- people get sacked for that. He told me he'd sack anyone that would sack me (my hero). It was an incredible experience. Equally amazing was the Finn USA tour- we all had so much fun on that one- we almost kept it continuing. The time with the Finns at the beach near San Francisco is a nice memory. Spy Di was drenched from a swim with the Gryphon, Tim urging us on- calling us the "brave ones" because we were the only ones that went in the water.We stunk of the ocean all the way back to town.

The interview goes on and on, decided you've read enough.........back to the Diary area.


---
December 30th
Who was that exotic gothic creature sitting at Revolvers Bar and was that young George from LLT perched next to her? How come a coffee becomes three beers? ...and four condoms become three. Oh we miscounted...sorry. ( Work on some artwork for Jjs showcase tickets. The date will be Jan. 28th at Revolver.....should be a celebrity filled night. Tickets available at Revolver soon.

Tim Reed from the States sends us some fantastic natural soaps, "Sweet Dreams" and "Outback" bars are amazing....makes your skin tingle. Nice present.


---
December 31st
Call into "Outlook" on Commercial Rd and Justin gives me a much needed new haircut. Nice and short. The shop is described as Greeting cards, Internet cafe, Haircuts and Glitzy gadgets. Justins great, he does a lot of makeup for Videos and tv....Bent TV need a new VJ and trys convincing me, I tell him I'm not Bent enough......(nopw stop that readers I can hear you). Have a meeting at Chapel Off Chapel Gallery- we have the Mentals III Gallery Show on their from Feb. 5th. The art is great, should be a good space, Dave Graney will be doing the opening speech.

We decide to blow out the dance party at the docks this year and head to somewhere local, the X-Change is a suggestion, it's free, cheap drinks and trashy people. No fights and Lucy Loosebox is headlining the 11.00 drag show. It's a real mix of straight, gay, bi and even Melissa Wintle turns up.....without that ugly hat (meowww) this year. She is wearing my cool sunnys with the red lenses...Melissa goes missing, we end up totally sober, Rebecca finds "the most beautiful man for '97"...he has sequins and glitter on his nose and isn't rude to her so he must be straight.......we have to grab the fire extinquishers and hose her down. Down girl.

Try to find Jj, he's "working" (aka-drinking upstairs at Revolver)and not answering the phone, head back to Belmore and watch cable reruns of Countdown.

Go to bed at 4.00.


---
Welcome to 1998.
Jan 1st.
Wake up at 10.00 and feel sore like I've slept hanging upside down on a trapeze all night. Jesus I am on a trapeze.......................................not really.

Harol Holt is infamous for going missing in the surf 30 years ago...finally his briefcase is being opened, no clues to his dissapearance, no suicide note. So many theory's what happened to this Prime Minister....I think Lucy Loosebox is really Harold Holt as I spotted this on the toilet wall of the X Change on new Years Eve (for a good time call Rebecca.......no on the other wall dummy.           HH=LL). Hmmm at first I thought it was a strange formula, but really it could mean Harol Holt is Lucy Loosebox). You think not, well stranger things have happened at the X Change let me tell you.


---
Jan 2nd
Go see the new 007 movie with Spock, we end up at Cinema Three at the Jam Factory- it's the best because it's the biggest with great seats. Good movie P.B. makes a good Bond. Special guest appearance by our best mate Spy Di..... Lone Wolfs fantasys are almost fulfilled on the screen.....watch it Spy it's given "him" ideas. He'll be bringing handcuffs to the USA we think.! Meet  ol' gothic one downstairs....she's next to the predator display and we almost didn't see her, she blended in so well...(grin)....Spock drives MG home, we head off to see The Largest Living Things at the Evelyn. Don't forget to check out the LLT website, a few new photos etc will be going up soon, and a new download of a new song.

We get to Brunswick Street early and have a coffee opposite Joes. Kevin and Kass walk past, spot us and come in. Kass is so pretty and pregnant, some women look marvelous when they are having a baby, Kass is one of them- great glow. BlackFire are special guests tonight- great band- they get an encore. Catch up with LLT, Paul plants a huge smacker on my lips, just like mates (ahem). I haven't seen the guys play for a few weeks so I'm looking forward to the gig and they don't disapoint, good crowd and the only fuck up was Barrys bass. Pauls calling out for BlackFires bass, and I run to the band toom and they think it's the cops when I'm pounding on the door. Most cops dont wear Nasa shirts! Get the bass to the stage area and Barry replaces his lead, the gig continues. Good show but they should of returned for an encore, the crowd wanted it, but i think time was against us.

Get home feeling really fucked, feel like I'm on Ketamine or something, totally zapped. Hope I don't dream tonight- last night i dreamt that I was clubbing my neighbour to death, woke up with blood on my hands...and realised my nose was bleeding.....phew for a minute there......!


---
Jan 3rd
Spend all of today doing the rest of the club newsletters, it's becoming a huge job, we've had so many new members and renewals. It's never going to end.


---
Jan 4th
Blue Elephant in the morning- with Becky and Rorsemaree. Bait Rosemaree all morning trying to get a good quote on her sex life, but she doesn't bend (that sounds rude).....or break....I failed no good quote. In desperation I turn around to Miss Jane from The Dome niteclub- a tanned Drag Queen with a bonnet that looks like Mulga Scrub Grass and ask if she works at the XChange. "Sorry darling you mean Miss Lucy Loosebox........" She didn't want to play either- no good quotes here. I hope this isn't indicative of '98, the Diary site mightn't survive. Talk to a few people about the F/16 Interviews. I still need to talk to Deb but I thought we could have an interview section where the Gryphon interviews certain people....a focus on them and their mundane lives (grin)....they can trust me- would I kiss and tell readers. It's for my Diary only (and the 21,000 eyes that peep at it). So in the not too distant future we might have an interview area....will talk to Deb, could be fun. YOU could be featured. "Everyone is has celebrity lurking inside them".(Peter Green 1997)

Anyway this is a huge Diary entry this time.....we here at Diary city hope that 1998 is an incredible bloody good year for you all; and we mean that. Well it sounds better then saying piss off and stop bothering us. (opps).

Love ya
PG

---
If there are any problems with this site, please contact webmaster@aswas.com.